Jamie Lee Curtis Insists That Halloween Ends Is The End Of The Line For Laurie Strode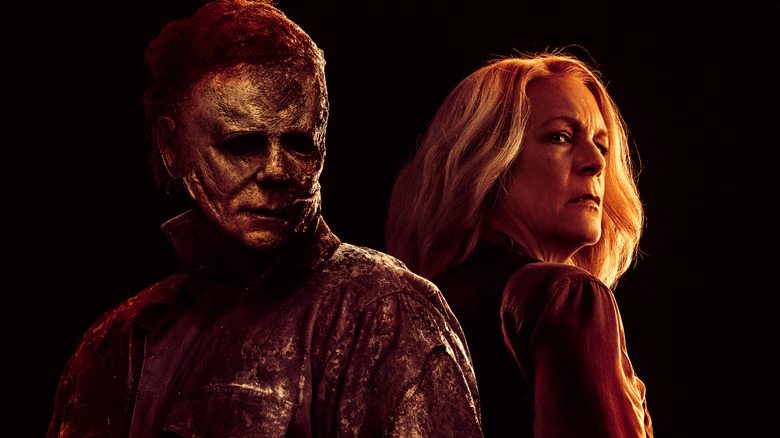 Universal Pictures
With the release of John Carpenter's 1978 horror classic "Halloween," Laurie Strode (Jamie Lee Curtis) became the quintessential final girl after surviving a horrifying attack by Michael Myers. Thus began a "trowma-tic" journey for the character, as Curtis reprised her role as Laurie in many "Halloween" sequels, dealing with Michael's evil time and again. When Curtis returned as Laurie Strode in David Gordon Green's 2018 "Halloween," which was a direct sequel to Carpenter's original, fans of the franchise were delighted to see their favorite final girl back in the game.
Since Green's 2018 soft reboot, Curtis has played Laurie with the same level of intelligence and perseverance that is hardcoded into the character. Although she had little to do in "Halloween Kills," the film serves as a build-up to the events of the upcoming "Halloween Ends," which is supposed to be the final entry in Green's trilogy. In an interview with Total Film, Curtis talked about embodying Laurie for one last time, and the emotional weight that accompanied the filming of the final scene. The actor said:
"I realized that would be the last time I ever saw Laurie Strode ... It was very powerful for me. I wept. David [Gordon Green] wept. We all recognized that moment, that it was the wrap for Laurie Strode and me. And this community of artists who made these movies. It was a big deal."
As "Halloween Ends" (supposedly) marks the end of the franchise, we will be seeing Laurie facing off against Michael one last time. This is understandably an important moment for Curtis — and for her character, who has been on the lookout for evil for the last 40 or so years.
The end of an era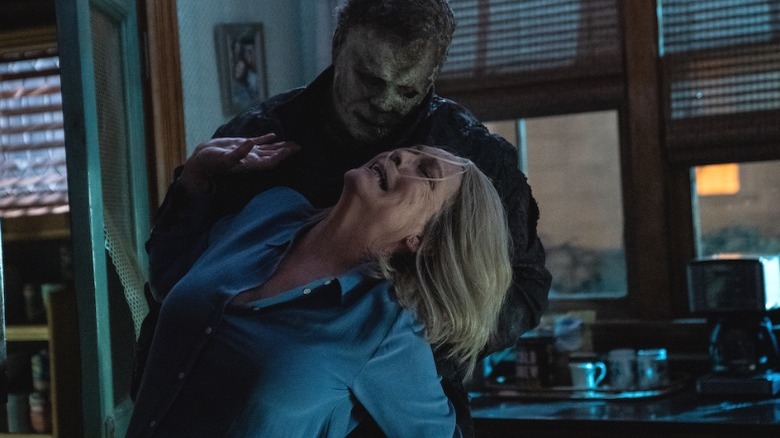 Universal Pictures
Curtis wrapping up filming for "Halloween Ends" marks the end of an era, as her character will finally be able to put a stop to Michael's evil, which has haunted Haddonfield for several decades. Per Green's narrative setup for the trilogy, Laurie lived in constant terror after fighting Michael as a young babysitter, and the PTSD-fueled anxiety about the situation never granted her a moment's peace. This is why she is ready for Michael when he returns after many years in Green's "Halloween" and succeeds in locking him in her basement and setting the house on fire. Unfortunately, Michael survives this, and goes on a brutal murder rampage in "Halloween Kills," where many (including Laurie's daughter, Karen) end up getting murdered. 
"Halloween Ends" will hopefully mark the end of Michael Myers (for real, this time), along with the end of the fight for Laurie Strode. This time, she must find a way to kill the man who made her life so hellish to begin with, though this might come at a great personal cost. Andi Matichak, who plays Laurie's granddaughter Allyson, also weighed in on the "bittersweet" nature of "Halloween Ends." According to Matichak, both Laurie and Curtis are "definitely ready to put it down," as it is a legacy they've carried for "40-some-odd years." 
While this surely evokes mixed emotions for fans of the franchise, it will be intriguing to see how it all ends, and whether Michael's demise will be as cathartic as expected. Will Laurie Strode be able to defeat the "boogeyman" of Haddonfield? We will have to wait and see.
"Halloween Ends" slashes its way into theaters on October 14, 2022. The film will also be available for streaming on Peacock.