Halloween Ends Will Be A Departure From The Rest Of The Reboot Trilogy According To John Carpenter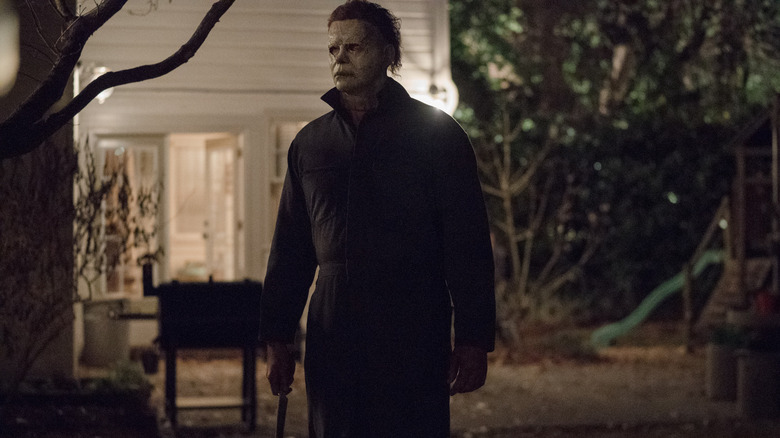 Universal Pictures
2018 revived a long-dormant horror franchise "Halloween" with what might be one of the most successful legacy sequels ever made. Directed by David Gordon Green, it served as a direct sequel to John Carpenter's 1978 classic, taking place 40 years after the fact. That paved the way for last year's hit sequel "Halloween Kills" which, despite lackluster reviews, and the availability to stream on Peacock, also did quite well. Now, we must get ready to say goodbye to Michael Myers and Laurie Strode (again) as this year's "Halloween Ends" looks to do exactly what that title says it will: end this thing once and (probably not) for all.
Horror movies so rarely close the door willingly. Oftentimes, it is for commercial reasons a thing is abandoned or rebooted. But Green and the rest of the team are trying to do something unique here. Even if a reboot happens down the road, they want to provide a definitive ending to this saga. Well, if Carpenter is to be believed, it's not going to be more of the same that gets us to the end of that road, whatever it may end up looking like.
A conclusive departure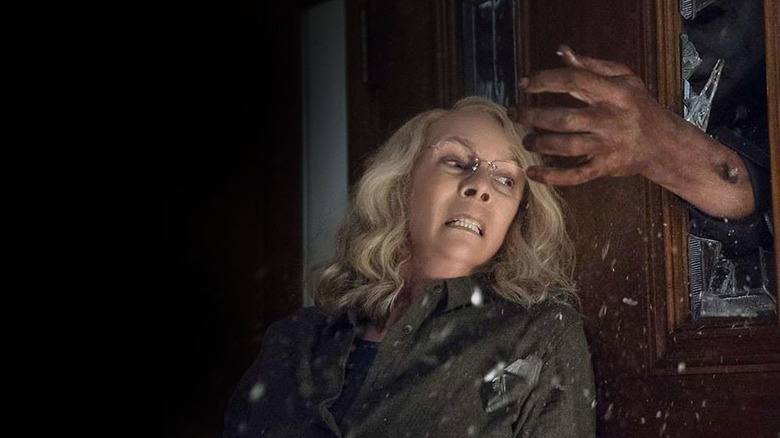 Universal Pictures
Carpenter, who has executive produced this current trilogy in addition to providing the score for the films, recently spoke with Syfy Wire about "Halloween Ends." Granted, the horror master couldn't say much but he did offer a bit, asserting that it does indeed serve as a conclusion and that it will be a departure from what has come before.
"Well, it's Halloween, and it ends [laughs]. You'll see it's a departure from the others. It's interesting. Dave is a really good director. I love working with him."
Without any form of elaboration, it's hard to speculate as to what that might mean but it is interesting nonetheless. "Halloween" 2018 was a pretty brutal slasher flick that was a real crowd-pleaser. "Halloween Kills" took place on the very same night and upped the violence a great deal while also trying to add in some social commentary. But still, the movies were more or less Michael making his way through Haddonfield racking up a body count while Jame Lee Curtis' Laurie tries to stop him.
Apparently, Green has cooked up something different to help send us off. It is worth noting that Carpenter had previously indicated that the team in place right now really does want to try and end the franchise, perhaps offering the definitive conclusion to Curtis' version of Laurie and this iteration of Michael at the very least.
Nick Castle also promises surprises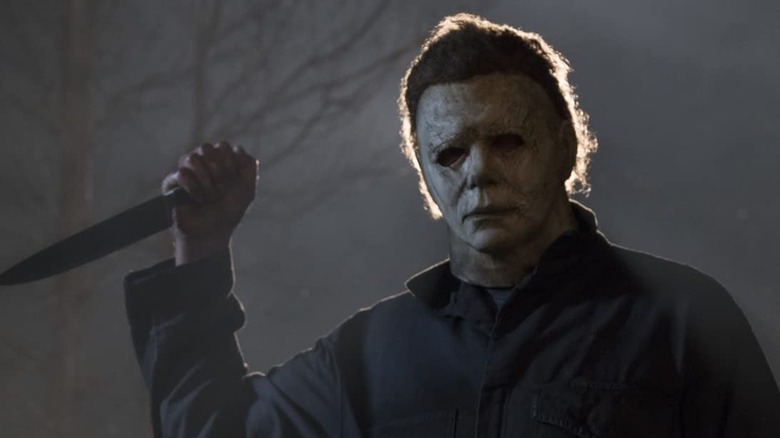 Universal Pictures
While very little has been revealed about the movie's plot up to this point, we know most of the cast (the ones who survived anyhow) will be returning for more. We also know that we are taking a leap forward in time by several years, moving away from that fateful night in 2018 when Michael Myers took his revenge. But Carpenter isn't the only one making semi-bold claims about the forthcoming sequel.
Nick Castle, the original actor who brought Michael to life and has worked on the new films (though mostly not under the mask), also teased that the new film will be surprising and, well, end everything. Castle spoke at a panel back in April at Steel City Con, saying the following:
"I think there might be more because of all the success of [this trilogy], but [Green] will have a very surprising storyline, an ending for everyone. It's absolutely something I don't think you would have ever guessed in terms of the way it's going to unroll."
It's hard to put the shape (pun intended!) of this all together with so few actual details. That said, if Carpenter and Castle are right, this could be an exciting way to conclude the franchise as it won't just rehash the same thing and offer proof of death. It is going to try and do something different which, nearly 45 years into a franchise's run, is a good thing.
"Halloween Ends" is currently set to hit theaters on October 14, 2022.