What We Do In The Shadows Season 4 Showed Off The Series At Its Best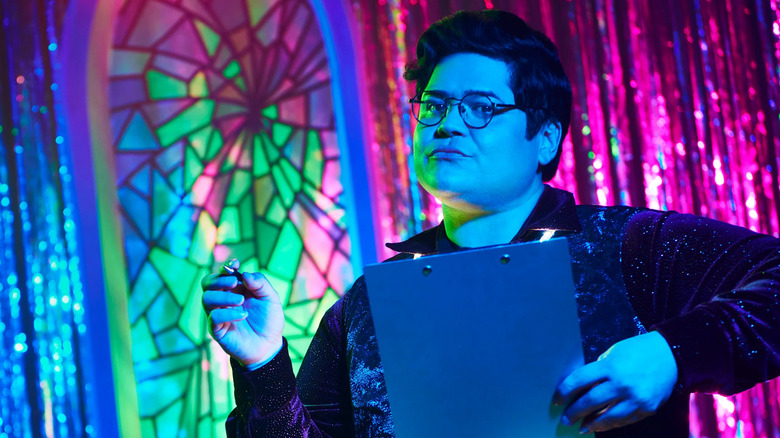 FX
This article contains major spoilers for season 4 of "What We Do in the Shadows."
It saddens me that we've already reached the end of yet another chaotic season with our favorite Staten Island bloodsuckers (and Guillermo), but I feel much better knowing that "What We Do in the Shadows" will rise to see another full moon. Not only does this beloved genre comedy series continue to boast a killer ensemble, but it easily stands as one of the funniest shows on television.
Kayvan Novak, Natasia Demetriou, Matt Berry, Mark Proksch, and Harvey Guillén have all valiantly fought over who holds the trophy of series MVP at some point or another (although Berry has claimed the title the most). These characters are vital to the beating heart of a silly show about vampire roomies, cursed hats, drinking drug blood, and living next door to the world's biggest "Ocean's Twelve" aficionado. It's hard to imagine the show without any of them.
While the third season of "What We Do in the Shadows" roughly maintained the series' wild idiosyncrasies, it was clear that the exit of creator Jemaine Clement from the writing staff sent a ripple throughout the production. It took some time, but the series found itself again in bigger and better shape than ever with season 4.
To celebrate another great year of vampire mischief, I've compiled all of the greatest moments that made this season one of the series' very best. Let's dig in.
Nadja gets her very own vampire frightclub
FX
Welcome to Nadja's, where the promised blood sprinklers are defunct and the establishment's manager is hoarding stolen profits in a hidden crevice in her office! With the vampiric council chambers collecting dust, Nadja comes up with the brilliant idea of turning it into a vampire nightclub, as it's always been her dream. She spends most of this season trying to turn the place into one of the hottest spots in New York, only to have one obstacle after another thwart her business.
In addition to just being a cool set to play around with, the existence of Nadja's provided plenty of opportunities for folks to drop in on for cameos. For example, director Sofia Coppola and Phoenix's Thomas Mars are brutally devoured as the club's "celebrity special," while "Only Lovers Left Alive" filmmaker Jim Jarmusch watches in amazement.
I love how Nadja even goes to such lengths to keep the place up and running by temporarily resurrecting a bevy of historical figures, only to have them read off podcast sponsorships in the middle of their philosophical waxings.
The lesson in all of this, of course, is to pay the wraiths what they're worth. Nadja gets points taken off for union busting.
Enter the Night Market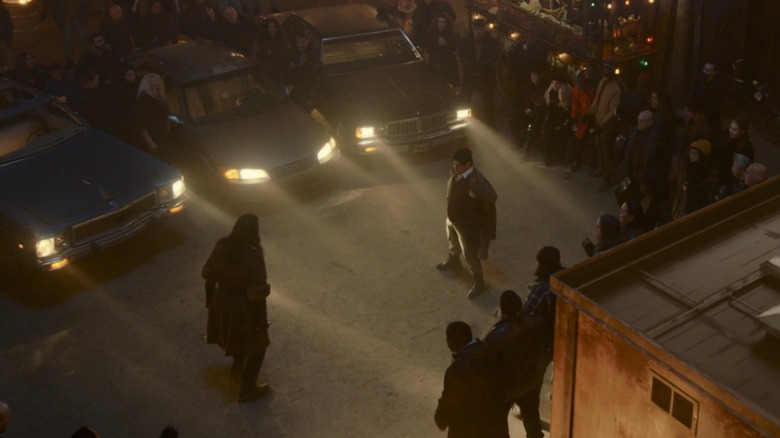 FX
I see the writers of "What We Do in the Shadows" are big fans of the troll market from "Hellboy II: The Golden Army" and decided they wanted to have a Night Market of their own. I'll more than allow it. The hidden location, which only reveals itself once you annoy all of the humans off the subway, lends itself to so many hilarious opportunities. Since there's no universal form of currency among the creatures of New York, they still hold themselves to a bartering system that varies in successive tradeoffs.
The crown jewel of the Night Market, however, is easily the vampire fight club in which the city's bloodsuckers offer up their familiars to duel one another in fights to the death. The whole sequence ultimately culminates in my favorite interaction between Nandor and Guillermo, as they attempt to fake fight one another, only to get way too heated in the thick of things. We finally get a proper battle between vampire and vampire slayer, resulting in an awesomely choreographed one-on-one that rivals Guillermo's assault on the Vampiric Council back in season 2.
Guillermo comes out to his family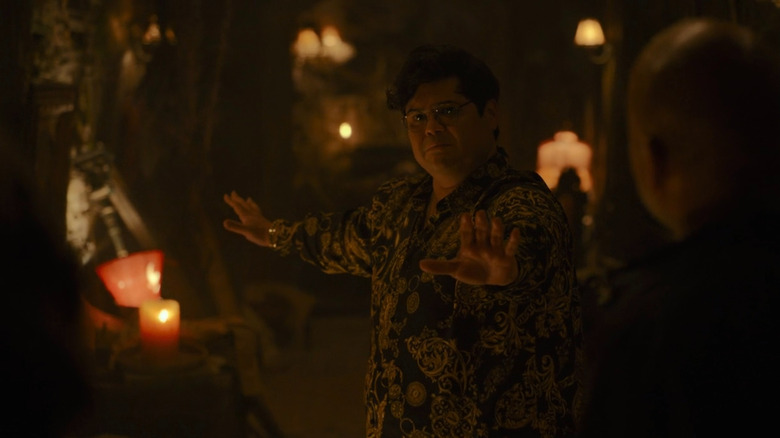 FX
"Gay is in. Gay is hot. I want some gay. Gay it's gonna be."
Truer words have never been spoken, beloved pansexual symbol Laszlo Cravensowrth. "What We Do in the Shadows" is inherently a Queer show. Nandor, Laszlo, and Nadja are in a polyamorous relationship and no one can convince me otherwise. The series has always embraced and celebrated its ensembles' fluid sexuality, except for Guillermo, whose love life has taken a back seat to all of his other duties.
In one of the series' finest moments, Guillermo decides he doesn't want to lie to his family anymore and comes out as gay. Around the airing of the episode, Guillén published a personal essay with Esquire about his journey as a gay man, which you can clearly see play out in his performance. It's such a raw emotional turning point where Guillén beautifully balances the catharsis of being true to himself with the fear of rejection, as he truly reveals himself to the people he loves for the first time. You can tell it's coming from a personal place.
"What We Do in the Shadows" has cemented itself as one of my go-to comfort shows across the past few years. As someone who is still navigating their own queerness, I welled up when Guillén spoke his truth.
The disturbingly smooth faces of Nandor the Relentless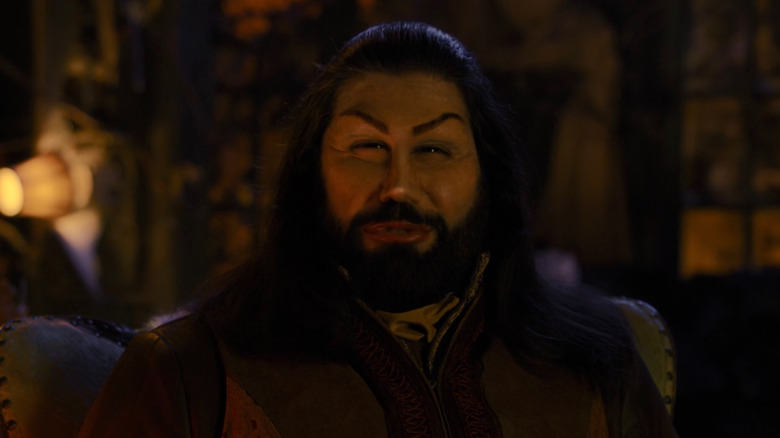 FX
Having rubbed the lamp of a mellow Djinn (Anoop Desai), Nandor spends most of the season making terrible wishes that lead to even worse outcomes — not to mention his ambivalence to resurrecting his former wife Marwa (Parisa Fakhri). This season-long premise led to a spectacular running gag in which Nandor yearns for a smoother face. The only problem is that he focuses too much on eradicating all sorts of wrinkles and blemishes from his face that it reaches the point where he's virtually unrecognizable.
Novak's emotive expressions often reduce me to tears, and prior to wishing himself back to the way he was, Nandor's scrunched-up final form is probably the hardest I've laughed all season.
The Go Flip Yourself episode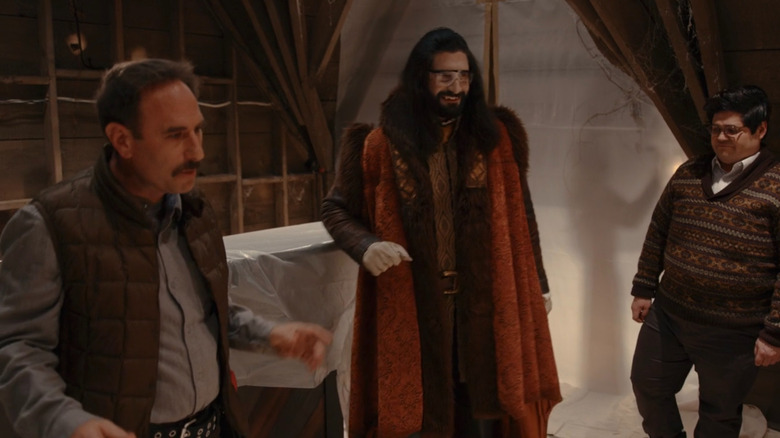 FX
It's always great when a show gets to have one episode where they break from their traditional structure and try something new. The "Go Flip Yourself" episode is a wonderful example of this, as a whole new camera crew takes over the household in the midst of renovating the dilapidated gothic estate.
It plays as a frequently funny riff on reality home programs like "Property Brothers" without losing the macabre charm these characters bring. You can tell the writers did their homework, as this episode eerily resembles the editing and aesthetic choices of a hacky show you would find on HGTV.
Between the dead bodies and vampiric dressing, you wonder how this is even going to play out. That is, until the big revelation. It turns out that Nick Kroll's Simon the Devious played an immense long con by producing over 150 episodes of a home renovation show to prove his legitimacy to Laszlo, before leaving his rival's place in shambles and stealing that cursed witch skin hat at the center of their feud.
Newww York Citaaaaay!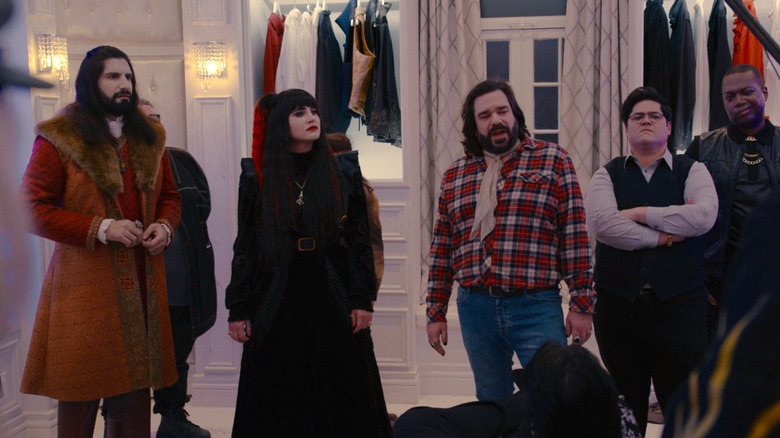 FX
Matt Berry is nothing, if not masterful at his operatic accentuations of seemingly ordinary words and phrases. Chances are if you've been on social media in the past week, you've been made aware of a viral clip that features Laszlo saying "New York City" in his typical Cravensworth tone. Berry can make just about anything sound majestic, strange and hilarious at the same time.
Baby Colin Robinson is as adorable as he is horrifying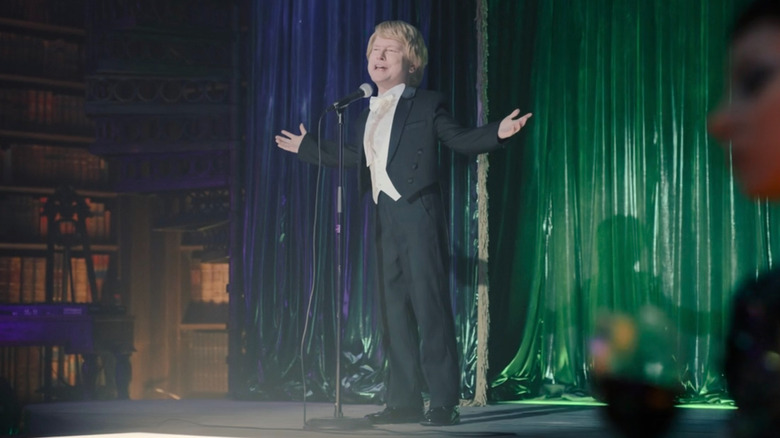 FX
When I saw the result of Colin Robinson's slimy metamorphosis in the final moments of last season, I prepared myself for pure nightmare fuel. Proksch could have easily played this solely for uncomfortable laughs, but color me surprised that he somehow managed to play it straight and embody the characteristics of an actual child.
Sure, the uncanny compositing of Proksch's face on top of a 10 year-old child is hilariously unnerving, but that isn't the only mileage they get out of his transformation. Like any child, he can endlessly talk about his special interests, like Roblox. Baby Colin Robinson even gets a taste of musical theater, especially "Fiddler on the Roof," performing showtunes in Nadja's nightclub to all of the vampire congregation's delight.
Laszlo Cravensworth, caring parent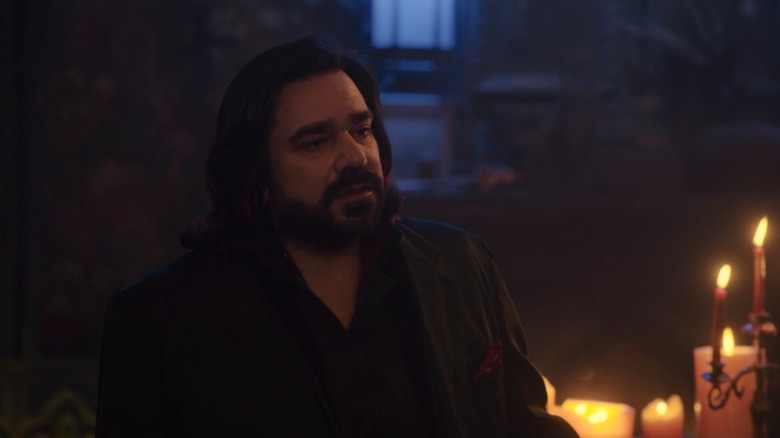 FX
It was already known that Laszlo formed a close kinship with Colin Robinson before his passing, but it surprised me at how dedicated he was this season to fulfilling the role of a parent. He may not want the position, but he feels responsible to guide this enigma throughout the accelerated journey of life. He stumbles along the way, but it's very telling how much he comes to love his adoptive child every step of the way up to adulthood.
The look on Laszlo's face when the now-adult Colin Robinson says he doesn't remember a single moment of his recent childhood is nothing short of heartbreaking. I was not expecting Berry to make me cry, but this show is always full of surprises.
Guillermo de la Cruz takes matters into his own neck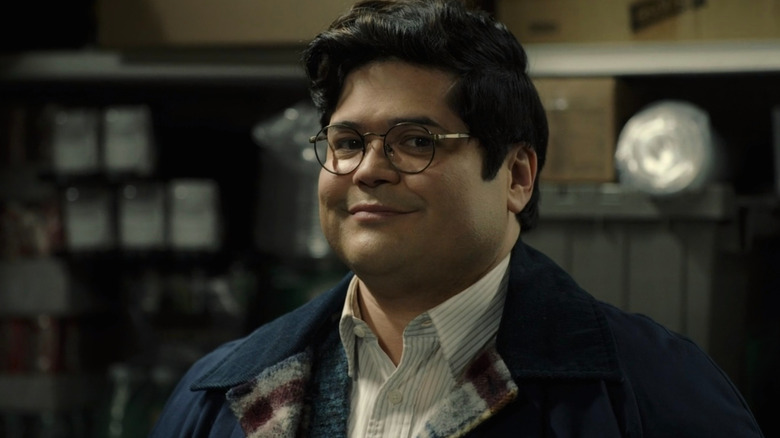 FX
By the end of the season, it becomes increasingly clear that Nandor has become content with living a slow and mundane life, and Guillermo is no closer to becoming a vampire than he was last season. If anything, he's taken an even further step back. Even with all of the strides he's made in standing up for himself among the vampire household this season, the descendant of Van Helsing is largely still seen as the familiar that cleans up their messes.
Seeing no other viable options left, Guillermo not only leaves the household for good (we'll see), but offers Derek (Chris Sandiford), a former vampire hunter turned lonely bloodsucker, a bag of stolen club funds to finally turn him. After all that he's done, Guillermo more than deserves this long overdue development.
Is Guillermo heading into his villain era? Seeing as the house somehow keeps finding ways to step on him, I can only hope we get to see the Van Helsing lineage come out to play. He's no longer sticking his neck out for anyone. That is, except for Derek, of course.
All episodes of "What We Do in the Shadows" are currently streaming on Hulu.