How Hellboy II Secretly Kickstarted Neil Gaiman's Career In Film And TV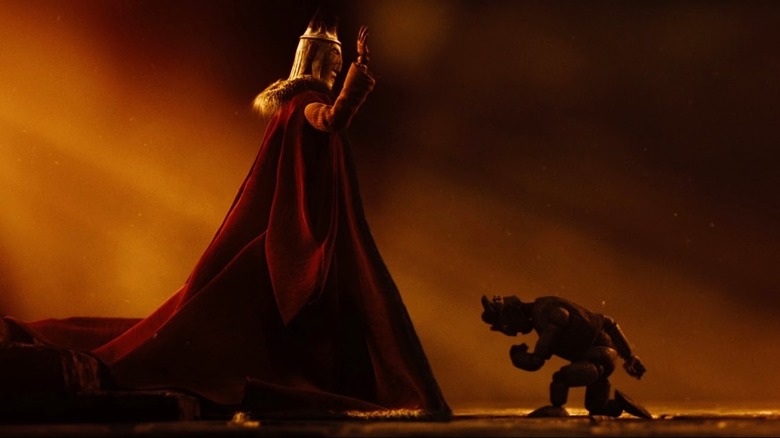 Universal Pictures
Plenty of film prologues have tried to condense entire legends into a few minutes of exposition. From "The Lord of the Rings: The Fellowship of the Ring" and "The Mummy," to any film about the Greek gods that's ever been made, a good intro can do wonders for a film's specific mythology. Guillermo del Toro had such lofty goals when it came to creating the intro segment for "Hellboy II: The Golden Army." Anyone who's seen the film can attest that the animated, puppet-like retelling of the story via a John Hurt-delivered monologue is a magical moment.
What most people don't know is that "Coraline" author Neil Gaiman had a hand in scripting the fairytale that opens the sequel. In recent years, the famed comic-book writer and novelist has become much more prominent in film and television. But the writer revealed in a documentary about "Hellboy" creator Mike Mignola that del Toro tapping him for "Hellboy II" was actually his breakthrough moment.
Del Toro hand-picked Gaiman to pen the sequel prologue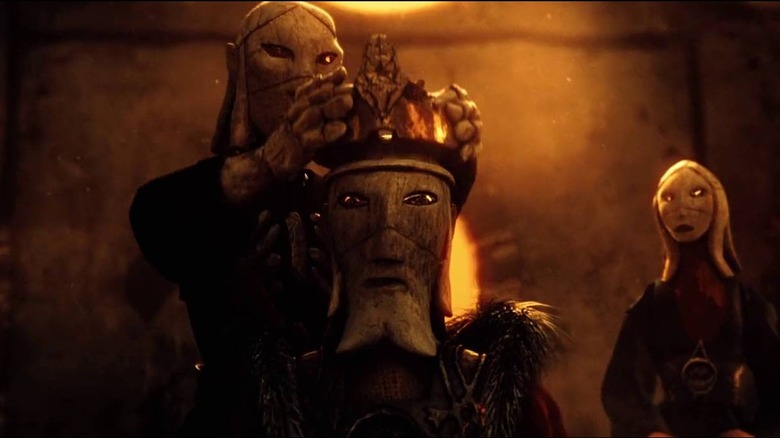 Universal Pictures
As first reported by "Entertainment Weekly," the documentary "Mike Mignola: Drawing Monsters" had a number of revelatory moments about the "Hellboy" creator's career. One of them included a little anecdote about fellow comic writer Gaiman and how he came to be involved in the sequel. Gaiman revealed:
"Not a lot of people know this, but my only little Hellboy thing, uncredited, is that back in 2007 I was in Budapest where they were filming Hellboy 2 and I got to hang out on set and just watch the filming and learn. None of which I thought at the time was incredibly useful and all of which, when I became a showrunner a decade later, became incredibly useful."
Since then, two of Gaiman's books, "American Gods" and "Good Omens," have been adapted into a series, his novella "Coraline" became a stop-motion animated movie, and his comic book "The Sandman" was greenlit on Netflix. Clearly, whatever experience he gained from del Toro's adaption of a Mignola comic paid off. But that was far from the only thing the writer got out of the experience, and the director was quick to reveal his reason for inviting Gaiman to the set. The writer recalled:
"Guillermo del Toro, at some point in there, handed me the script for 'Hellboy II' and said, 'Can you make the fairy tale that it opens up with sound more like a fairy tale? I've written a fairy tale, but can you do the language? And so, I got to do a rewrite on that opening fairy story in 'Hellboy II,' and it gives me an enormous amount of pleasure to know that I sort of cracked in. I'm in there in some way, you can hear little turns of phrase."
Del Toro might've designed the narrative, which itself was a beautiful piece of storytelling, but Gaiman's writing elevates it to being truly magical. It's the kind of poetic language that enhances the vibrant animation, and it almost steals the spotlight when eloquently delivered by Hurt. Gaiman's writing perfectly sets up the sequel's exploration of a far more fairytale-like world than the previous film. It also emphasizes the hidden nature of this very ancient world that's gone on existing under the noses of humans since the beginning. If we ever get a "Hellboy 3," I hope Gaiman will find himself invited to participate one more time by del Toro and Mignola.