What We Do In The Shadows Season 4 Will Wreck The Mansion, Recruit Real Raccoons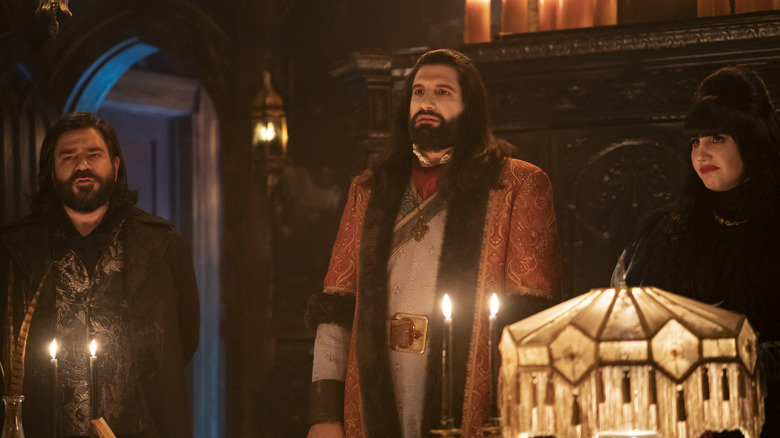 FX
The brilliant and hysterical "What We Do in the Shadows" has been renewed for a fifth and sixth season before the fourth season even airs. Not only that, but our own Valerie Ettenhofer joined the press conference for the series and brought back some great info, including the Staten Island mansion's decrepit state and some real raccoons joining the cast. 
The series is the story of the adventures of vampires Nandor (Kayvan Novak), Laszlo (Matt Berry), and Nadja (Natasia Demetriou), energy vampire Colin Robinson (Mark Proksch), and Nandor's familiar Guillermo (Harvey Guillén). The group is living in a crumbling old mansion in Staten Island, and in the coming season, without Guillermo's help, the mansion isn't in the greatest shape. Executive producer Paul Simms said that Guillermo was the only person who spent any time keeping the place up. Plus, Laszlo is busy taking care of baby Colin. (Let that give you the same nightmares it gave me at the end of season 3.) Simms said: 
"Laszlo is someone who is happy just to sit on a couch with an old horse blanket around him ... Laszlo is not going to do housework, basically. And it was very fun for our production designers and everyone to take our old mansion that we have, and make it even more decrepit to the point that walls are caving in and there's raccoons running around, and there's a tree that's fallen through it all."
Plus, the vampiric council is getting a makeover. Simms of that set, " ... it's the most beautiful set we've ever had, and the idea that, early on in the season, they would have actual workmen in there, sawing and taking it apart is something the just panics The Guide (Kristen Schaal) completely, which is also fun."
Guillermo is a wrecking ball
Simms said real raccoons (sorry Rocket) are used in the house destruction, but raccoons aren't the only creatures we're going to see. According to Simms, Laszlo and Nandor take baby Colin to a hunting cabin with neighbor Sean (Anthony Atamanuik) where, "you're going to see all sorts of creatures, including many that Laszlo ... tamed just by playing his magical flute. And there was one part that was not in the script that I didn't really realize until editing where there is an actual very scary bird sitting on Matt's shoulder."
Berry said it was an owl, with everyone joking that he just tames animals in real life. I mean, maybe the owl just knows about the Superb Owl party the gang went to and wants in on the fun! Here is the synopsis for "What We Do in the Shadows" season 4:
In the shocking season three finale, Nandor, Guillermo and Nadja left Staten Island to go their separate ways while Laszlo stayed home to care for the creature that clawed its way out of the chest cavity of the deceased Colin Robinson — aka Baby Colin. This season, the vampires return to Staten Island to find their mansion on the verge of total structural collapse — and with no money to repair it. While Nandor's eternal search for love finally yields results, Nadja finally realizes her dream of opening the hottest vampire nightclub in the Tri-State Area. Laszlo struggles with the question of nature versus nurture as he tries raising Baby Colin to be anything other than an energy vampire. And even Guillermo finds himself on a powerful emotional track that touches on his love for his family, and for others.
"What We Do in the Shadows" season 4 will hit FX on July 12 with two episodes, and weekly after that. The episodes will stream the next day on Hulu.