What We Do In The Shadows Season 4 Teaser: The Vampires Go Clubbing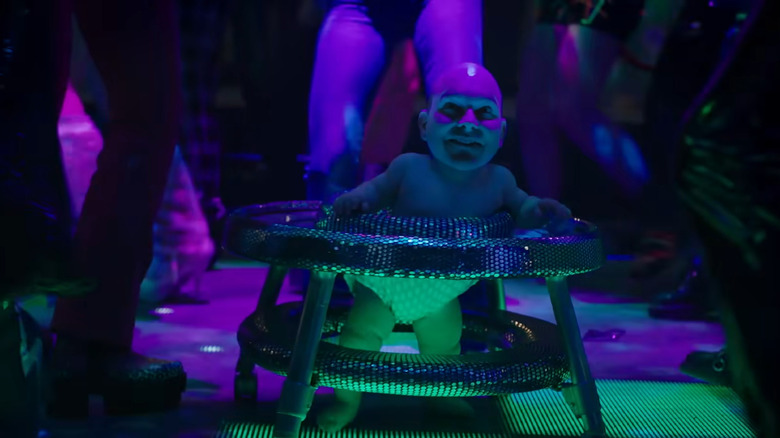 FX
Who would have thought when it premiered that a spin-off of "What We Do in the Shadows" would become one of the smartest, most consistently funny comedies on TV? The show is not only great on its own but also expands on the world of the original movie, its community of vampires and other monsters, all while giving us one of the greatest TV characters of the last decade: Jackie Daytona.
Of course, Colin Robinson tragically died last season, but that hasn't stopped a vampire before. And so the latest teaser for season 4 of "What We Do in the Shadows" reintroduces us to Colin Robinson in the creepiest way possible: a weird CG baby with Colin Robinson's fully-formed bald head.
In the perfect kind of teaser, we get a short scene that looks like a standalone, with the vampires at a club trying to blow off some steam, and in the case of Nandor, maybe find a wife, too. Things quickly go south, romantic conquests are turned down before they can begin, and also Guillermo comes in like a wrecking ball dancing on the club's giant disco ball like he was Miley Cyrus.
Guillermo came in like a wrecking ball
Without a doubt the highlight of the short teaser is the monstrosity that is baby Colin Robinson, who looks like the funniest and creepiest amalgamation of the baby from "Twilight," the baby from "American Sniper," and Baby Annette from "Annette."
Of course, this teaser has a much different vibe than how we left season 3, as it ended with the vampires going in different directions. Nandor and Nadja were off to England, bringing a very unwilling Guillermo along for the ride, while Laszlo decided to stay in Staten Island with baby Colin Robinson.
Thankfully, it seems the vampires will be together again for more shenanigans. More importantly, they will stay together for two more seasons as "What We Do in the Shadows" has just been renewed for seasons 5 and 6.
Season 4 premieres on FX on July 12, 2022, with two back-to-back episodes (dropping on Hulu the following day). Check out the synopsis for season 4 below.
This season, the vampires return to Staten Island to find their mansion on the verge of total structural collapse — and with no money to repair it. While Nandor's eternal search for love finally yields results, Nadja finally realizes her dream of opening the hottest vampire nightclub in the Tri-State Area. Laszlo struggles with the question of nature versus nurture as he tries raising Baby Colin to be anything other than an energy vampire. And even Guillermo finds himself on a powerful emotional track that touches on his love for his family, and for others.