Improvisation On The Set Of What We Do In The Shadows Is Serious Business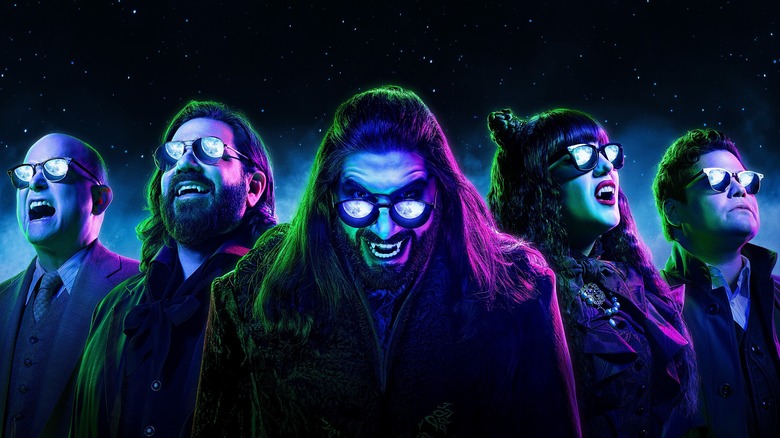 FX/Hulu
"What We Do in the Shadows" is easily one of the funniest shows on television. Taika Waititi and Jemaine Clement's 2014 mockumentary feature of the same name is a hilarious and constantly amusing comedy that still makes me laugh, but I think the show's creative team not only honors the film, but surpasses it. It's true that a television series gives you more time to fall in love with the characters, but when "What We Do in the Shadows" pops in my head, my mind is flooded with the many memorable episodes spent with Nandor the Relentless (Kayvan Novak), Laszlo Cravensworth (Matt Berry), Nadja (Natasia Demetriou), Colin Robinson (Mark Proksch), and, of course, the great Guillermo de la Cruz (Harvey Guillén). In three seasons, the cast and crew of the vampire sitcom has wholeheartedly won me over.
In case you've been out of the loop, akin to the film, the half-hour comedy depicts the eventful misadventures of a Staten Island home to three traditional vampires, a soul-draining energy vampire, and an undervalued familiar whose evolution throughout the show has been wonderful to watch unfold. This cast has extraordinary chemistry together, and it shows in how flawlessly they bounce off one another when delivering their jokes.
Improvisational ad-libbing can sometimes lead to a bigger laugh or unexpected reaction from the cast while rolling, but there's also the possibility of it being a real detriment to the project. There's room for letting a joke go uncomfortably long, but oftentimes it's a case of seeing where the joke should have naturally ended — you see it drawn out to the point where any impact that gag may have had has dissipated. Even Berry laments that he's "never been interested in comedy from people that are aware that they're being funny." But this is where "What We Do in the Shadows" differs.
The consistency of vampire laughs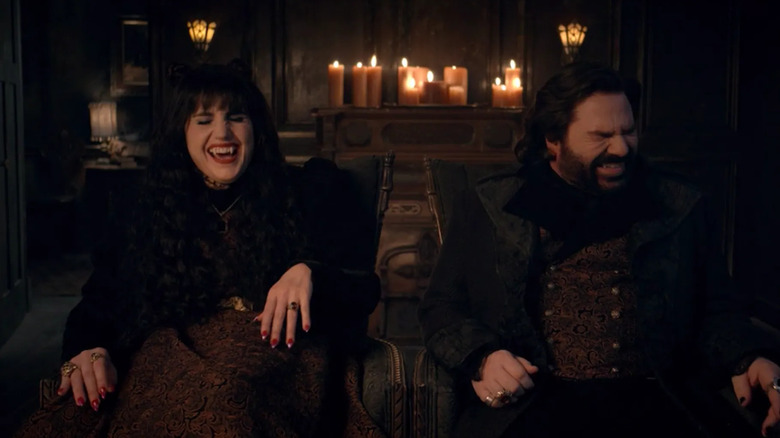 FX/Hulu
Alan Sepinwall's profile on the "What We Do in the Shadows" cast for Rolling Stone notes how deeply important it is to everyone to stay dedicated to the spirit of the characters:
"The actors don't just take their characters' connections seriously, but the entire ludicrous world of 'Shadows,' an attitude crucial to making the show as riotous as it is."
Even Mark Proksch explains how the cast's playful alteration of the material never goes too far off the rails:
"It's not your typical 'yes, and' type of comedy ... We're actually acting in character and listening as those characters would."
Taika Waititi and Jemaine Clement's brand of humor, coupled with the series' talented team of writers, is so sharp to the point where the characters have always remained consistent. Some jokes don't hit their mark, but the "What We Do in the Shadows" crew never loses sight of who each character is. I wouldn't even be able to point out what was made up on the spot.
Hamming it up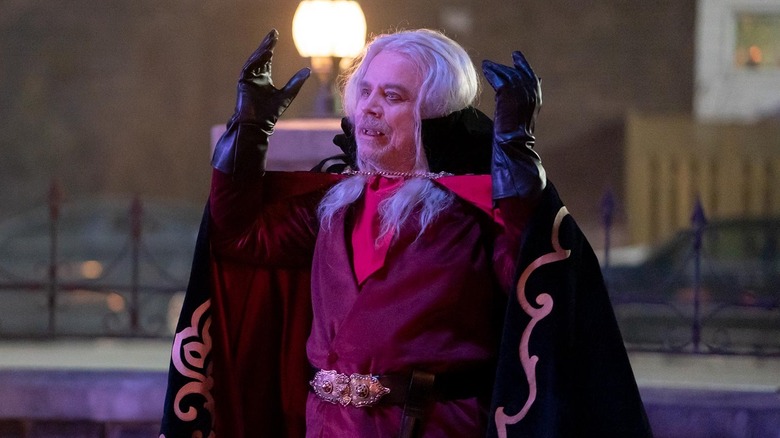 FX/Hulu
From Doug Jones to Benedict Wong, "What We Do in the Shadows" has featured a number of incredible guest stars across its three seasons, but one of the more memorable appearances came from Luke Skywalker himself, Mark Hamill. According to Jemaine Clement, Hamill would have a hard time keeping his composure on set:
"Matt Berry ad-libs like crazy ... You have to stay in character, because my character doesn't think he's funny, but Mark Hamill thinks he's hilarious."
He's right! Berry has this innate ability to make gold out of whatever comes out of his mouth. His delivery is impeccable. Hamill's episode in particular, "On the Run," gives him and Berry ample room to work off one another as his character, the aptly named Jim the Vampire, attempts to track down Laszlo for skipping out on a month's rent for a guest room in his San Diego beach house that's 167 years late. The strife causes Laszlo to don a new identity in Clairton, Pennsylvania, as Jackie Daytona, a regular human bartender and town legend who's totally not a vampire obscuring his identity with a toothpick in his mouth. Jim and Laszlo inevitably get into a bar scuffle by the episode's end, which sees the two brandishing pool cues as lightsabers, but never calling them such.
I'll bet there's an outtake that sees Hamill cracking up at the sight. He's got a wonderful sense of humor and fits in perfectly among this show's gallery of guest stars.