What Stephen King Truly Thought Of Mark Hamill's Chucky Performance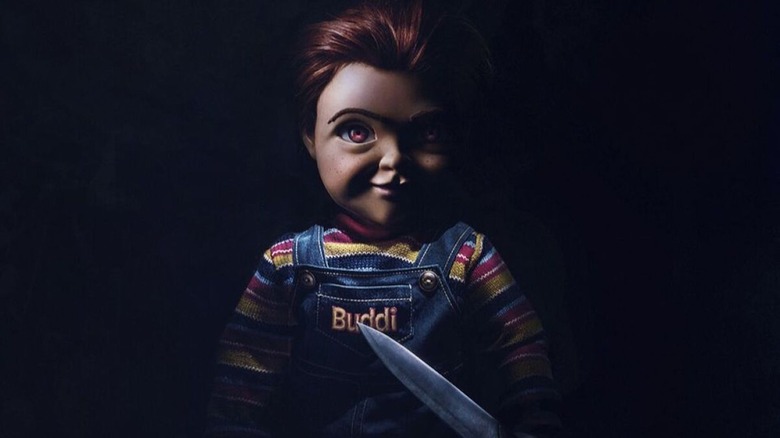 United Artists
Whether he's taunting the Caped Crusader ("Batman: The Animated Series") or facing off against the chosen one ("Avatar: The Last Airbender"), Mark Hamill's astonishing line of voiceover work shows just how menacing he can be. The man was born to voice devious villains, so securing him to take over as Chucky in Lars Klevberg's "Child's Play" remake was an ingenious idea. 
Hamill highlighted in an interview with Den of Geek how he initially had the jitters when he realized the kind of weight the role carried, citing original Chucky actor Brad Dourif: 
"I didn't feel that kind of intimidation until it sunk in that I was doing this...I love Brad. It's a great responsibility, so I'm anxious to see how people react because it's not the Chucky that we all know from before."
It's crazy how such an accomplished voice actor such as Hamill could feel the pressure, but I understand where he was coming from. Fandoms can be ruthless, and when you step into the overalls of Chucky, one of horror's greatest slasher villains, there's naturally going to be a lot of pushback prior to seeing the film. I've revisited "Child's Play" (2019) many times since it came out and Hamill absolutely slays the role. Dourif is horror royalty whose reign is still present and thriving, but Hamill does tremendous work with his new interpretation of the Buddi smart toy gone wrong. 
You know who else thinks so? Count acclaimed horror author Stephen King as a fan.
Right on the Mark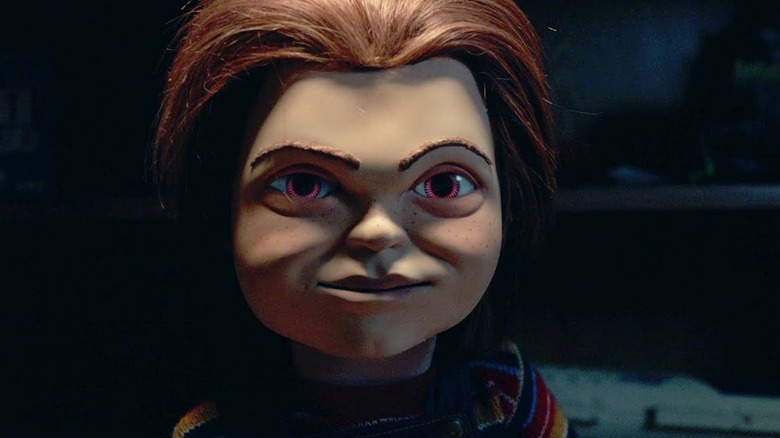 United Artists
King is notorious for commenting on the horror movies he watches, and oftentimes praises them on Twitter. While promoting the Netflix adaptation of "In the Tall Grass," King told Entertainment Weekly how much he really enjoyed the "Child's Play" remake, in addition to Hamill's takeover as the killer doll:
"I didn't go see it in the theaters, because I thought, 'Well, this is just another warmed-over sequel...Mark Hamill does the voice of Chucky and I just f***ing loved that movie. I laughed and I cried at the things in there. Everybody who's in the movie does a terrific job. It's a smart script and it's just a load of fun. It really is. It's gruesome as hell. There's this scene where this guy is [laughs] hanging some Christmas lights on his house, and Chucky does something to the ladder, and he falls off and he lands on his feet, and his bones come right out the side [now convulsing with laughter] of his legs. And you know, it's not funny, but at the same time it is funny."
Hamill shared his excitement for King's enthusiasm for the film by tweeting: "I'm thrilled beyond words to be a part of something HE loved." 
King is speaking nothing but the truth here. I don't think the new "Child's Play" gets nearly enough credit for being a gloriously gory slasher remake that actually reimagines the original film as a hilarious modern nightmare about our dangerously interconnected tech screwing us over at every turn. It delivers on the carnage one would expect from a "Chucky" movie, and Hamill plays a huge part in bringing a new twist on the killer doll's dark sense of humor to the screen.
While Dourif evolved the performance over the course of the Don Mancini-produced film (and now television) series, one aspect of his performance that always remained consistent was his vulgar attitude and gleeful appetite for killing — a serial killer is going to do his serial killer thing. That Chucky unabashedly loved what he did. Meanwhile, Hamill's version went from innocent AI to vengeful protector to a burn-it-all-down agent of chaos. His Chucky's passion for killing comes out of wanting to protect Andy (Gabriel Bateman), but once his misbehavior disgusts his owner, out come the knives, buzzsaws, and ... watermelons. 
To think: the film's gory events transpire because a disgruntled factory worker essentially flipped the one switch on the Buddi from good to evil like a "Treehouse of Horror" Krusty doll.
Break a leg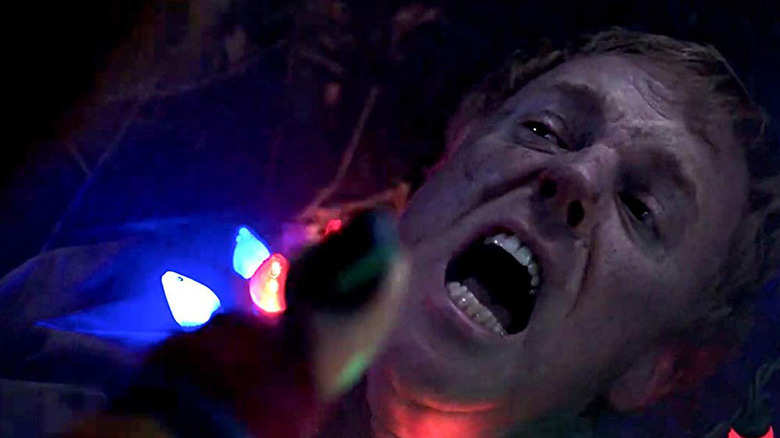 United Artists
While we're at it, let's talk about the sequence that put King in a laughing fit. The victim that Chucky takes out in this scene, Shane, is aggressively set-up as one of those characters that you're just waiting to see iced. Not only does he get rough with Andy, but we find out that he has an entire family waiting at home while he's been dating Andy's mother, Karen (Aubrey Plaza) on the side. He's essentially being served to Chucky on a silver platter.
When Shane goes outside to take down the Christmas lights, your eyes dart all around the frame to see what instrument Chucky's going to use against him. It happens quickly — the ladder comes apart and Shane lands directly on his feet, breaking his legs. He then starts crawling toward his phone, which is ringing from the family watermelon patch. Meanwhile, Chucky jump-starts a cultivator that snags onto the lights wrapped around Shane, dragging him towards the rotating blades. Of course, this is where Chucky makes himself known and tricks Shane into letting go of the gardening machine so it eviscerates his scalp. Only then does he deliver the final blow.
It's a fun sequence that builds suspense, shows Chucky's resourcefulness, and delivers a creative kill that ultimately leads to more problems for Andy later on. The use of watermelons in "Child's Play" is truly deranged, and I, for one, am here for it.