The Prop Mark Hamill Kept From His What We Do In The Shadows Appearance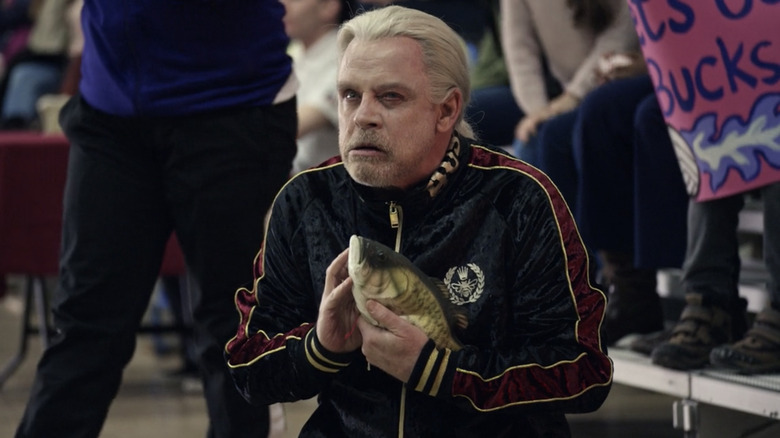 FX
In live action, Mark Hamill may be known best as Luke Skywalker in the "Star Wars" franchise, but Hamill also played an integral part in one of the single most memorable episodes of FX's vampire mockumentary series, "What We Do in the Shadows." Moreover, he came away from that episode with two of his very own "What We Do in the Shadows" props as souvenirs.
In "On the Run," the sixth episode of the show's second season, Hamill played Jim the Vampire, who showed up at the house of Laszlo Cravensworth (Matt Berry) and his bloodsucking roommates on Staten Island, demanding reimbursement or retribution in the form of a vampire duel. Once upon a time, Laszlo had rented a beach house from Jim in San Diego, but he skipped out without paying his last month's rent, and Jim spent 167 years searching for him. This precipitated Laszlo's instant-classic adventure living under the assumed identity of Jackie Daytona, a "regular human bartender" and girl's volleyball coach in Pennsylvania.
In an October 2021 interview with ComicBook.com, Hamill shared some of his experiences while filming his appearance on "What We Do in the Shadows." The subject came up as he was talking about his appreciation for the horror genre, which even once spilled over into him answering the door in a "Nosferatu" mask on Halloween, giving trick-or-treaters in his neighborhood a little scare. He joked:
"Maybe this year I'll use my fangs from 'What We Do in the Shadows.' They let me keep my fangs, because when we were shooting, I said, 'Wait a second, since these were fit directly to my mouth, can I keep them?' And they said, 'Absolutely, be our guest.'"
Fangs weren't the only prop Hamill kept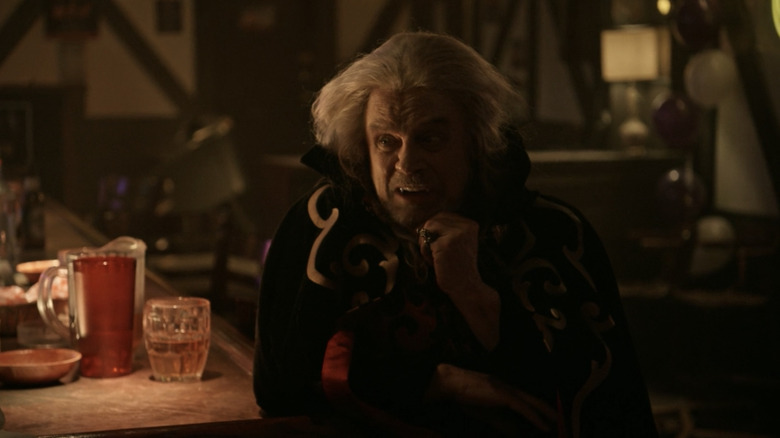 FX
In "The Book of Boba Fett," Matt Berry would go on to voice 8D8, the droid in Jabba's the Hutt's palace from "Return of the Jedi," but Berry was not part of the "Star Wars" universe yet when Hamill filmed his appearance as Jim the Vampire. And some "What We Do in the Shadows" crew members were still starstruck by Hamill, discreetly asking him to sign autographs. Taking time out of his busy day to do that endeared him to them enough that they were all too eager to offer him another prop souvenir after his episode wrapped. He explained:
"The prop department, I was really touched by this, because a lot of times, they'll be told, 'Don't bring in items for Mark to sign,' by the production crew, and once you get to know the crew, they'll say, 'I know I'm not supposed to ask, but I'd love you to sign X, Y, or Z,' and I'll say, 'Sure, come on, bring it in.' By doing that, and it only takes a few minutes during your lunch hour or even if it's just on set, but my point is, at the end of the show, the prop department gave me a dagger that was part of my character ... but what was significant about it was they said, 'This dagger is from the original "What We Do in the Shadows film,"' I said, 'Oh, my gosh, what a great collectible that is.'"
Toward the end of "On the Run," Jim forgave Laszlo his debt after Laszlo offered to give him the singing Big Mouth Billy Bass trophy mounted on the wall of his bar. It's nice to know that some of the same spirit was going on behind the scenes with Hamill and the crew of "What We Do in the Shadows," and that he now owns a piece of both the show and the movie's history. Who needs a lightsaber — or "laser sword," as Luke himself once called it — when you've got a nifty vampire dagger?