Interview With The Vampire Trailer: Let Anne Rice's Classic Tale Seduce You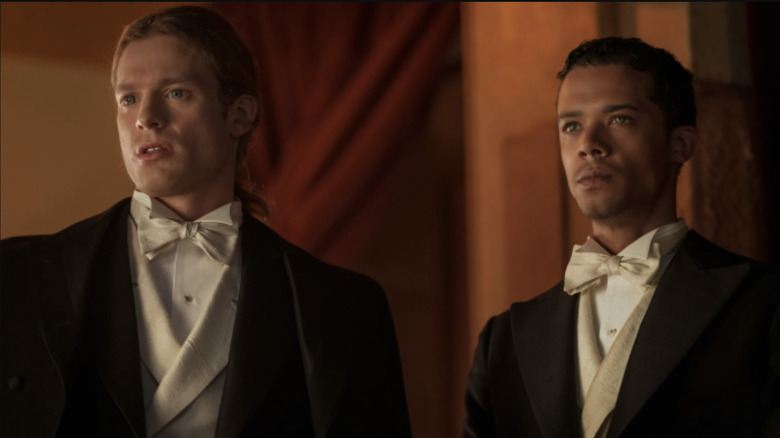 AMC
Anne Rice became the queen of the modern vampire with her groundbreaking novels, and now her most famous, "Interview With the Vampire," has been given another adaptation. The cinematic retelling starring Tom Cruise, Brad Pitt, and Kirsten Dunst is considered by many to be one of the great vampire films of the 1990s, but AMC is looking to resurrect the story in a brand new series.
With "The Walking Dead" on its way out, AMC is ripe for a new horror series to possess a generation, and the sleek, seductive, and sensual vampire tale might just do the trick. The series is a contemporary adaptation of Rice's beloved novel, reliving the stories of 200-year-old vampire Louis de Pointe du Lac (Jacob Anderson), his master and lover Lestat de Lioncourt (Sam Reid), and the eternal child Claudia (Bailey Bass), as told to the journalist Daniel Molloy (Eric Bogosian).
Starting out in 1900s New Orleans, Louis feels stifled and trapped as a Black man living under a racist regime, which makes Lestat's offer to become his eternal vampiric companion all the more enticing. Of course, as with any monkey's paw offering, becoming a vampire has its dangerous cost. In order to survive, others must die, and Louis must learn to become content with his own bloodlust. As the decades pass, Louis, Lestat, and Claudia must find new ways to stay alive, maintain their familial bond, and atone for their bloodshed.
Watch the Interview With the Vampire trailer
As Louis describes Lestat to Daniel Molloy, "He was my murderer, my mentor, my lover, and my maker." An exciting change made to the new series that was only subtextually implied in the film is that Louis and Lestat are canonically queer, enjoying the company of plenty of women as well as each other. Given how Totally Sane and Not At All Monstrously Bigoted™ people have been regarding new adaptations of lifelong favorites like "Lord of the Rings: The Rings of Power," I'm sure the one-two punch of Louis being played by a brilliant Black actor and the two most homoerotic male vampires in history shown being into each other on-screen will go over just fine. 
It's impossible to judge an entire series based on a trailer, but it seems as if showrunner Rolin Jones (who adapted the book for television) and executive producers Mark Johnson and Alan Taylor (who will direct the first two episodes of the gothic horror story) completely nailed Rice's aesthetic worldbuilding. "Interview With the Vampire" looks exactly as it should — sultry, scary, and irresistible.
The seven-episode first season of "Interview With the Vampire" debuts on AMC and AMC+ on October 2, 2022, following the premiere of the final episodes of "The Walking Dead."