Pixar's Elemental Footage Description: Can Fire And Water Mix? [D23]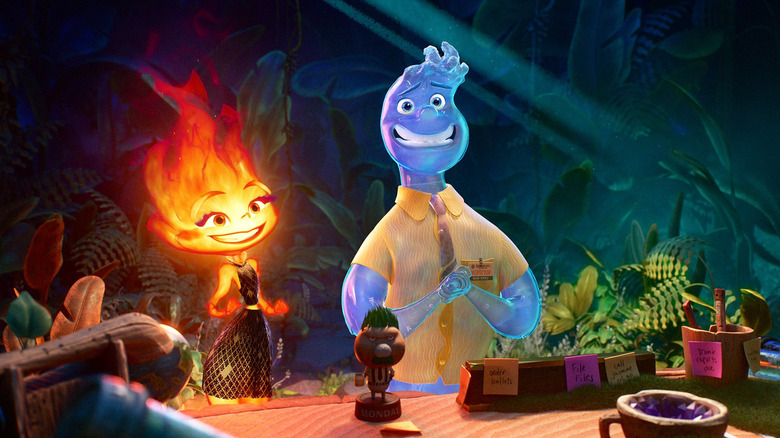 Disney / Pixar
Disney's D23 Expo is going on right now in Anaheim, California, with new information and footage from upcoming projects being released. /Film's own Ethan Anderton is right there on the ground to bring you all the breaking news. Today, audiences were shown a sneak peek of the upcoming film "Elemental" from Pixar. This will be the animation studio's 27th feature.
The new movie is directed by Peter Sohn ("The Good Dinosaur," Pixar's "Partly Cloudy" short), while Denise Ream ("The Good Dinosaur," "Cars 2") serves as producer. Fun fact: Sohn voiced Emile in "Ratatouille," Squishy in "Monsters University," and Sox in "Lightyear." 
Pixar released some concept art and a logo for "Elemental" earlier this year. At the time, Sohn spoke about the inspiration for the film. He explained:
"My parents emigrated from Korea in the early 1970s and built a bustling grocery store in the Bronx. We were among many families who ventured to a new land with hopes and dreams — all of us mixing into one big salad bowl of cultures, languages, and beautiful little neighborhoods. That's what led me to 'Elemental.'"
That will translate into the world of Pixar animation through anthropomorphized elements, with people made of fire, water, land, and air. Now we're getting more of an idea of what that will look like. 
It ain't easy being fire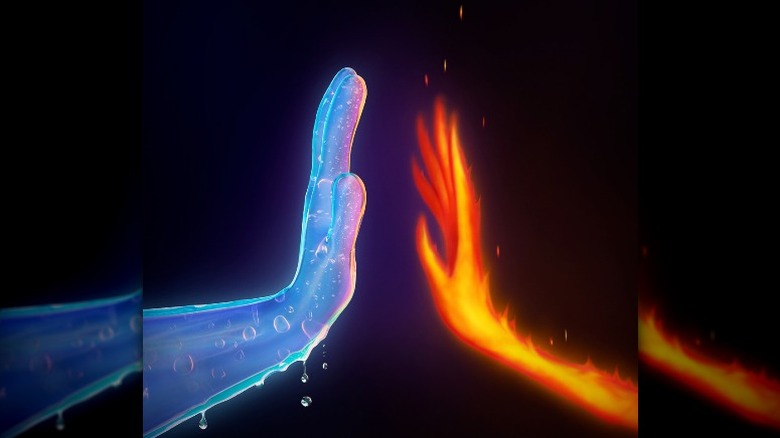 Disney / Pixar
"Elemental" director Pete Sohn and producers Pete Docter and Denise Ream were on hand at D23 to present the very first look at the latest Pixar original feature, which takes place in Elemental City where earth, air, water, and fire beings co-exist. "Some elements mix with each other, and some don't," Sohn said. "What if these elements were alive?" Ethan Anderton described the look as less Metropolis and more "Wet-tropolis," and says the early animatic footage the filmmakers screened focused on Ember. You can guess what element type she is with a name like Ember, but apparently, it's not easy being a Fire Type in Elemental City when you're surrounded by water and plants.
Naturally, Ember (who is designed to look like she's made of fire, not like she's on fire) ends up in a meet-cute with Wade, a Water Type, and this "Romeo & Juliet"-style story promises to underline that our differences make us unique and that opposites do indeed attract. Leah Lewis ("The Half of It") voices Ember and Mamoudou Athie ("Jurassic World Dominion") voices Wade.
After the unfinished animatic footage ran, the filmmakers screened a clip of Ember and Wade on a date, walking through a park. Wade tries to impress her by running across water, sliding, and creating a romantic rainbow. The D23 audience was also shown some footage of Ember walking through the streets of Elemental City. Above her runs a water subway, the water cascading down the side of the tracks like a sheet. Ember reaches out as though she'd like to touch it, but can't. Water and fire don't mix, so how is this love story going to play out? I guess we'll see next year.
A land where fire, water, earth, and air co-exist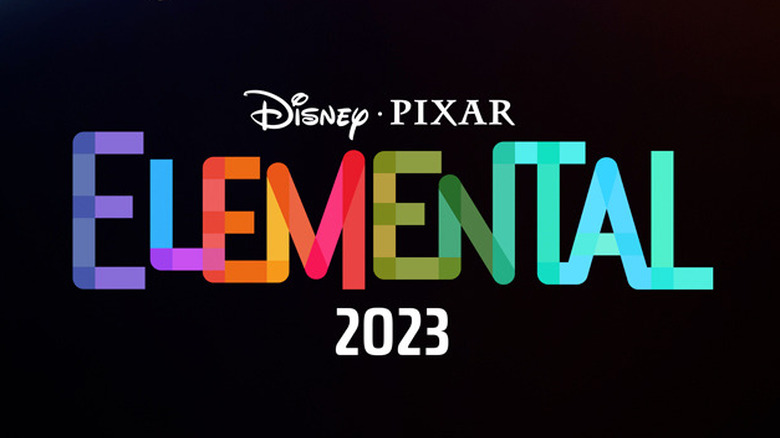 Disney / Pixar
We don't have a ton of information outside of that, but knowing Pixar, we'll have to bring tissues. There is no casting news at the moment, but we'll make sure to keep you updated as it becomes available. It's been a good year for audiences who love Pixar, with the release of "Lightyear" and "Turning Red." It remains to be seen if this film will be released in theaters or on Disney+, like "Turning Red" was. 
Here is the official "Elemental" synopsis: 
In a city where fire, water, land, & air residents live together, a fiery young woman & a go-with-the-flow guy will discover something elemental: How much they have in common.
"Elemental" will be released on June 16, 2022.