Elemental First Look: See The Concept Art From The New Pixar Film Directed By The Good Dinosaur's Peter Sohn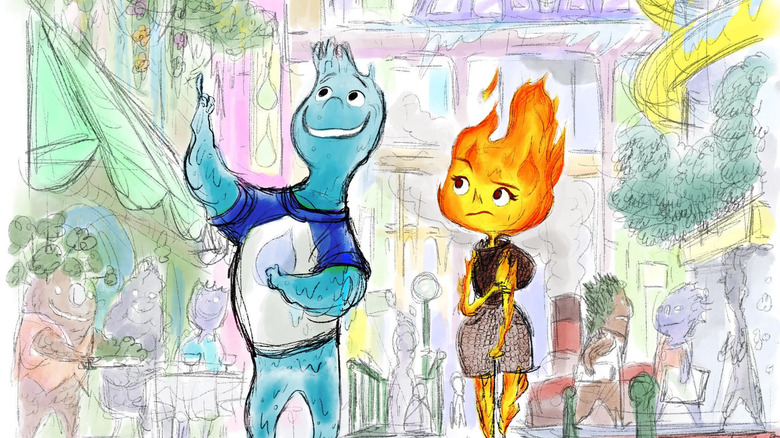 Pixar
Fresh off the delightful joys of last month's "Turning Red" and with next month's "Lightyear" ahead of us, Pixar is already gearing up for their next high-concept animated film on the docket.
Nobody needs a rundown of the studio's prolific success over the decades (though if that sounds ominously like I'm going to include a mini-summary anyway, you assumed correctly), starting with 1995's seminal "Toy Story." The franchise has undergone pretty much every possible facet of the discourse cycle by now, flying incredibly high on its "Golden Age" offerings that delivered practically nothing but unequivocal hits — including "Cars" and all its relatively underrated joys, mind you! — until 2010's "Toy Story 3." We then had to endure a bit of pearl-clutching about the studio "losing its way" when it happened to turn its focus onto some lesser sequels, prequels, and even a few original movies that didn't perform at the box office as expected. While it's probably true that Pixar's heyday is behind us now, recent efforts like "Soul," "Luca," and especially "Turning Red" have gone a long way towards rewriting the narrative once again.
Now, we have a better idea of what Pixar's future looks like with their one film scheduled to release in 2023. Previously only known as an untitled Pixar movie slotted in for a release in June of next year, we now know that this mystery film will be called "Elemental." The studio announced that their 27th total feature film will be directed by Peter Sohn (director of 2015's "The Good Dinosaur" and also Pixar's "Partly Cloudy" short, which debuted in 2009 before "Up") and produced by Denise Ream ("The Good Dinosaur," "Cars 2"), featuring the exact kind of fantastical premise you'd expect from Pixar's creative team. Though details still remain scarce, the plot will follow "an unlikely pair, Ember and Wade, in a city where fire-, water-, land- and air-residents live together."
Elemental concept art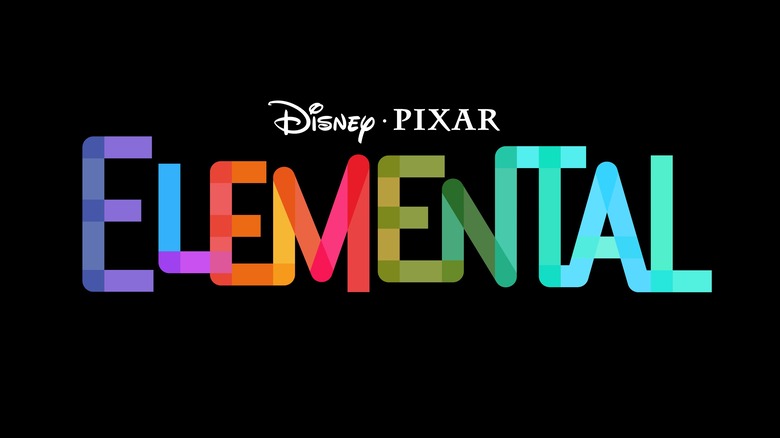 Pixar
Pixar announced this information alongside new concept art and a title treatment for the upcoming animated film. Pixar notes that the original story was first conceived by director Peter Sohn, based on his own childhood growing up in New York. According to Sohn:
"My parents emigrated from Korea in the early 1970s and built a bustling grocery store in the Bronx. We were among many families who ventured to a new land with hopes and dreams — all of us mixing into one big salad bowl of cultures, languages, and beautiful little neighborhoods. That's what led me to 'Elemental.'"
Pixar as undeniably flung open its creative doors to a much more inclusive set of storytellers in recent years, a trend that "Elemental" clearly aims to continue. The family-friendly series of animated movies have always managed to pack an emotional punch by sneaking in some nifty metaphors amid their heightened and fantastical worlds, which should give Sohn and his creative team plenty of opportunity here in an "Avatar: The Last Airbender"-like world where its inhabitants happen to be the personification of our own familiar elements.
Sohn goes on to tease that, "Our story is based on the classic elements — fire, water, land, and air. Some elements mix with each other, and some don't. What if these elements were alive?"
Sounds like quintessential Pixar to me!
"Elemental" is scheduled to arrive — whether in theaters or straight to Disney+, the studio didn't specify — on June 16, 2023. Check out the synopsis below:
In a city where fire, water, land, & air residents live together, a fiery young woman & a go-with-the-flow guy will discover something elemental: How much they have in common.