Dwayne Johnson Went All-In On Channeling Danny DeVito For Jumanji: The Next Level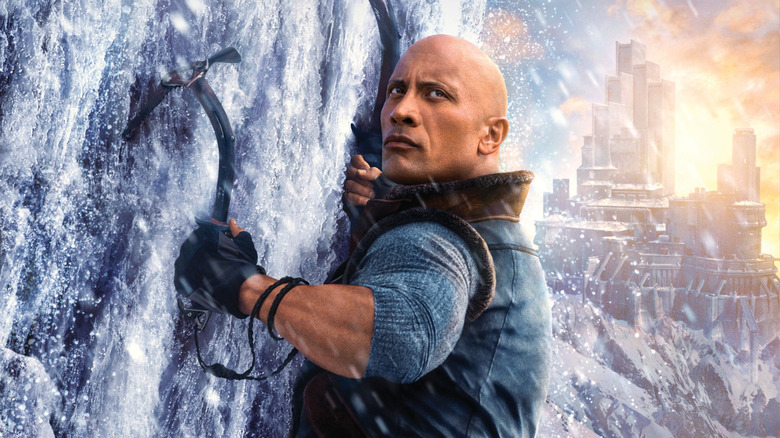 Columbia Pictures
Dwayne Johnson has led several blockbuster franchises, but his time in "Jumanji: The Next Level" may very well be one of his most dynamic turns as an action star. Although he still rocks his typical attire — a tan shirt and cargo pants — as the video game character Dr. Xander "Smolder" Bravestone, Johnson has the unique challenge of evoking the personality of the person controlling him. In the first film, it was Alex Wolff's nerdy protagonist Spencer Gilpin, but in "The Next Level," Johnson has to personify that character's grandfather, Eddie, played by Danny DeVito. The result is undeniably entertaining, pushing Johnson to the limits as an actor and comedic talent.
DeVito, an acting juggernaut in his own right, is a delight in the "Jumanji" sequel. Playing the stereotypical out-of-touch grandfather, DeVito is a breath of fresh air in the newly-rebooted franchise. But when his character takes over the video game avatar, it's up to Johnson to fulfill DeVito's role. Johnson more than commits to accurately portraying the veteran actor, going as far as to study his mannerisms and speech to prepare for the film.
Embodying the icon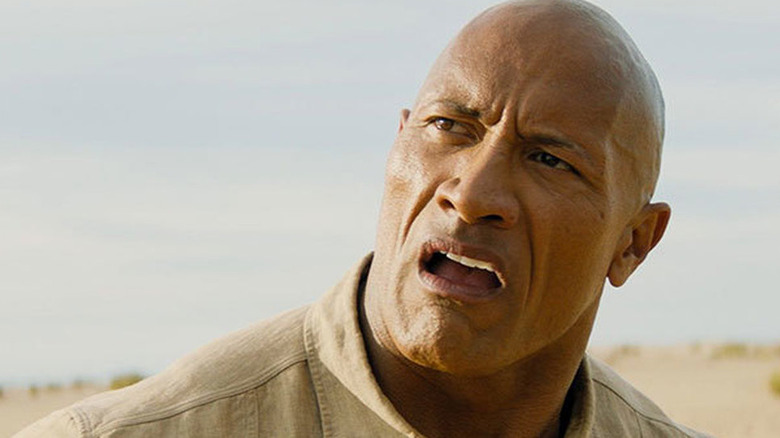 Columbia Pictures
After playing a nerdy kid in "Jumanji: Welcome to the Jungle," Johnson and the film's director, Jake Kasdan, were keen on capitalizing on the opportunity to play a video game character represented. In an interview with Total Film Magazine, Johnson explained the creative process that led to DeVito being the perfect option for the "Jumanji" sequel:
"It was the most surreal and wildest f***ing thing to channel Danny DeVito. When we decided to take a crack at a sequel, we sat around the table, and thought, 'Well, one of the greatest joys of Jumanji is this idea that we have created these videogame avatars that, really, anyone can become.' We could bring in any actor. So I told Jake [Kasdan], our director, 'What if we took the idea of Cocoon with older people, and we apply that here?' And from there, the ideas just really started coming out."
Going from a Wolff to DeVito is no easy feat, but Johnson does not hesitate to dive headfirst into the daunting task. This includes getting to know him personally and observing all of his quirks and features:
"What about Danny DeVito. And I said, 'I'm in 100 percent.' So then I spent time with Danny, and got to know him, and his innuendoes, and how he is. He has a certain speech. And there's some roughness to him."
Let's be clear, Johnson is not pulling off an all-time performance playing an amped-up version of DeVito. However, it goes to show that Johnson is willing to venture out of his shell to provide blockbuster entertainment. And, most importantly, DeVito approves of his portrayal.
The man himself approves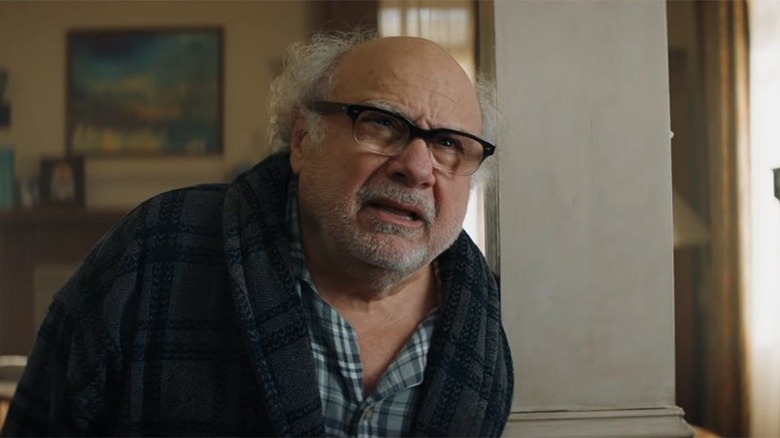 Columbia Pictures
DeVito spoke to Cinemablend and revealed that he was happy with how his avatar, Johnson, executed his Jersey accent and signature flare:
"I think both of our avatars did really well, Dwayne and Kevin, so I was very happy to see that Dwayne like dove right into Jersey, you know? That was really great."
I think the most important aspect of Johnson attempting to replicate DeVito is that he has fun with it. He takes it seriously to a certain extent in getting the personality right, but Johnson turns it up to 11 and does not skip a beat as a super-powered grandpa in a video game world. Even his best friend Kevin Hart gets in on the action, coincidentally playing Eddie's estranged friend Milo (Danny Glover) in "Jumanji: The Next Level." Both always have great chemistry on screen, but playing non-typical personalities sets this film apart from the rest of their work together. It would be awkward if DeVito disapproved of it, but knowing his comedic tendencies, I'd argue that the hilarious caricature is exactly what he would always want.
It's not clear if another "Jumanji" sequel is in the cards, but I hope that Johnson and company continue to push exciting ideas forward, even if DeVito is irreplaceable, in and out of his video game avatar.