Dwayne Johnson Dipping Between Black Adam And Krypto Sounds Like A Trip To Watch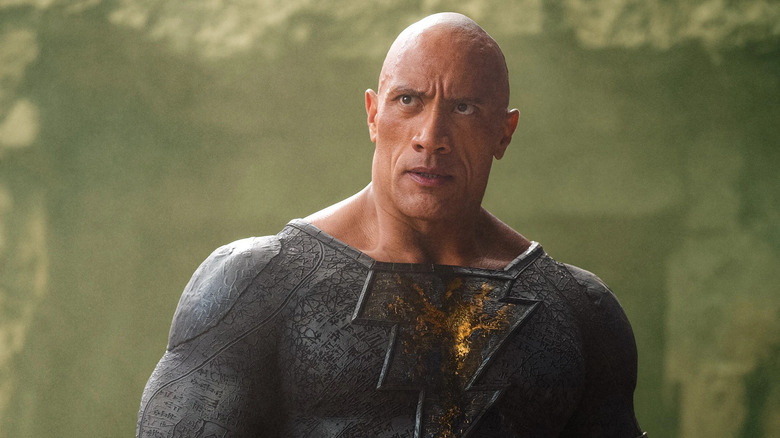 Warner Bros. Pictures
The hierarchy of the DC Extended Universe is set to change with the upcoming film "Black Adam," but Dwayne "The Rock" Johnson, who plays the titular anti-hero, already has one foot in the DC superhero world. With the release of "DC League of Super-Pets", Johnson jumpstarted a hopeful animated franchise featuring himself and his bestie Kevin Hart as Krypto and Ace, aka Bat-Hound, respectively. Despite Johnson starring as the lead in both, the two superhero projects are hilariously different in tone and style.
In "Black Adam," Johnson plays one of DC's most morally gray characters, Teth-Adam. While Superman always tries to find the best in humanity no matter the situation, Black Adam never hesitates to eliminate his enemies (or any other threat to his country, Kahndaq). Meanwhile, in "DC League of Super-Pets", Johnson's character Krypto is literally Superman's sidekick; he's a super-powered canine hero that every child adores. As one could imagine, Teth-Adam and Krypto are very different characters, and their stories reflect that. But according to producer Hiram Garcia, that's part of the appeal.
From breaking bones to licking them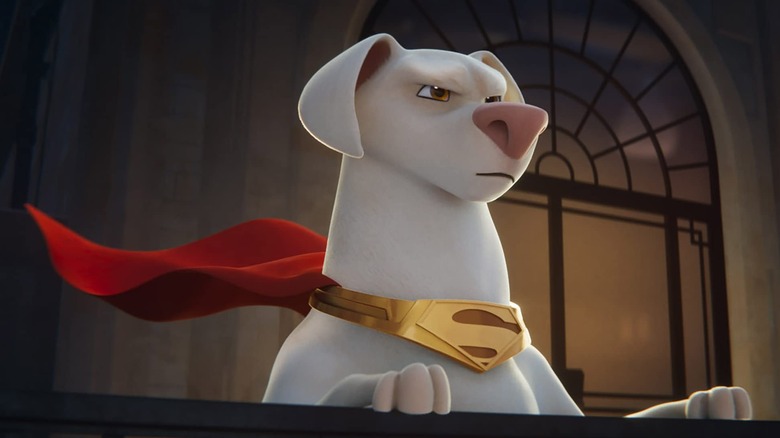 Warner Bros. Pictures
In an interview with CBR, Garcia suggested that Johnson getting to play in such opposite worlds is what makes the roles "so much fun." As a comic book fan himself (like many of us), Garcia enjoys having the opportunity to play with different tones while pulling from the DC Comics canon, striking a balance between the spine-ripping anti-hero Black Adam and the lovable, charismatic pet Krypto:
"It's fun to be able to one day be working on Black Adam, picking up someone and electrocuting them till it's just their skeleton and then crushing the skeleton, to Krypto doing crazy things as Superman's dog in this charming story of Superman's best friend, who is, again, all goodness and vibrance and purity and the love wrapped up into a dog that also happens to be the most powerful animal in the entire universe."
Garcia also praises Johnson's ability to "shift" between the two totally different personas, stating Johnson "does such a good job" as both. 
While Garcia and Johnson are hard at work creating two very different cinematic worlds with DC's characters, it's reassuring to see that they are enjoying the process. Moreover, it is about time to see Johnson getting to put his acting talents to good use and fully realize two nuanced, fleshed-out characters.
A rock and an easy place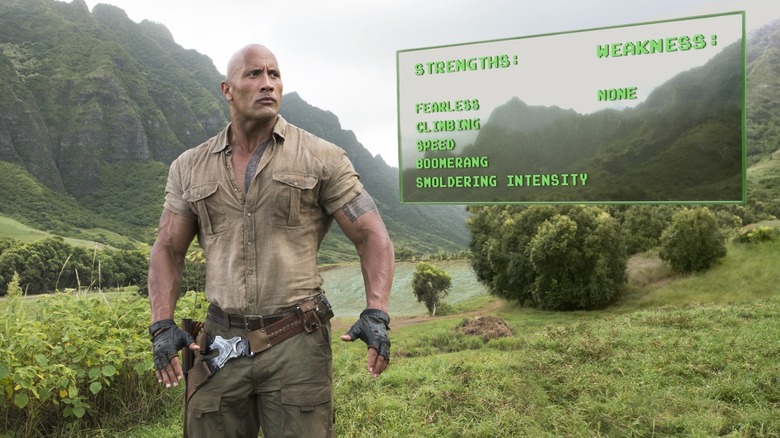 Sony Pictures
Ok, let's be upfront here. Before 2022, Johnson was feeling a bit typecast, playing similar characters in several major franchises. Whether it's "Rampage" or "Jungle Cruise," the Rock has conquered the exceedingly likable and rarely fallible archetype. This isn't a bad thing, of course, but I think he should have the opportunity to flex his acting muscles in more ways than one with blockbuster event movies.
The DC Universe is allowing Johnson to expand what type of role he can play and, thankfully, he does not have to wear his usual tan shirt and cargo pants. Yes, he continues to be the protagonist, but there are layers to both Black Adam and Krypto. Especially with Teth-Adam, a relentlessly brutal and extremely powerful anti-hero typically positioned as the villain in many DC Comics. He has been developing that DCEU project for many, many years now and even he admits to Den of Geek that "There's nothing like him. There's no character that I've ever felt more connected to for a variety of reasons."
Although it remains to be seen if "Black Adam" can deliver on its promises, there is a warranted expectation that Johnson is looking to stretch his wings with the highly anticipated role. At the very least, we can rejoice that he is wearing a superhero costume (instead of his usual khaki).