DC League Of Super-Pets Review: A Half-Good Boy Of A Movie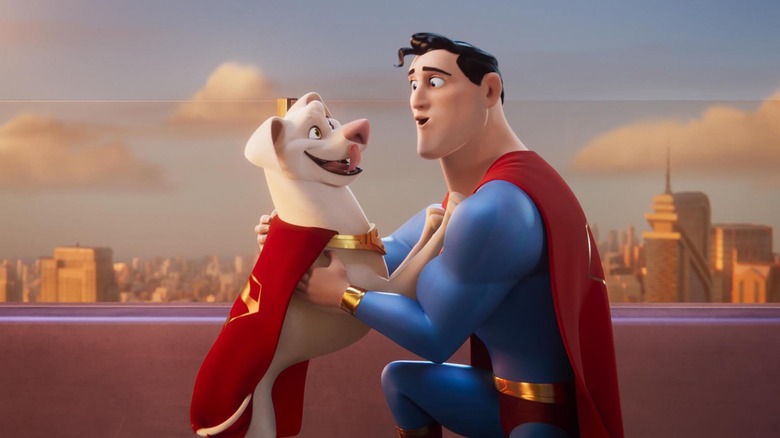 Warner Bros. Discovery
We're well past the point of oversaturation for the presence of superheroes on film. In the mid-2000s in the world of Warner Bros., there was a version of Batman played by Christian Bale and a version of Superman played by Brandon Routh, and Marvel was just beginning to pursue its own cinematic universe, a large gamble to say the least. Now, the story is so sprawling that it's enough to spend time counting how many versions of Batman or Superman there are on the big screen, from live-action versions played by Ben Affleck and Robert Pattinson to animated versions voiced by Will Arnett, Nicolas Cage, and more. Add to the ever-growing pile the vast ensemble of "DC League of Super-Pets," a new animated film that focuses primarily on the various and sundry pets who either have (or may soon have) a hero as their owner, while also presenting an elasticky, more cartoonish version of the Justice League. On its own, "DC League of Super-Pets" is a tolerable, painless, sometimes mildly clever summertime experience, but comparing it to other DC animated fare only highlights its more meager aims.
Just as Superman (voiced here by John Krasinski) is ostensibly the protagonist of the Justice League, his faithful dog Krypto (Dwayne Johnson) is the lead of "Super-Pets." Krypto is an overly confident, self-assured, and self-reliant super-pet, which of course means that the ensuing adventure will send him on a journey of self-discovery and understanding that it's best not to do everything by yourself. As in so many modern computer-animated stories, our hero is unavoidably paired up with his complete opposite, along with a ragtag bunch of supporting friends. Here, Krypto winds up losing all of his superpowers just as a motley group of rescue animals from a local shelter, led by Ace (Kevin Hart), gain a slew of powers. When one of those rescue animals, a guinea pig named Lulu (Kate McKinnon) bent on world domination like her hero Lex Luthor (Marc Maron), begins to wreak havoc, starting by rounding up and imprisoning the Justice League, it's up to Krypto, Ace, and their fellow pets to save the day.
"DC League of Super-Pets" arrives in theaters just about five years after the extremely funny and shrewd "The LEGO Batman Movie," also from Warner Bros., and is co-written by Jared Stern and John Whittington. (They're credited with this film's script, and Stern is its director.) And we're also only a few years removed from the very funny and underrated "Teen Titans Go! To The Movies," which was both an adaptation of a goofy and fast-paced Cartoon Network show and a nervy satire of modern superhero fare. That's to say nothing of Marvel's own foray into feature animation in 2018 with "Spider-Man: Into the Spider-Verse," either. The point here is that while "DC League of Super-Pets" is nothing remotely approaching painful or poorly written, its predictability and easy humor falls awfully short of a bar that some of this film's own creative contributors have helped set. 
A low bar to clear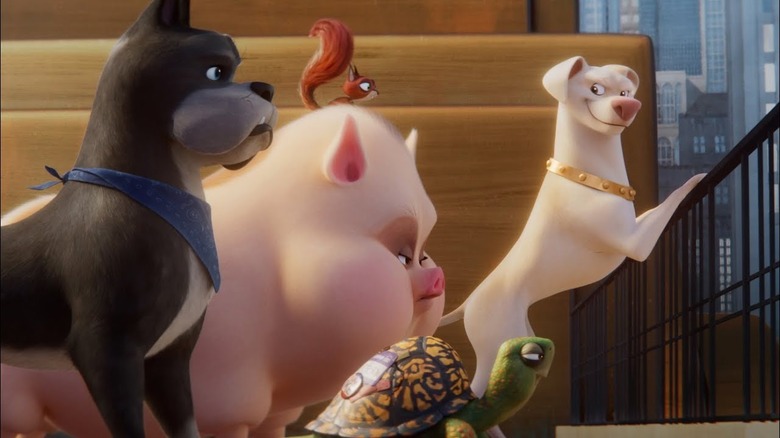 Warner Bros. Discovery
Most of the joys of "DC League of Super-Pets," as well as some of its core frustrations, come from being able to spot the reference or recognize the voice actor. In one case, when Lulu says the phrase "Lock the gates!" in front of Lex Luthor, it helps if you're familiar with Maron's "WTF" podcast (or his small role in Cameron Crowe's "Almost Famous"). And when the gravelly tones of Keanu Reeves are on hand to voice Batman, it helps to recognize the erstwhile "John Wick" star in a movie where a taciturn hero is presented with the option of adopting a rescue dog. The best gags in the film seem to be better enjoyed by the parents in the audience rather than their kids, as well as the slightly envelope-pushing ones. (To wit: one of the rescue animals is a turtle named Merton, voiced by Natasha Lyonne, and Merton is prone to using R-rated profanity, which is fortunately bleeped out on purpose to inspire laughs of surprise.) 
But then, some of the laziest choices are easy to spot if you've got a long enough memory: when Ace reveals his tragic backstory that led him to a local animal shelter, it's so reminiscent of the now-iconic scene in "Toy Story 2," in which we learn the tragic backstory of Jessie the Yodeling Cowgirl, that Pixar ought to ask for some royalties from WB. Krypto's own arc of grasping that he can allow others to help him hits plenty of familiar beats, with just the supporting cast — primarily Lyonne and Vanessa Bayer as a boisterous pig named PB — serving to elevate the rote scriptwriting with their energetic voice work. Johnson and Hart, who have proven to be a dynamic comedy duo in films like "Central Intelligence" and the "Jumanji" movies, are somewhat hemmed in by the constraints of voiceover — not being on the screen together in body and voice makes their byplay a little less enjoyable.
"DC League of Super-Pets" holds the dubious honor of being right in the middle in terms of quality among this year's mainstream animated films. Though none of them have been truly remarkable, it's another fast-paced adventure featuring the dulcet tones of Marc Maron as a bad guy that's the year's most entertaining: "The Bad Guys" from DreamWorks Animation. "Super-Pets" is far from this summer's most disappointing (that would be Pixar's "Lightyear"), but it's eminently forgettable. And when you consider its fellow superhero-animation competition, it's not able to measure up.
/Film Rating: 4 out of 10