Black Adam Trailer Breakdown: Dwayne Johnson's Antihero Is Here To Shake Things Up For DC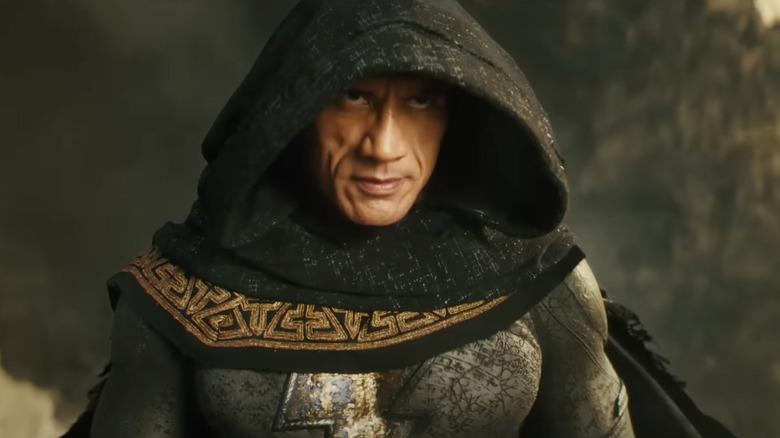 Warner Bros.
Can you smell what Dwayne Johnson is cooking? It's a new trailer for "Black Adam," the next high-flying DC movie and the one that will — according to Johnson — change the whole "hierarchy of power" in the DC Extended Universe, as it's informally known.
Johnson isn't the first "Fast & Furious" franchise alum to enter the DCEU. His "Red Notice" costar, Gal Gadot, had her international breakthrough in the fifth "Fast & Furious" movie. The "Shazam: Fury of the Gods" trailer, which also debuted at Comic-Con this weekend alongside the one for "Black Adam," features a knowing meta wink to Dame Helen Mirren's role as the mother of Jason Statham's eponymous character in "Hobbs & Shaw" as well.
What makes "Black Adam" a little different from previous DC superhero flicks is that it's taking Johnson, an actor who was already a global superstar, and sticking him in his own immediate solo film as an established comic book character who is more of an antihero/villain. Even Will Smith and Ben Affleck were introduced as part of an ensemble in "Suicide Squad" and "Batman v Superman: Dawn of Justice." While "Black Adam" does feature members of the Justice Society of America (more about them in a minute), Johnson's character is very much front and center, and the movie's title carries his name alone.
Let's see what hints we can glean about "Black Adam" from its Comic-Con trailer, below.
'My powers are not a gift...'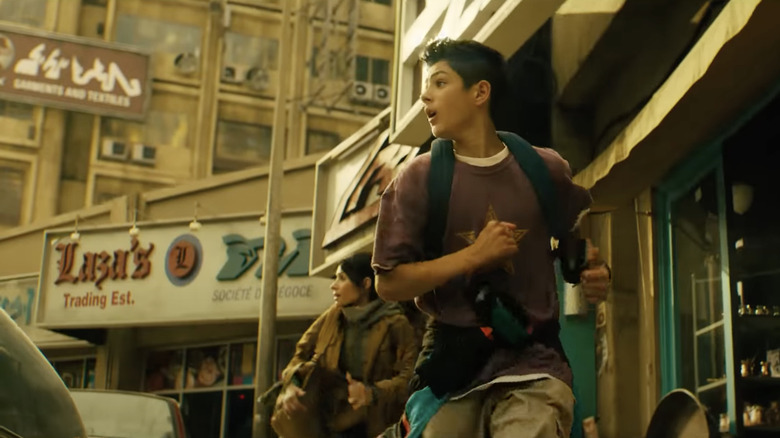 Warner Bros.
The trailer begins with Black Adam hovering in the sky, backlit by the sun. We hear Johnson's character deliver a voiceover, saying, "My powers are not a gift..." 
As he's saying this, we see people running in terror through the street and Black Adam flying through the air, shooting a lightning bolt from his hand in the same Middle Eastern city. This could be Shiruta, capital of the fictional country Kahndaq, which Black Adam rules over in the comics.
'...but a curse'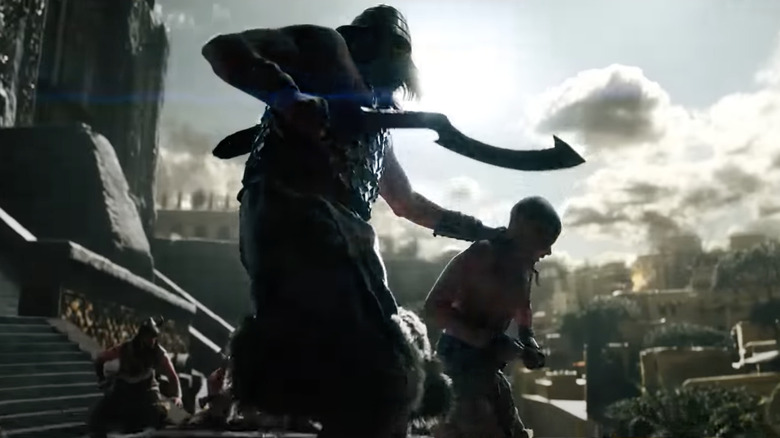 Warner Bros.
From here, the trailer quickly flashes back to a scene from Black Adam's past as Teth-Adam, who witnessed his son being sacrificed in ancient times (5,000 years ago or thereabouts). In the "Fury of the Gods" trailer, Shazam — who derives his powers from the same divine source as Black Adam and is his archenemy in the comics — jokes about the aforementioned "Fast & Furious" franchise's fixation on #family, something he, too, shares with his foster family and super-powered Shazam Family.
It appears "Black Adam" will have a dose of the same fixation, though it's more about providing Johnson's antihero with a tragic backstory in this case.
'Born out of rage'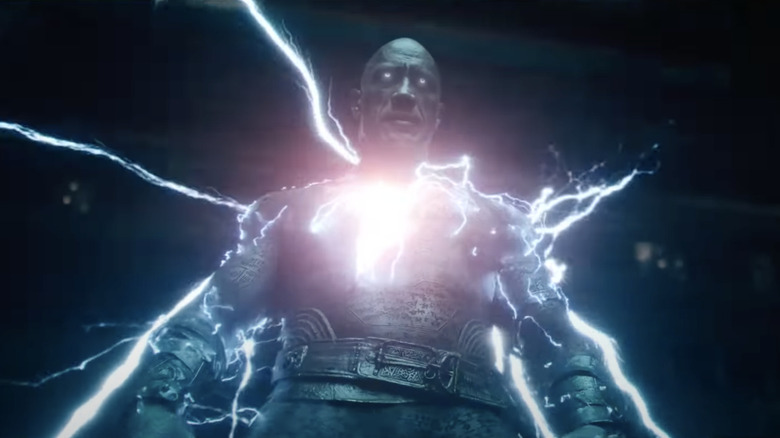 Warner Bros.
After a soldier hacks into Teth-Adam's son and drops his body over the edge of a cliff, we see Johnson's character powered up with blue crackling lightning energy. He appears to detonate and blow a huge blue crater in the desert.
The words "This October..." flash onscreen, and we see Black Adam flying through the air in the modern day. He comes up on two fighter jets and promptly smashes down the wing of one of them. Then, Pierce Brosnan's Doctor Fate blinks into the room.
'You believe you are not worthy'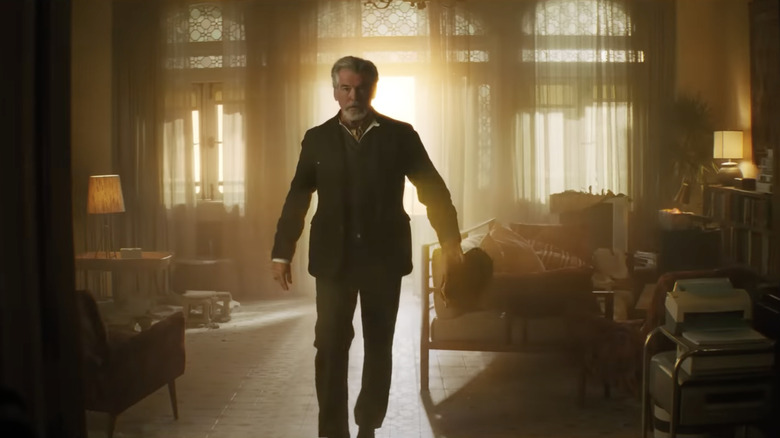 Warner Bros.
We don't really get a good look at Doctor Fate's costume before he switches over to his plainclothes civilian guise as Kent Nelson. This comes with additional voiceover from Brosnan's character, who says, "Black Adam, you believe you are not worthy," as we see Teth-Adam being imprisoned in a chamber that fills with water after sharing a last hug with his wife and son.
When you've got Pierce Brosnan in your movie, you obviously want to show his face, but Doctor Fate's costume is being brought to life via mo-cap, and the lack of a real money shot for his helmet originally had me a little worried it might be one of those wobbly CG costumes that the film only sort of half-commits to.
Doctor Fate and Cyclone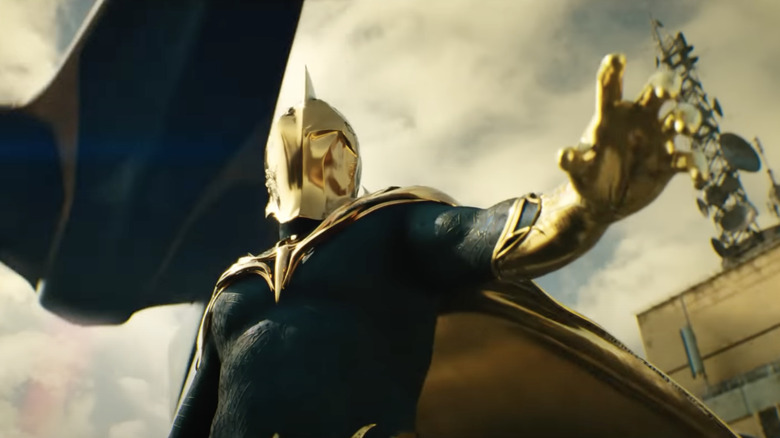 Warner Bros.
As if anticipating these fears, the trailer next offers a shot of Fate helmeted up and stretching out his hand while a jet (likely the JSA's) flies right overhead. It doesn't look like his helmet has eyes, which is a departure from how it's usually drawn. Otherwise, the costume is pretty comics-accurate, though the goopy look of his hand and the overall CG nature of him still has me a bit concerned that Doctor Fate might wind up looking like something out of a video game if and when we're able to lock eyes on him in the movie for more than a few seconds at a time.
There's also a shot of Quintessa Swindell's Cyclone, whose red hair and green costume is just a spinning blur. The wind from her seems to send a bunch of pipes soaring in, in an attempt to cage Black Adam again, but I have a feeling those aren't going to hold him very long.
'You can be the destroyer of this world...'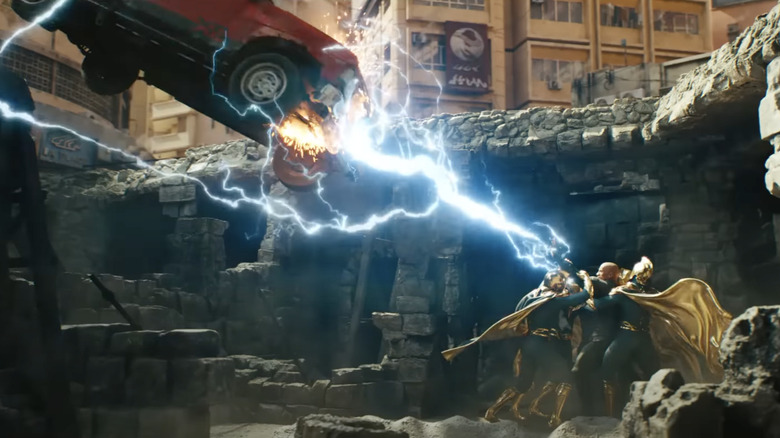 Warner Bros.
One of the cooler shots in the trailer shows Black Adam fighting multiple Doctor Fates, a reminder that the latter hero has magical powers akin to Doctor Strange. Black Adam uses lightning to stop an airborne car from hitting him, and the slow-motion framing of it looks like something out of a film by future "Teen Titans" guest star Zack Snyder.
Then, we get a quick shot of Noah Centineo's Atom Smasher, sans mask, with the other members of the JSA aboard their jet. It's shown cruising in over a snowy landscape before Black Adam faces off with a couple of helicopters. There are definitely a lot of flying things in this trailer.
Through all of this imagery, Fate continues his voiceover, telling Black Adam, "You have two powers. You can be the destroyer of this world..."
'...or you can be its savior'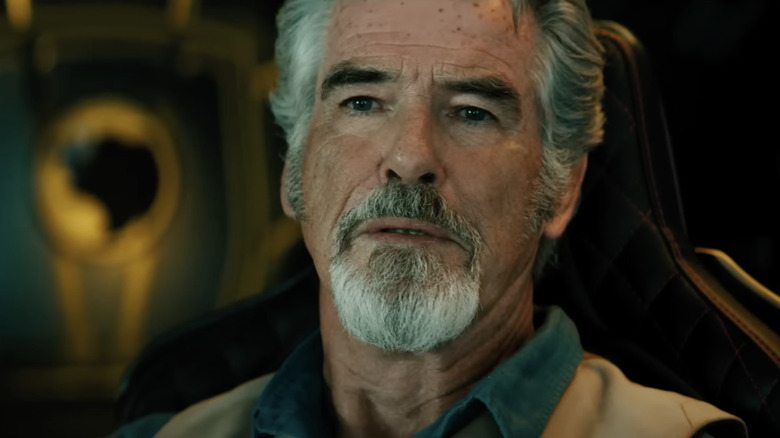 Warner Bros.
There's a close-up of the Helmet of Fate at what looks like a roundtable JSA meeting; it glows and we see the grey-bearded Brosnan's face in close-up, next, as he seems to become telepathically aware of a cosmic disturbance, possibly the awakening of Black Adam.
"Or you can be its savior," Fate continues in voiceover. The trailer gives a glimpse of what looks like a pair of hover bikers flying away from a coastal city with a Teth-Adam statue (again, this might be Shiruta). It appears that Black Adam is hot on their tail and that he quickly crashes into one or both of them and blows them up.
'The world needed a hero. Instead, it got me'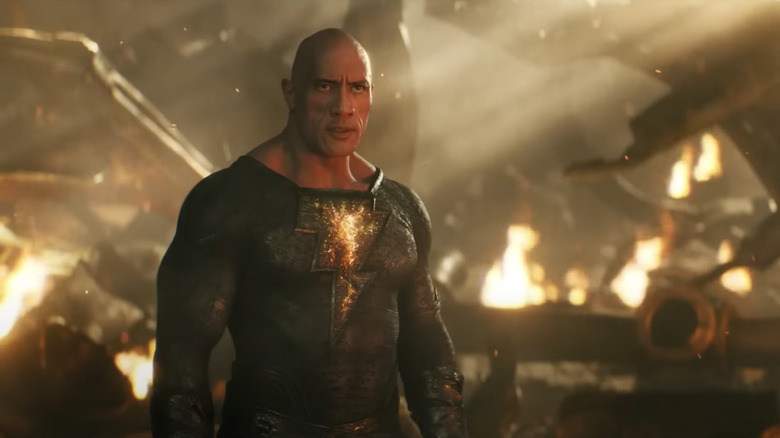 Warner Bros.
Just when it seems like this trailer might be in danger of becoming the Doctor Fate show, Black Adam takes back control of the voiceover, saying, "The world needed a hero. Instead, it got me." There's a nighttime shot of him standing among some burning wreckage, trading a look with Sarah Shahi's character, Adrianna Tomaz, who is said to be "a university professor and freedom fighter leading the resistance" in Kahndaq (per early casting details in The Wrap).
This is followed by another daytime shot of dust clearing and Black Adam standing up on the street as if he's just landed or been hit by something.
Black Adam vs. Hawkman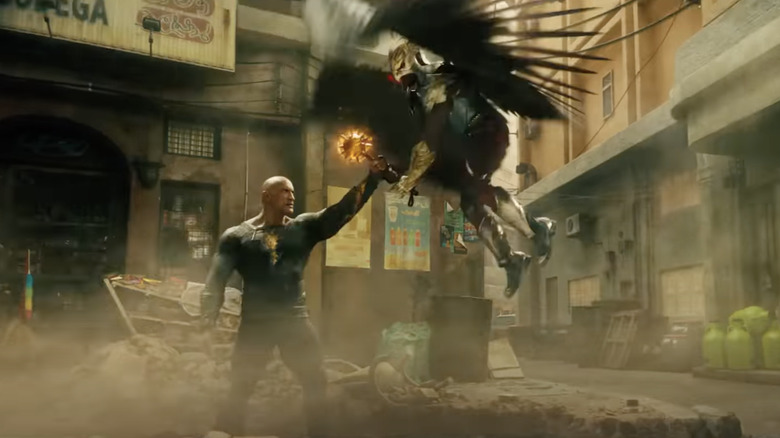 Warner Bros.
At the end, we see Atom Smasher in costume, running down the street as a lightning explosion goes off behind him. Cut to Aldis Hodge's Hawkman, standing on a street in the same city in front of a KFC sign. It stands for "Kahndaqi Fried Chicken" in this world.
Hawkman jumps up with his signature weapon, the Thanagarian Mace, and Black Adam just stands there, watching his incoming foe without showing the slightest bit of intimidation.
Who's the real villain in this movie?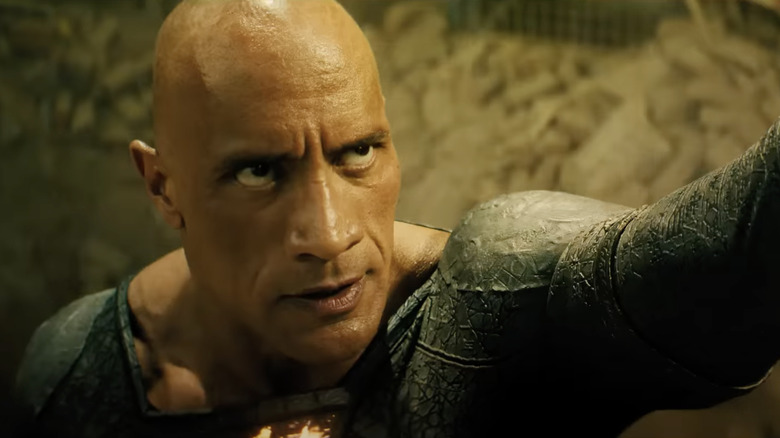 Warner Bros.
Black Adam catches the mace and sends Hawkman flying back into a car. The logo with his name comes up — and that's it. The trailer is only about a minute long, but it clearly seeks to establish that Black Adam is a force to be reckoned with and that even the combined might of the JSA may not be enough to stop him.
Rather than being a full-on supervillain, however, it's a safe bet Black Adam will embrace his antihero side and forge a shaky alliance with the JSA as they take on the greater threat of the film's other secret villain (revealed only to Hall H attendees and not shown in the trailer online, though his name arose in our previous speculations).
"Black Adam" re-teams Johnson with his "Jungle Cruise" director, Jaume Collet-Serra, and is in theaters on October 20, 2022.