Here's When You Can Watch DC League Of Super-Pets At Home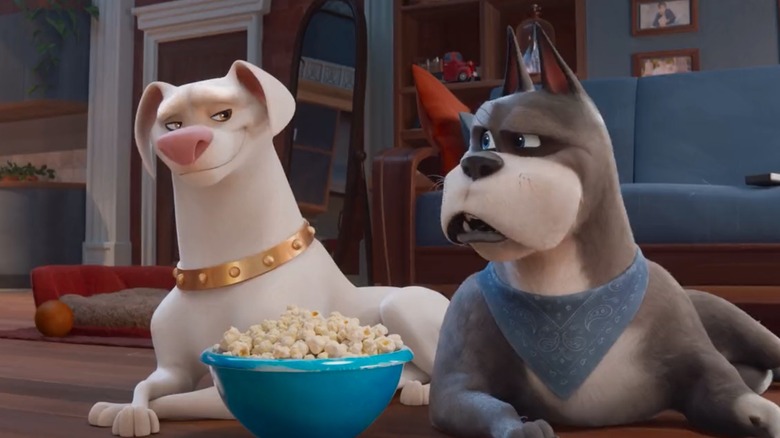 Warner Bros. Pictures
Everyone knows the big DC superheroes, from Batman to Wonder Woman to Superman, but will no one think of the super-pets? Sure, the news shows the world being saved time and again by the major names in the Justice League, getting them press they don't even need. Meanwhile, dogs, pigs, turtles, and more are working behind the scenes to keep order in the world and their superhero friends on track. Someone get these little buddies a fancy bed, some toys, and all the super snacks they can eat. 
The animated film "DC League of Super-Pets" has finally brought us the story of the real heroes; the ones with tails and shells. It stars the voices of Kevin Hart, Kate McKinnon, Dwayne Johnson, John Krasinski, Diego Luna, Natasha Lyonne, and more. Keanu Reeves voices Batman, and that alone is a dream come true. The Warner Bros. tale of the world's fuzziest heroes is coming to digital, DVD, Blu-ray, and 4K with a whole lot of extras, including deleted scenes, drawing lessons, a guide to Easter eggs, and more. Here is the Twitter announcement for digital release, straight from the snoots from Krypto the Super-Dog and Ace the Bat-Hound.
It only gets better the more you watch. DC League of Super-Pets is available to own TOMORROW on Digital! pic.twitter.com/oOqeuNZWEp

— DC League of Super-Pets (@DCSuperPets) August 22, 2022
Here's what we know about how to stream and purchase "DC League of Super-Pets."
Here's where you can stream DC League of Super-Pets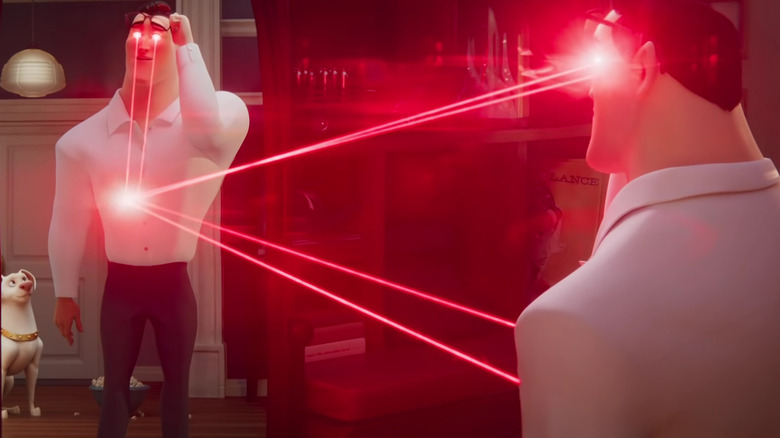 Warner Bros. Pictures
"DC League of Super-Pets" will be available for Premium Digital Ownership on August 23, 2022 for $24.99, or a 48-hour rental through PVOD for $19.99. Considering that this is a family film, and theater prices are fairly high these days, that's not bad. You'll also be able to get the title through Movies Anywhere with the app and website. It will be available on selected TV sets with Filmmaker Mode, which was created by studios, TV manufacturers and directors. Here's what it does for you:
Filmmaker Mode disables all post processing (e.g. motion smoothing), preserves the correct aspect ratios, colors and frame rates, and enables your TV to display the film precisely as it was intended by the filmmaker.
There are a whole ton of extras for the digital version, including:
· How to Draw Krypto
· Behind the Super Voices
· Super-Pets Animation 101
· Find the Easter Eggs
· The World of Super-Pets
· Deleted Scenes
Here's when you can hold a physical copy in your paws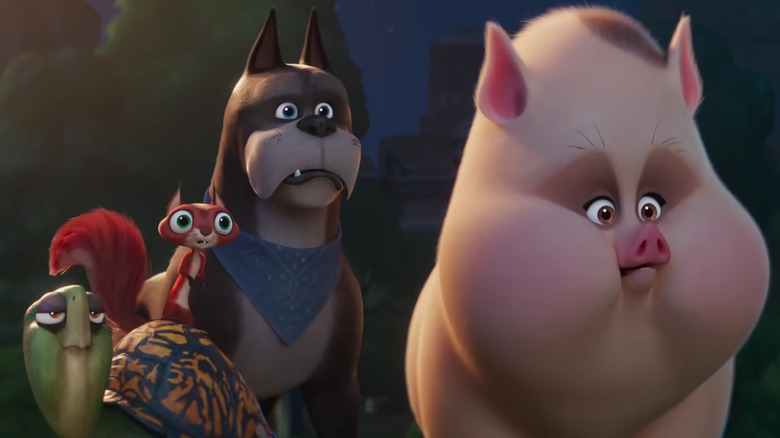 Warner Bros. Pictures
The 4K UHD, Blu-ray and DVD physical media will be available on October 4, 2022. Those of us who like to hold something in our paws when we buy it will be pleased to hear that the 4K and Blu-ray versions will have all the same special features as the digital version.
The DVD only has a single special feature, "Behind the Super Voices," which is kind of sad, comparatively. You still get to watch all the good boys and good girls save us all from evil, at least. 
In "DC League of Super-Pets," Krypto the Super-Dog (Dwayne Johnson) and Superman (John Krasinski) are inseparable best friends, sharing the same superpowers and fighting crime in Metropolis side by side. When Superman and the rest of the Justice League are kidnapped, Krypto must convince a rag-tag shelter pack—Ace the hound (Kevin Hart), PB the potbellied pig (Vanessa Bayer), Merton the turtle (Natasha Lyonne) and Chip the squirrel (Diego Luna)—to master their own newfound powers and help him rescue the superheroes.