How DC League Of Super-Pets Fits Into The DCEU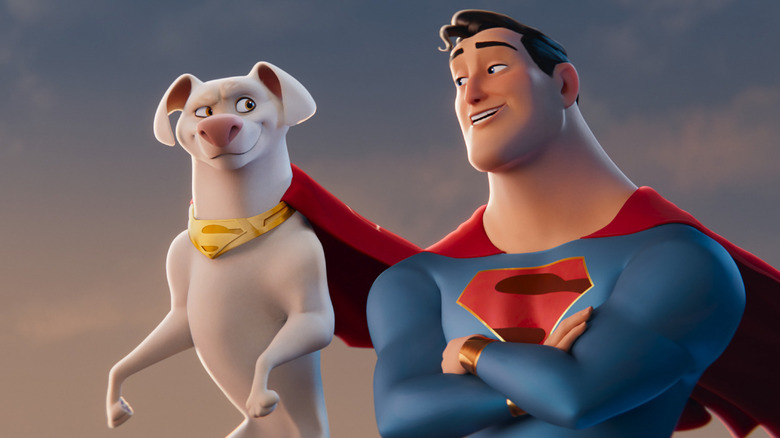 Warner Bros.
Building a shared universe is no easy task, as we've seen from the many failed attempts to emulate the success of the Marvel Cinematic Universe these last 10 years (R.I.P. the Dark Universe, the "Amazing Spider-Man"-verse, and so on). Certainly, the DC Extended Universe has gone through its share of trial-and-error since it started with "Man of Steel" and tried to play catch-up with the MCU by rushing directly into "Batman v Superman: Dawn of Justice" and "Justice League." The franchise has since adopted a far looser approach to continuity without fully jettisoning the foundation laid by Zack Snyder's early entries, enough to allow movies like "Shazam!," "Birds of Prey," and "The Suicide Squad" to avoid getting too hung-up on how they fit as pieces in the larger DCEU puzzle.
Compared to those movies, however, "DC League of Super-Pets" makes little to no effort to fit into the DCEU, starting with the fact that its heroes are either currently or soon-to-be super-powered pets of DC's biggest crime-fighters (mind you, I'm going out on a limb here and assuming Snyder never planned on Wonder Woman owning a size-shifting pig in his "Justice League" sequels). It is, for all intents and purposes, meant to exist separate from the DCEU canon the way "Joker" and "The Batman" do. Nor, for that matter, does "League of Super-Pets" make any attempt to fit within the continuity of DC's 2D animated "Justice League" films, content to occupy its own corner of DC's animated multiverse.
"League of Super-Pets" does, of course, tip its hat to the DCEU with key moments that include what Deadline's Valerie Complex described as "a particular scene ripped right out of 'Man Of Steel'." But even then, its creatives focused more on giving the film its own distinct look and feel.
Balancing caricatures with homage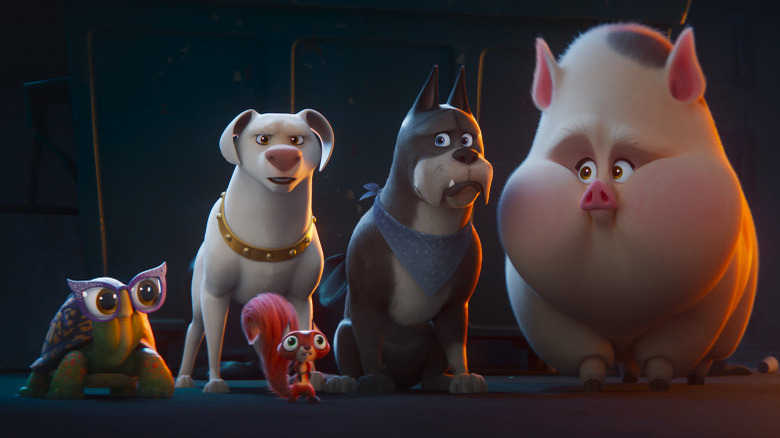 Warner Bros. Pictures
"DC League of Super-Pets" comes from a team that includes director Jared Stern (who co-wrote "The LEGO Batman Movie" and "The LEGO Ninjago Movie") and co-writer John Whittington ("Green Eggs and Ham," "Sonic the Hedgehog 2"), neither of whom are known for working on particularly serious projects. As such, the pair set out to make a DC movie that balances caricature with sincere homage to the label's Silver Age comic books. That includes what Stern described to Animation Magazine as a "graphic" visual style modeled after 2D art with visible brushstrokes and "chunky heroic shapes." He explained:
"We looked at some of the Alex Toth designs for the Super-Friends [TV series] or the Curt Swan Superman [comics] from the Silver Age, but we also tried to make sure it feels like our animated characters are heroes and also funny."
Among those lending their voices to the super-powered humans in "League of Super-Pets" are John Krasinski as Superman, Keanu Reeves as Batman, and Jameela Jamil as Wonder Woman, further emphasizing the film's disconnect from the live-action DCEU movies. This also afforded Stern and his team to freedom to come in and put their stamp on the Man of Steel, envisioning him as a far less tortured figure than Henry Cavill's Clark Ken/Kal-El from Zack Snyder's films. "Our Superman has some comedy to him, in a way that fits into I think what we all love about Superman," Stern noted.
For as amusing it might have been if "DC League of Super-Pets" had presented its pet-owning version of Batman as being the same one seen brutalizing Gotham's criminals in the main DCEU canon, it's probably better it didn't try to line up with that continuity at all. The film arrives in theaters on July 29, 2022.