DC League Of Super-Pets Has A Tough Fight Ahead With $22 Million Projected Box Office Debut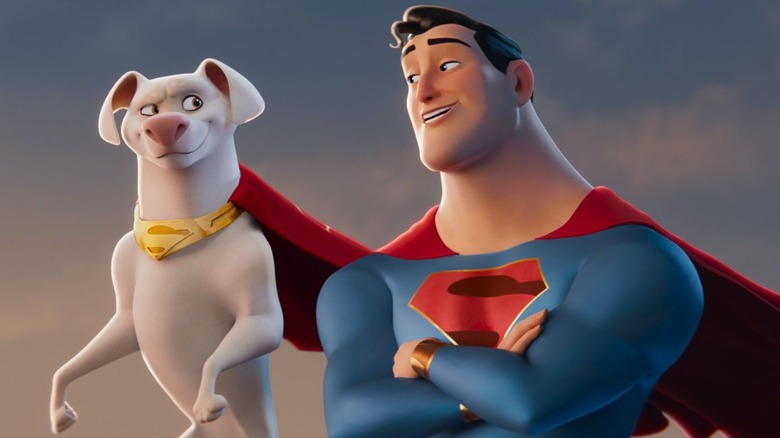 Warner Bros.
Another weekend of summer 2022 brings another top movie at the box office. Aside from "Top Gun: Maverick," few films this summer have been able to cling to the top spot for long, and this week appears to be no exception. "DC League of Super-Pets" has taken over the number one domestic slot this weekend, pushing Jordan Peele's "Nope" to second place a week after its release, according to Variety.
Despite its status at the top of the box office, "DC League of Super-Pets" still seems poised to have a pretty tepid first weekend compared to other recent animated fare. The film's projected $22 million opening is not just significantly lower than that of recent superhit "Minions: The Rise of Gru" ($107 million), but also less than half of Pixar's disappointing $50.2 million opening for "Lightyear." Still, there's little animated competition on the horizon, so it's possible "DC League of Super-Pets" will catch up to its reported $90 million production budget and add enough from international markets to break even for Warner Bros.
Sort-of super pets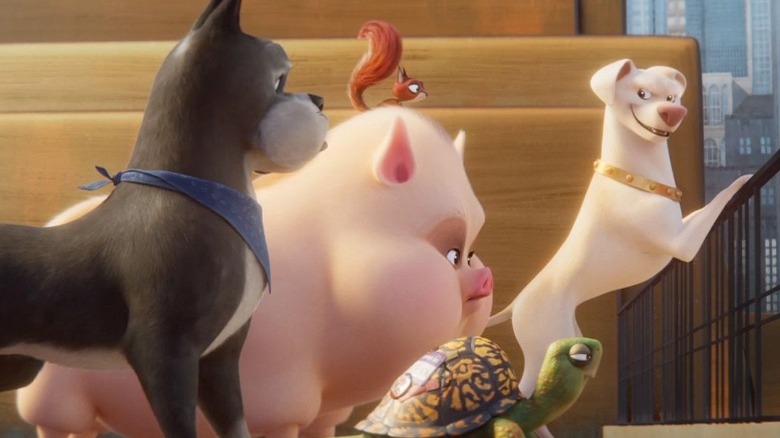 Warner Bros.
The family-friendly adventure movie follows the pets of famous superheroes, including Superman's trusty dog Krypto (Dwayne Johnson). Other creatures in the mix include Boxer Ace (Kevin Hart), potbellied pig PB (Vanessa Bayer), and hairless guinea pig villain Lulu (Kate McKinnon). The film has earned so-so reviews from critics, with /Film's Josh Spiegel calling it "eminently forgettable." I haven't seen it yet, but it does seem to fall at the intersection between three recently overplayed types of movie: superhero sagas, animated animal flicks, and generic blockbusters led by Johnson and/or Hart.
"DC League of Super-Pets" wasn't the only film to have a modest return this weekend: it seems to have been a quiet few days at the movies overall. Alien flick "Nope" is likely to see a drop of about 57%, with an estimated $19 million haul in its second weekend. Apparently, me telling my friends, family, and random fast food employees this past week to go see the unique sci-fi thriller wasn't enough positive word of mouth to keep its initial momentum going. "Thor: Love and Thunder" is set to come in third place this weekend, making just $3.7 million on Friday.
Though "DC League of Super-Pets" will likely continue to corner the kids' film market, the Brad Pitt-led action pic "Bullet Train" could nab top spot next week, while comedy "Easter Sunday" and slasher "Bodies Bodies Bodies" will also entice audiences as we enter the last month of summer moviegoing.