Dwayne Johnson Worked Out For Two Years In A Row To Play Black Adam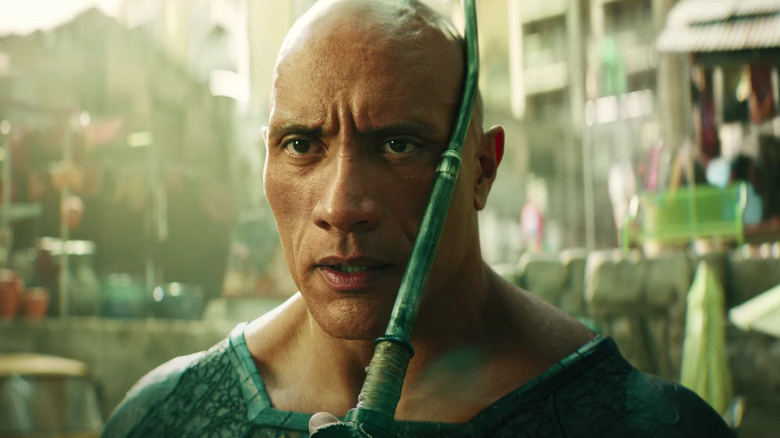 Warner Bros.
Dwayne Johnson has always been what we call in the wrestling business "a body guy" — meaning, he's always been known for being a massive slab of muscular glory. His workout regime is as well documented as his cheat day meals, and his transformation for the upcoming DC superhero movie "Black Adam" was so intense, they had to cut out the muscle padding in his costume because he was simply too jacked. 
Johnson is typically vocally proud of his projects, but it's clear that "Black Adam" is on a whole 'nother level. At this year's San Diego Comic-Con, our own Ryan Scott spoke with "Black Adam" director Jaume Collet-Serra ("House of Wax," "The Shallows," "Jungle Cruise") on what it is about Dwayne Johnson that made him want him to be his leading hero. "I just love him," Collet-Serra says. "I think his work ethic — I wouldn't say anybody else couldn't dedicate themselves to a movie like he does, but he's worked out for two years in a row to create this body."
As Collet-Serra tells us, Johnson wanted to keep his figure a secret until the "Black Adam" reveal, which is why he didn't take his shirt off or appeared bare chested in either "Jungle Cruise" or "Red Notice." Collet-Serra says the dedication of Johnson "goes beyond words." As it turns out, many of the scenes in "Black Adam" were timed around his specific nutrition schedule, simply to ensure that he'd be able to put the best possible results on screen of his diet and exercise routine. "That's just a little bit of the amount of dedication that this man has toward this project."
Johnson was the ultimate Black Adam hype man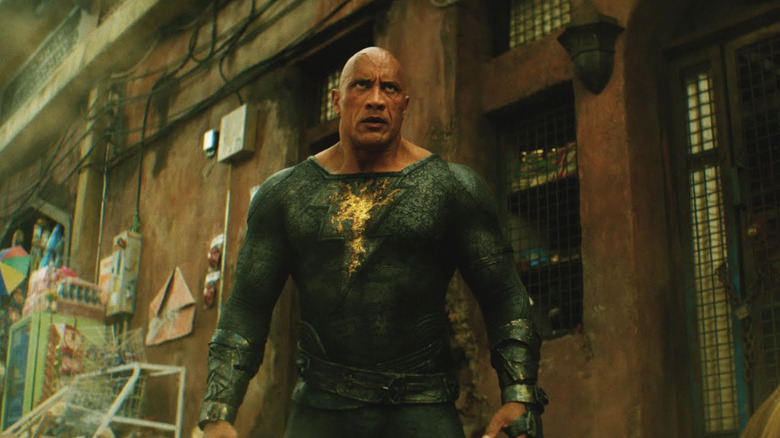 Warner Bros.
In addition to his leading performance, Johnson is also producing "Black Adam," and Collet-Serra said his dedication to the project extended to his off-screen role. "He's pushed us and everybody to the maximum to get the best of themselves by basically hyping the movie," he says. Johnson would keep spirits high by saying things like, "This is going to be the best movie in the world" as a means to motivate the team to fulfill this prophecy. "He's really an inspiration," Collet-Serra says.
As far as what makes Johnson different from everyone else in the business, Collet-Serra gives credit to his ability to succeed as both an actor and a producer. "I'm sure maybe other people are like that as well, but I have not experienced that before in my other movies," he says. "On [one hand], I'm directing him and telling him to do things ten times, but in the other sense, he's my boss, you know? And pushing me to do as much as I can." Hey, he was known as the people's champ for a reason!
"Black Adam" hits theaters on October 21, 2022.