Disney+ Is Slashing Its Subscription Fee To $1.99 For A Limited Time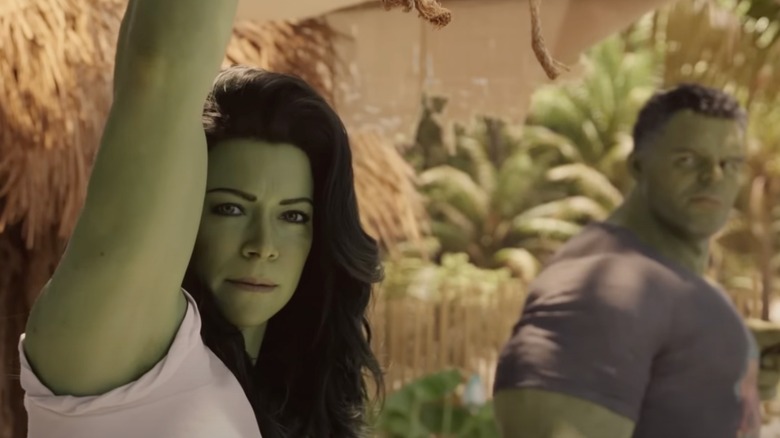 Marvel Studios
For those internet-obsessed denizens who keep track of such things, surely you remember last year's inaugural Disney+ Day in November of 2021. The special online event, created to mark the first anniversary of Disney's flagship streaming service, was meant to create a lasting memory by packing all the most exciting trailers, first looks, and news into a daylong celebration and giving fans a veritable buffet of content (ugh) to keep them as satisfied and stuffed as those unfortunate kids in "Willy Wonka & the Chocolate Factory." We, uh, all know what happened to them next, don't we?
Anyway, the whole extravaganza instead ended up making headlines for all the wrong reasons, causing fans an endless amount of confusion and headaches while those of us tasked with covering the big day almost tore our hair out in unison over such a sloppily put-together mess. Yep, fun times were had by all! But just when we thought it was safe to venture back into the digital waters, Disney has returned to remind us that nobody is safe from the looming specter of Disney+ Day.
This year's event is approaching more quickly than you may have thought: tomorrow, in fact. Likely moved up by two whole months to further boost the upcoming D23 exhibition – there's nothing the conglomerate loves more than #brandsynergy, after all — the not-quite third-anniversary celebration of Disney+ will arrive with a fresh assortment of goodies and perks for the fans. First up, the company is offering new and returning subscribers the chance to sign up for one month of Disney+ for $1.99 starting tonight, September 7 at 9 pm PT through Monday, September 19 at 11:59 pm PT.
But wait! There's more!
Happy Disney+ Day to all who celebrate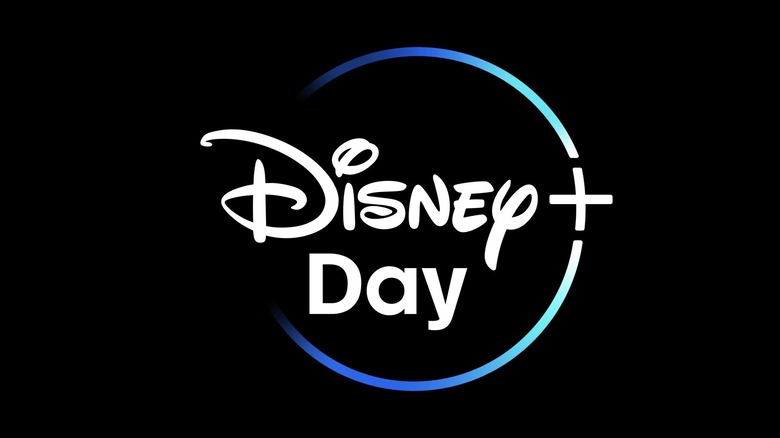 Disney+
In the Mouse House's never-ending quest to drown us all in a deluge of IP, the studio has announced a whole assortment of benefits for those who subscribe to Disney+ — perfectly timed for the D23 Expo to kick off in earnest later this week. In addition to the brief price drop (which, lest we forget, was preceded by the news that Disney+ subscribers would see prices raised on them this December to account for new ad-supported tiers), Disney is also offering several extra treats and rewards starting on September 8 at 12:00 am PT/3:00 am ET. Go forth and consume!
Special Access to shopDisney Merchandise: Disney+ subscribers can receive special access to a curated collection of shopDisneymerchandise. This custom selection of designs is inspired by favorite Disney+ Day premieres, Disney+ Originals, and more.
Disney Cruise Line Offer: Watch the stories you love come to life on a Disney cruise with a special offer for Disney+ subscribers. Third and fourth guests sail free with two full-fare guests in the same stateroom. Disney+ subscribers can book up to two staterooms with this offer. Offer available starting September 8 on select sailings aboard the Disney Magic, Disney Dream and Disney Fantasy departing January – April 2023, in select stateroom categories
Walt Disney World Resort Offer: Experience holiday fun during the Walt Disney World® 50th Anniversary Celebration! Disney+ subscribers can be on the lookout for a special holiday offer at select Disney Resort hotels. Visit www.disneyworld.com/disneyplus starting September 8 for additional details. To learn more about the benefits of staying at a Disney Resort hotel, visit https://disneyworld.disney.go.com/resort-hotels-benefits.
National Geographic Digital Subscription Offer: Disney+ subscribers can get a 6-month free trial to Nat Geo Digital. Enjoy subscriber-exclusive content, every page of every issue ever published in our digital archive, and access stories anywhere with the ad-free Nat Geo mobile app.
Uber One Offer: Extended in celebration of Disney+ Day, Disney+ subscribers get 6 free months of Uber One membership, plus $25 off their first Uber Eats order.
Disney Movie Insiders Bonus Points: When subscribers link their Disney+ account to their Disney Movie Insiders account by September 30, they earn 150 bonus points and continue to earn 50 points per month as long as their active accounts are linked. It's free to join Disney Movie Insiders, and members can redeem points for rewards, experiences, and more.
Disney Parks Early Entry: On September 8, Disney+ subscribers and their party with theme park admission and reservations are invited to enter the theme parks at Walt Disney World Resort in Florida, Disneyland Resort in California, and Disneyland Park at Disneyland Paris 30 minutes before regular park open to extend the celebrations.
Disney+ Fan-Favorite Screenings at AMC Theatres: From September 8-19, select AMC Theatres will celebrate Disney+ Day with screenings of fan-favorite movies including Walt Disney Animation Studios' "Encanto," "Rogue One: A Star Wars Story," Marvel Studios' "Thor: Ragnarok," Disney and Pixar"s "Cars," and "Newsies." Tickets are $5 per screening and are available to everyone. Attendees will receive a free Disney+ poster, while supplies last. Plus, a special concessions offer will be available for Disney+ subscribers.
Disney is also offering an assortment of benefits to those actually attending the D23 Expo in Anaheim, California, such as a special screening of the upcoming "Pinocchio" live-action remake. All the Disney+ Day chaos begins tomorrow, September 8, 2022. Join us, won't you?