Cool Stuff: Thor: Love And Thunder Poster And Collector Cards Are Coming To The D23 Expo [Exclusive]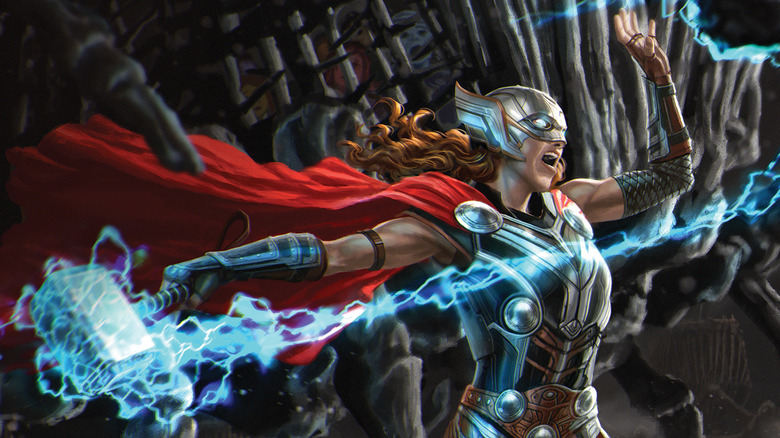 Marvel Studios
This week, Disney fans from around the world will be flocking to Anaheim, California for D23 Expo. The massive convention celebrating all things Disney typically happens every two years, but since the last event in 2019, there's been a bit of a global pandemic that we've had to deal with, so it's now been three years since the last House of Mouse gathering. 
/Film will be on the ground later this week to bring you all the latest updates on upcoming movies and TV shows from Walt Disney Pictures, Walt Disney Animation, Pixar Animation, Lucasfilm, Marvel Studios, 20th Century Studios, and Disney+. But before kicking things off, we've got an exclusive debut that will have D23 attendees running to get in line. 
In honor of the upcoming home video release of "Thor: Love & Thunder," Marvel will be releasing a D23 exclusive concept art poster created and signed by Andy Park, Director of Visual Development at Marvel Studios, as well as a batch of four collector cards created by artist Orlando Arocena. 
How can you get them once you're at D23 Expo? Get all the details and check out the artwork below!
Double the Thor, double the fun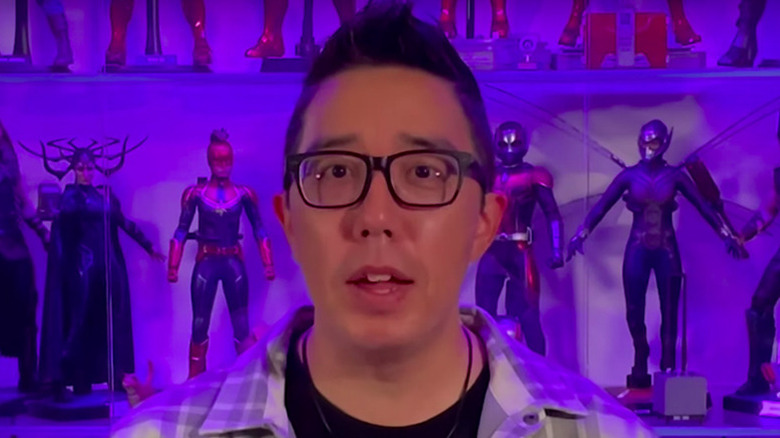 Marvel Studios
First up, Andy Park (above) will be on-hand at the Marvel booth on the D23 show floor to sign this concept art poster featuring Chris Hemsworth as Thor and Natalie Portman as Jane Foster, aka the Mighty Thor. While Hemsworth is dealing with Christian Bale as the deadly Gorr the God Butcher (with some help from Tessa Thompson as Valkyrie on the way), Portman is wielding Mjolnir and some serious lightning to take down the terrifying shadow monsters.
If you want to get your hands on this poster with Andy Park's signature, you'll have to make sure you're lined up before the signing beings at the Marvel booth on Friday, September 9 at 11:00 am PT. The signed poster giveaway will only be happening for 30 minutes, so this might not be easy swag to snag. If you're a big fan of Thor, then you'll want to be there as early as possible. 
Thankfully, there's another batch of cool "Thor: Love and Thunder" artwork you can get your hands on.
Four for Thor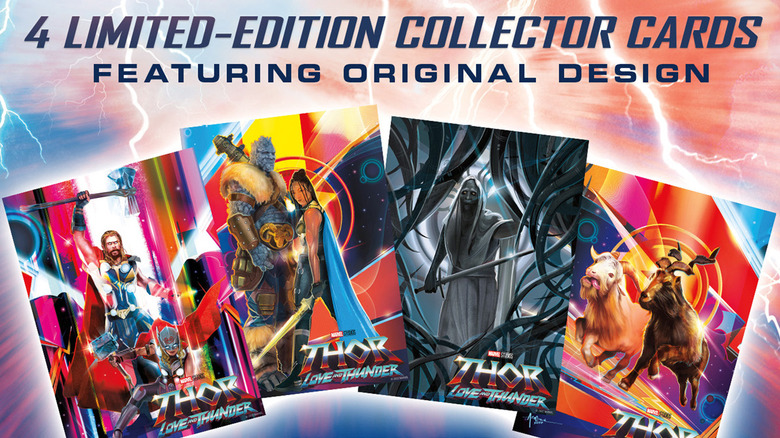 Marvel Studios
Elsewhere on the D23 Expo show floor, Disney Movie Insiders will be giving away four exclusive collector cards. However, in order to grab this pack of cards, you'll need to be a D23 Gold Member. Just head over to Booth #1755, located adjacent to the Disney+ and IMAX booths off of Mickey Avenue, and you'll get these cards while supplies last.
Each of the cards features the vibrant, cosmic color palette that made the marketing for "Thor: Love and Thunder" so great. Of course, the thunderous duo of Thor and Mighty Thor get their own card, but Korg (voiced by director Taika Waititi) and Valkyrie get a nice hero shot as well. 
Meanwhile, Gorr the God Butcher's card sucks the color out of everything, depicting the villain in his dreary, abstract lair of sorts. If it terrifies you, don't worry, because the screaming goats known as Toothgnasher and Toothgrinder will snap you out of it with their shrill shrieks.
For those of you who won't be over in Anaheim for D23 Expo, stay tuned to /Film to keep up with all the big updates.
"Thor: Love & Thunder" hits digital platforms on September 8, 2022, followed by a 4K UHD, Blu-ray, and DVD release on September 27.