Thor: Love And Thunder Almost Had A Totally Different Beginning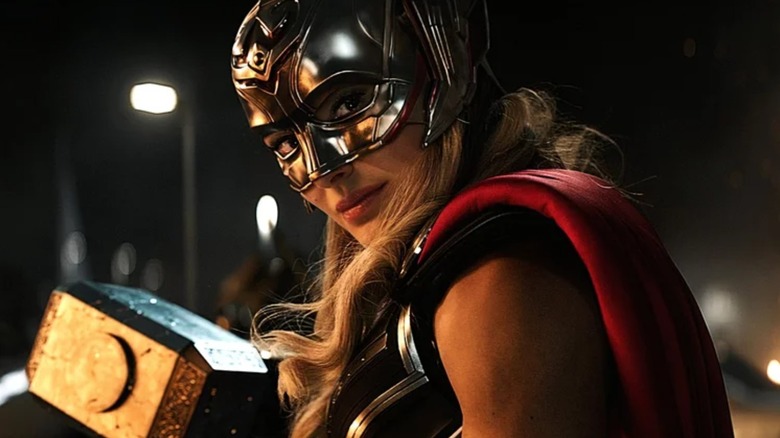 Marvel Studios
Warning: Major spoilers ahead for "Thor: Love and Thunder."
Taika Waititi's "Thor: Love and Thunder" balances varying tones in its overarching storyline — it is the tale of Thor (Chris Hemsworth) trying to turn a new leaf but facing a terrifying threat, but it is also a buddy comedy of sorts wherein four people embark on an adventure that changes their individual destinies. There's a real danger with the emergence of Gorr the God Butcher (Christian Bale), but there's also a sense of hope permeating the characters, albeit tinged with personal loss and pathos in the end.
"Thor: Love and Thunder" opens with Gorr's tragic origin story, in which he transforms from a devout follower of the gods to a formidable god killer. Narratively speaking, this choice of opening with the anti-hero's origins is a great starting point, adding a considerable amount of weight to the heavier tonal aspects of the film. However, this was not always the case, as "Thor: Love and Thunder" almost ended up having a completely different beginning that touched upon Jane's (Natalie Portman) cancer, followed by scenes of her chemotherapy.
Crafting Jane Foster's arc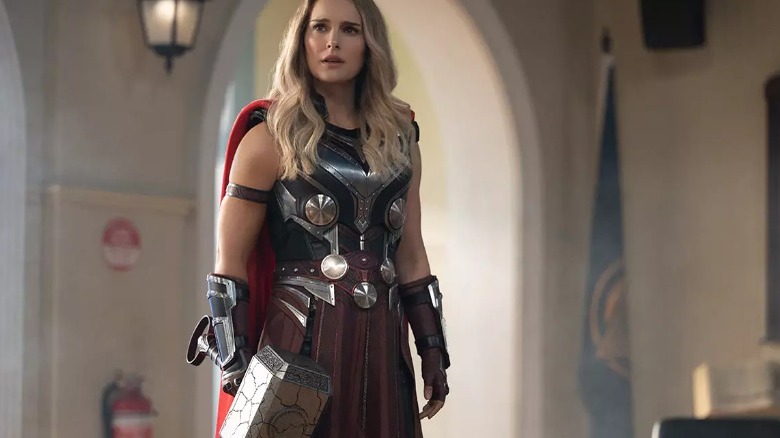 Marvel Studios
In an interview with Variety, writer-director Jennifer Kaytin Robinson talked about the process of helping map Jane's arc with Waititi, revealing that her introductory scene was initially supposed to appear even before the Marvel logo appeared:
"In the original draft, it was actually before the Marvel [Studios logo]. It was even earlier in Taika's original draft. That always was a moving piece — ultimately, it did become [the origins for] Gorr and I think it's awesome. But [Jane's cancer] was never going to be a gotcha moment. It was always, like, this is the story of this woman. This is her arc. And this is where it starts."
Jane's cancer is also an integral part of her arc in the comics, and it is during this moment of her life that she is drawn to the power of the Mjolnir, which grants her enough strength to temporarily stave off her condition and assume the powers of The Mighty Thor. This meant that Waititi and Robinson had to take a responsible, humane approach to her story, without resorting to the overtly fantastical aspects of a superhero setting. 
This is reflected in the reveal that while the Mjolnir did give her the strength to empower her during short spells of time, it was not enough to cure her cancer — instead, it only slowed down her body's ability to heal naturally, which eventually worsened her condition in the process. Despite knowing this, Jane chooses to fight the good fight and even helps guide back Gorr to reason, which is a testimony to the kind of person she is and the legacy she leaves behind.
The importance of choice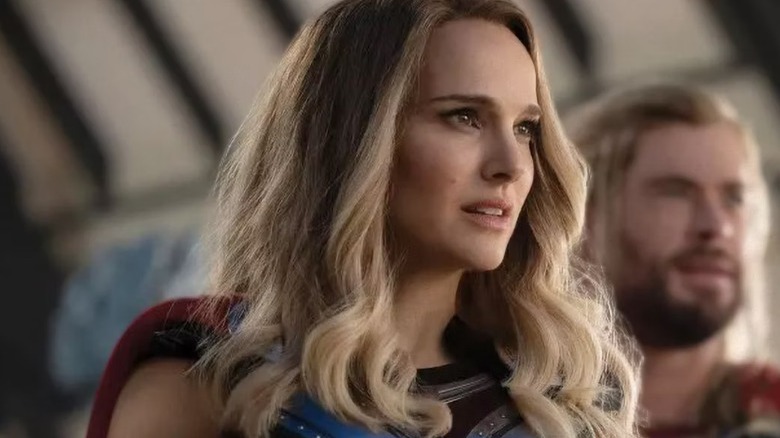 Marvel Studios
Robinson went on to explain in the Variety interview that Jane's introduction scene, while she's in chemotherapy, was always present right from the first drafts of the script, but the order of the character's appearance was switched out by the placement of Gorr's tragic story in the beginning. Robinson explains that it was important to situate Jane in an empowered situation without shying "away from the ugliness of it and the things that are hard about it" in a way that resonated in an authentic, humane manner.
A good example of successfully navigating this complex arc is how Thor, after learning that Mjolnir only worsened Jane's cancer, offers her the choice to either stay back or fight with him. He's obviously terribly worried about her and personally wants her to heal and get better, but also realizes that it is not his place to make this decision on her behalf. After all, Jane Foster has not enjoyed much agency in the MCU before — she was only treated as Thor's partner and a plot catalyst in the first two "Thor" films — but now, she has the choice to do whatever she wants with her life, and only she gets to decide whether her last moments will be spent defeating evil on the battlefield.
Although Jane's arc is pretty tragic and differs greatly from the one in the comics, (she goes on to become a Valkyrie and wields Undrajarn the All-Weapon) "Thor: Love and Thunder" manages to close out her story in a rather positive way with the post-credits scene. Although the film benefits best from the Gorr opening sequence, it ends with Jane entering Valhalla, proving she was worthy all along.