Taika Waititi Looked To His Past To Find Korg's Thor: Ragnarok Voice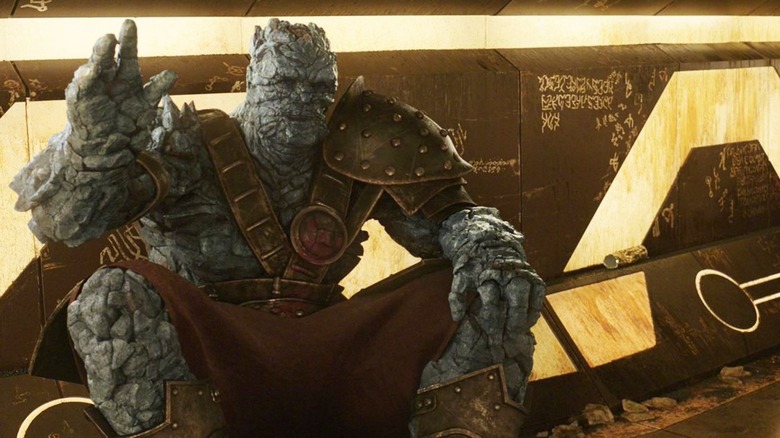 Marvel Studios
It'd be slightly overstating the matter to claim that the Marvel Cinematic Universe's take on Thor (Chris Hemsworth) was dead in the water until Taika Waititi showed up. Our first introduction to the God of Thunder with Kenneth Branagh's 2011 film was appropriately Shakespearean in tone, creating a strong foundation that would carry the character through to his next appearance in 2012's "The Avengers" and beyond. The failures of "Thor: The Dark World" and the messiness of "Avengers: Age of Ultron" need no reintroductions, however, and few can deny that the situation improved markedly once Thor and his supporting characters came under the influence of the manic, witty charm of New Zealand-native Taika Waititi.
A veteran of comedies like "What We Do in the Shadows" and the poignant coming-of-age film "Boy," Waititi had the skillset to accomplish quite the dramatic turnaround with "Thor: Ragnarok," finally delivering a version of Thor with the humor and stakes that audiences could truly embrace.
But the filmmaker's influence goes even further than that, as he also voices and does motion capture work for our hero's lovable sidekick, Korg (part of a species known as Kronan). After taking acting roles in his own movies several times before, from the absentee father Alamein in "Boy" to the lovable Viago in "What We Do in the Shadows" to the hilarious minister in "Hunt for the Wilderpeople" to, uh, an imaginary version of Hitler in "Jojo Rabbit," Waititi had no problem putting his stamp on yet another character.
While Korg might seem like nothing more than a source of comic relief, the director put quite a bit of thought into how exactly he ought to bring the rock monster to life.
'I just like the idea of having a character like that in an American studio film'
Baked right into the film's premise, which features Odin's (Anthony Hopkins) colonialist lies exposed and the truth of Asgard's blood-soaked, imperialistic past laid bare, "Thor: Ragnarok" is the rare Marvel film with something meaningful to say about the world we live in. Much of that is derived from Waititi's cultural heritage from growing up Polynesian in New Zealand. And wouldn't you know it, that also played a huge role in how he decided to portray Korg, his accent, and his quirky personality. In an extensive breakdown with GQ, Waititi described what exactly went into influencing Korg:
"Mainly I was thinking about the bouncers outside nightclubs growing up in New Zealand. And always just massive, giant guys, but they're the most beautiful, humble, nice people you'll ever meet. And also why do they need to be aggressive? They just don't need to, it's like a wall of a person stopping you getting in. So why not be nice if you're that big, you know? So I've grown up around a lot of those guys and it's just a voice and a style and a sensibility that I've always found really comforting to be around. Just being Polynesian, as well, I just like the idea of having a character like that in an American studio film."
In a testament to how much creative control Waititi maintained over the threequel, the director goes on to remark how he was initially worried viewers wouldn't understand his "over-the-top" accent and even feared Marvel would opt to "revoice" Korg. Instead, fans gravitated towards the character and all but demanded he reappear in "Thor: Love and Thunder," as well. We have Waititi's upbringing to thank for that.