Ghost Story Proves There Should've Been More Peter Straub Movies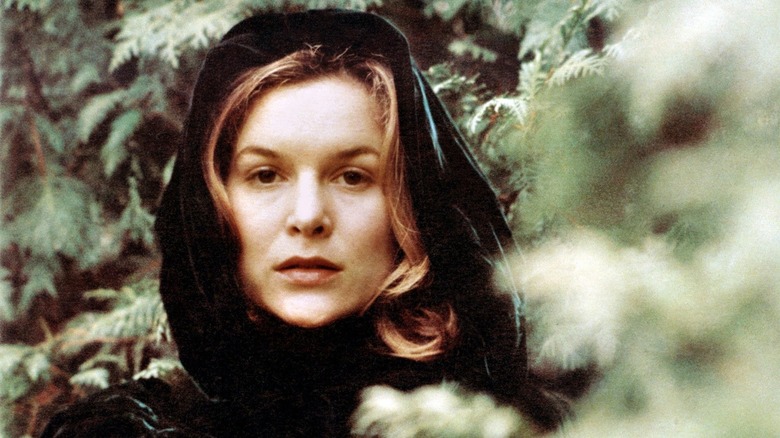 Universal Pictures
It was announced today that acclaimed horror author Peter Straub passed away, an undeniable creative force who completely changed what was possible in the landscape of dark fantasy and horror fiction. Straub wrote with such beautiful world-building detail and rich prose that he often elevated the simplest concepts into full-fledged epics, which is precisely why the Master of Horror himself, Stephen King, collaborated with him on their collaborative masterpiece, "The Talisman." 
While King has been the most adapted author of the modern era, Straub has only had two novels brought to life. In 1977, "The Haunting of Julia" was released inspired by his novel "Julia," but the film that should have had studios vying to gain the rights to any and all of Straub's works came in 1981 when Universal adapted his haunting novel "Ghost Story."
Straub published the novel in 1979, which became a national bestseller and helped cement Straub as one of the horror fiction greats. Collaborator Stephen King even declared "Ghost Story" one of the "finest horror novels of the late 20th century" in his non-fiction horror analysis book "Danse Macabre." Universal Pictures knew there was something special about Straub's novel, and shelled out a whopping $1 million (roughly $3.6 million in today's dollars) for the rights to the novel. 
Horror was in a massively profitable upswing thanks to the slasher boom and successful adaptations of the works of Ira Levin and Stephen King, so Universal felt the dark, erotic, ghastly "Ghost Story" was going to be their next big hit.
Bringing Ghost Story to life wasn't easy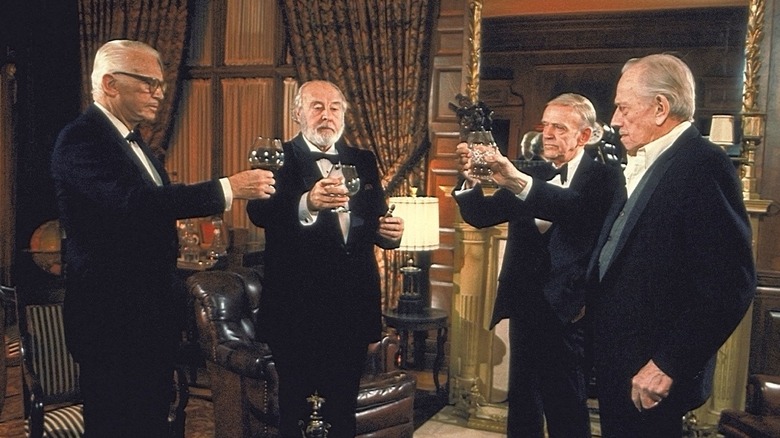 Universal Pictures
"Ghost Story" dabbles in the world of nightmares, as the community elders of Milburn, Vermont find themselves stalked by devastating imagery. Lawyer Sears James (John Houseman), retired physician Dr. John Jaffrey (Melvyn Douglas), businessman Ricky Hawthorne (Fred Astaire), and mayor of Milburn Edward Charles Wanderley (Douglas Fairbanks Jr.) are all afflicted by these incessant nightmares, as the lifelong friends are forced to reckon with the sins of their past. As a means to distract themselves from the real-life horror plaguing their every move, the four men, known as "The Chowder Society," tell ghost stories around a fire, hoping to keep the ghosts of their youth at bay. It's a cute attempt, but any good horror fan knows that these men can't stave off their reckoning for much longer.
Straub's novel is a staggering 483 pages, which Universal required be transformed into a film with a less than two-hour runtime. Somehow, screenwriter Lawrence D. Cohen ("Carrie") was able to pull it off, as did director John Irvin ("Raw Deal," "Tinker Tailor Soldier Spy"). According to an interview Cohen provided on the Scream Factory release of "Ghost Story," this, unfortunately, meant that a lot of Straub's brilliant story was sacrificed for the required runtime. Cohen still believes "Ghost Story" would have been better suited as a miniseries. 
The fact that "Ghost Story" is still an unsettling, powerful addition to the haunting subgenre despite so much of Straub's work left out of the final script is a testament to his talent.
Why don't we talk about Ghost Story more?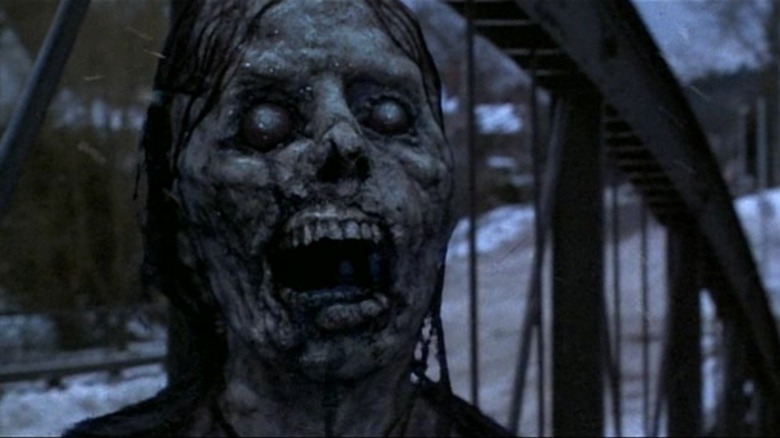 Universal Pictures
On paper, "Ghost Story" has everything going for it. It's a film based on a wickedly popular novel, the leading players are all Hollywood legends, it marks the major introduction of horror and sci-fi mainstay Alice Krige, the terrifying special effects wound up on the cover of Fangoria Magazine, and the film's Christmas release gave it a bit of an underdog reputation. Unfortunately, audiences just weren't ready for what "Ghost Story" had to offer, and the film was a financial failure. 
The problems that exist in "Ghost Story," like its ungodly deliberate pacing, have nothing to do with Straub's story. In fact, it's the lack of his full vision that holds the film back, but this is only if you have read the book and know just what you're missing.
Subplots and side characters were cut out, the mythos behind Krige's Alma/Eva character has been chopped to bits, the overarching pain of Milburn rotting from the inside out like "Silent Hill" (another Krige movie, ironically) has been ignored, so audiences were left with a standard haunt film starring some old A-listers, but the scares are still ridiculously effective. Comparing the film to the perfection of Straub's book is a fool's errand, but "Ghost Story," on its own, is still an impressively scary little ... well, ghost story. 
Sadly, this was the last of Straub's works to be adapted during his lifetime (not counting a short film version of "The Talisman"), but the film's failure is an argument for why more of his work should have been translated to the big screen, even if Straub was ahead of mainstream cultural conversations.
The time for more Straub is now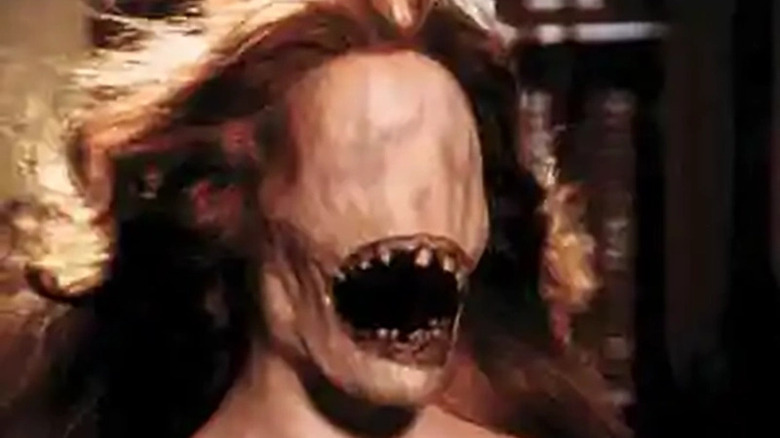 Universal Pictures
At its core, the novel "Ghost Story" is about the hypocrisy of well-known men in a small town and the misogyny they are able to get away with due to their proximity to power — a theme that deserved more of a focus in the film. It didn't help that the tone of the movie was compromised by Universal's desire to see the ghost story compete with the popular gorefests of early 1980s horror, which doesn't exactly fit in the hypnotic, gothic world Straub created. 
The adaptation's lack of success may have prevented future cinematic Straub ventures, but it didn't stop him from continuing to write masterful works of fiction. "Shadowland," "Koko," "In the Night Room," "Lost Boy, Lost Girl," "Black House," and "A Dark Matter" are all genuinely horrifying additions to his bibliography, and stories ripe for life on the screen. 
Straub captured horror in a way most authors could only dream of, and "Ghost Story" proves that no one has been able to fully recapture his vision. They said the same thing about Stephen King's "Gerald's Game," but horror maestro Mike Flanagan was able to achieve the impossible with his take. Given the monumental success of Flanagan's multiple Netflix horror series, it wouldn't be surprising if someone took Cohen's advice in the near future and let Flanagan (or someone like him) take a crack at giving Straub's work the interpretation it deserves ... starting with "Ghost Story."