Mike Flanagan Wasn't Sure That Midnight Mass Would Ever Get Made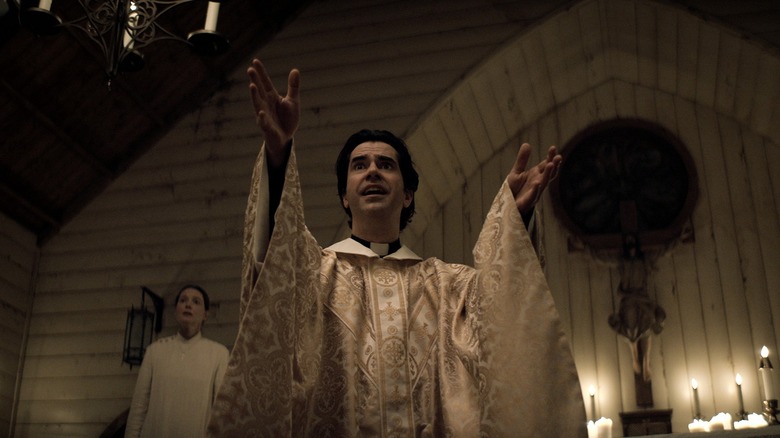 Netflix
You might know Mike Flanagan as the horror ace in Netflix's back pocket. After all, he is the brain behind "The Haunting of Hill House" series and movies like "Hush" and "Gerald's Game," but he didn't always have such a command of Netflix's genre budget. Even after wooing the streaming giant with his horror hits, Flanagan had a hard time finding a home for his many years in the making pet project, "Midnight Mass." While this story obviously has a happy ending for Flanagan, as he was finally able to take "Midnight Mass" from his mind and turn it into a limited series for his favorite streaming service in 2021, it took years to get the passion project off the ground.
And when I say "passion project," I really mean it. In "Midnight Mass," Flanagan hashes through his own personal beliefs about religion, laying bare the way his relationship with God and spirituality has changed throughout his life. In an interview with Entertainment Weekly, the director talks candidly about how the show's characters are also reflections of himself:
"Here's this long scene I had written about atheism. Let me look at that a few years later and rebut it. Let me try to honestly come in and challenge my own idea. Here's a long scene about alcoholism. Let me really try to come in and talk about recovery [...] Being in conversation with my various selves over the last 11 years, that have all dipped into this story, that's what makes it so personal for me. I don't know that I'll ever be lucky enough to have that experience again with another piece of work."
Counting down to midnight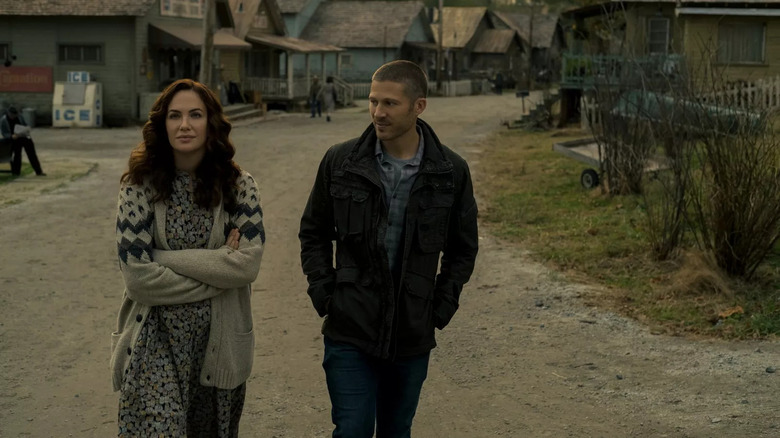 Netflix
Flanagan has been open about the long road to making "Midnight Mass," and while he hasn't explicitly touched on why this story was repeatedly turned down, it's hard to envision a catchy elevator pitch that's about your own struggle with alcoholism and god. I mean, it's not impossible to imagine, but it doesn't really roll off of the tongue, you know? But instead of giving up, Flanagan soldiered on and laced "Midnight Mass" easter eggs throughout the rest of his work. Both "Hush" and "Gerald's Game" prominently feature book props titled "Midnight Mass," all the while Flanagan would candidly refer to the story as, "the best project I would never make."
The story changed as it took up residence in Flanagan's head, "It was a movie, it was a novel, it was a series," said the director. Finally, the pure unadulterated commercial success and crossover appeal of his series "The Haunting of Hill House" and "The Haunting of Bly Manor" made "Midnight Mass" a reality, and this time Flanagan had settled on crafting a limited series purely because the feature script burning a hole in his back pocket was way too long for a movie. And while he had been fighting to make this personal project for years, Flanagan admits that opening himself and fully exploring these ideas was more than a little scary, saying, "What made it exciting, and kind of scary and uncomfortable sometimes, was that I really wanted to make sure that I was playing both sides of the board as passionately as I could."
The road to "Midnight Mass" might have been long, but it was paved with excellent horror series and movies, and we can't be mad about that.