Spider-Man: No Way Home Re-Release Leads Another Abysmal Box Office Weekend With $6 Million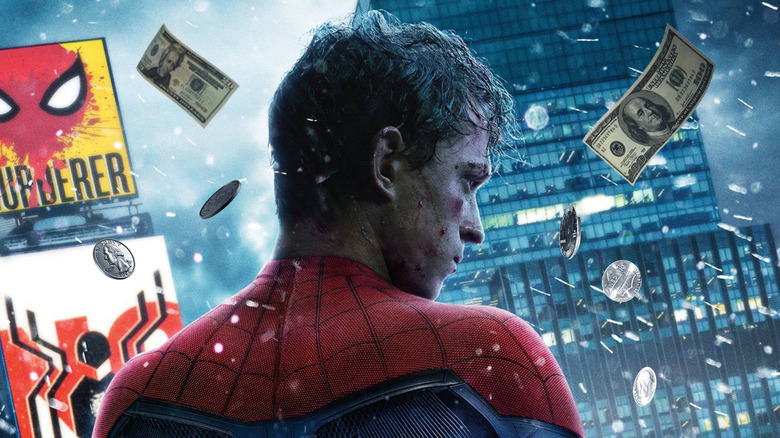 Sony
The box office is starving right now, and not even a National Cinema Day event and the re-release of Marvel mega-blockbuster "Spider-Man: No Way Home" can provide it with much sustenance. 
Variety reports that the "More Fun Stuff" version of "Spider-Man: No Way Home" is #1 at the box office this weekend with a take of $6 million. This is even less than last weekend's top-ranked movie, vampire horror "The Invitation," which made its debut with $7 million. "No Way Home" is expected to round out the Labor Day weekend with a total of $7.6 million including Monday, which will be a teeny tiny cherry on top of the $1.9 billion it made worldwide in its original theatrical run. For comparison's sake, 2021's Labor Day box office was led by the release of "Shang-Chi and the Legend of the Ten Rings," which grossed $90 million over the four-day holiday weekend.
It's worth noting that box office totals will have been impacted by National Cinema Day, which resulted in an estimated 8.1 million moviegoers buying tickets at the heavily discounted price of $3 on Saturday. Per Variety, Cinema Foundation president Jackie Brenneman declared that "this event outstripped our biggest expectations." National Cinema Day tickets brought in an estimated $24.3 million out of the weekend's $50 million total, which isn't much of an increase compared to last Saturday's numbers. Still, hopefully it at least succeeded in its goal of reminding people that movie theaters exist, so that they might venture out to them even when there isn't a discount.
Bad times at the box office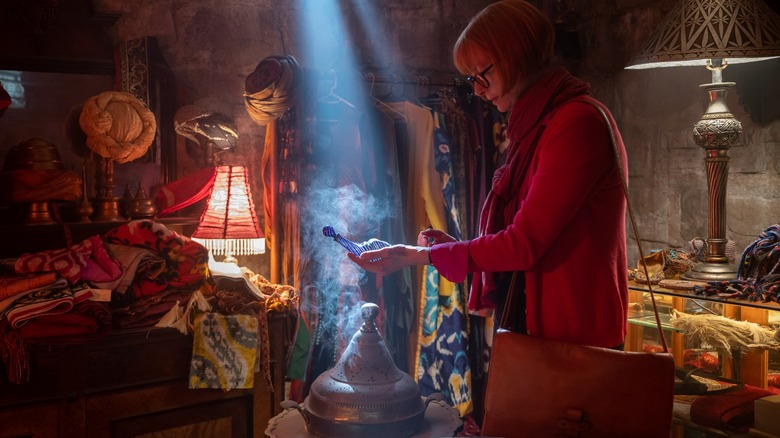 United Artists
So far, September is continuing the downward trend from August. Aside from high-speed action comedy "Bullet Train," which had a decent $30 million opening at the start of that month, Hollywood has kind of abandoned the latter end of the summer 2022 season. Theaters have become a ghost town full of tumbleweeds and endless screenings of "Top Gun: Maverick," which has trundled along merrily for months amid the lack of competition and is still #2 at the box office almost two weeks after its digital release (which is also breaking records).
Top Gun: Maverick has played at my local movie theater for so long that this movie poster is now washed out & hanging on for dear life.
And yes, the next 6:30PM showing is already almost sold out.🤯✈️ @tomcruise @glenpowell @chrismcquarrie pic.twitter.com/WXlFnLUOHY

— Jacob Dominguez (@jacobadominguez) September 3, 2022
In an ideal world, a long stretch without any major tentpole releases (we'll be waiting until mid-October for the next one, "Black Adam") would at least offer mid-budget, non-franchise movies a chance at success. In fact, George Miller's epic fantasy romance "Three Thousand Years of Longing," which was originally planned for a limited rollout in around 600 theaters, was able to get a wide release in 2,400 locations without much extra cost because theaters were so desperate for something to show in August. But between mixed reviews and limited general public awareness of it, the movie has so far grossed scarcely a tenth of its $60 million budget.
The Idris Elba-led animal attack movie "Beast" is faring a little better, totaling around $26 million domestically as it completes its third weekend at the box office. But new release "Honk For Jesus. Save Your Soul." has been hindered by a day-and-date streaming release on Peacock and debuted in 14th place at the box office, grossing just $1.44 million from 1,882 theaters. 
Oh well, at least "Dragon Ball Super: Super Hero" is having a good time.