Thomas Ian Griffith On Cobra Kai Season 5, Dangerous Fights, And Karate Kid III [Interview]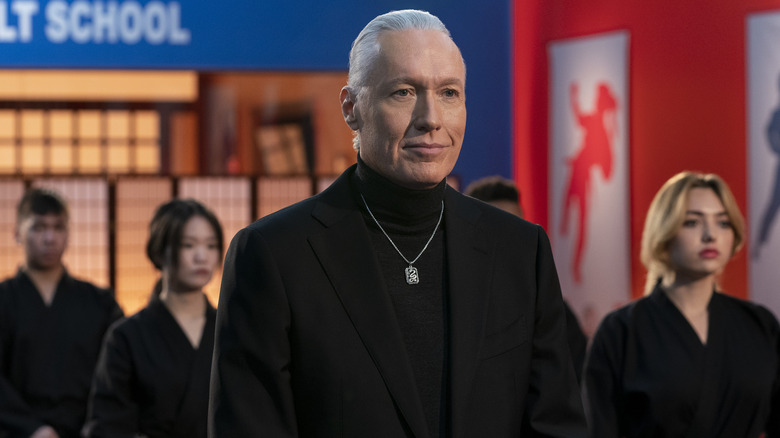 Netflix
Spoilers for "Cobra Kai" season 5.
In the Netflix series "Cobra Kai," Thomas Ian Griffith plays the villain Terry Silver, a role he originated in "The Karate Kid Part III." That film is usually considered very low in the rankings of "Karate Kid" entries. While that may be true, Silver in his current form is a baddie we love to hate.
Terry Silver was a Vietnam War buddy of John Kreese (Martin Kove). The martial artist helped Kreese create the Cobra Kai dojo, but he was also a wealthy businessman whose job it was to dump toxic waste in the third film. His company was called Dynatox, if that helps you get a sense of the level of camp we're dealing with here. Silver did business from his hot tub and faked his way into Daniel LaRusso's (Ralph Macchio) life. He pretended to be a sensei, but was really working for Kreese the entire time. When we meet him in "Cobra Kai," the still wealthy Silver has tried to change his life and master his anger. Kreese wasn't having that, and reminded Silver that he's really a snake at heart. 
In season 4, Silver rigged the karate tournament so his dojo won, forcing Miyagi Do and Eagle Fang to shut their doors after a bet goes wrong. His manipulations persist through the fifth season. /Film participated in a roundtable discussion with Thomas Ian Griffith who talked about his thoughts on "The Karate Kid Part III," how the big fight scene left him hurting, and what's happening to Silver once everyone finds out what he did. 
More villainy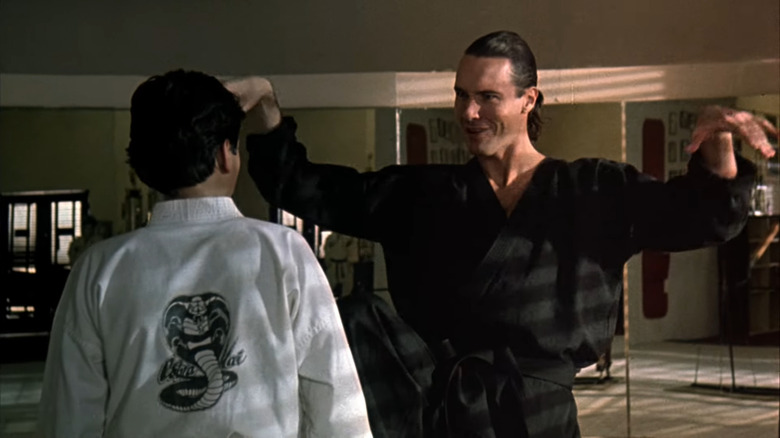 Columbia Pictures
Terry Silver isn't the only character from "The Karate Kid Part III" in the new season. We're getting a visit from Jessica Andrews (Robyn Lively), who just happens to be Amanda LaRusso's (Courtney Henggeler) cousin and the person who set her up with Daniel. Mike Barnes (Sean Kanan) is also back, which has been fu for Griffith since Griffith they didn't get much screentime together. Griffith liked the way he was brought back, saying: 
"I thought ... the creators twisted up that backstory for the unexpected, and I think Sean did an incredible job and the writing was so smart. And I loved that it means so much to the fans to bring back the OG crowd and I was so glad it worked out this season to have him back. 

I don't know if they're in the same place, character-wise, that Barnes would fit into Terry's world, which I'm glad they didn't force to try to make happen."
Barnes is definitely not a part of Silver's world, as he's now running a furniture business and trying to be a good person. 
Can Silver be redeemed?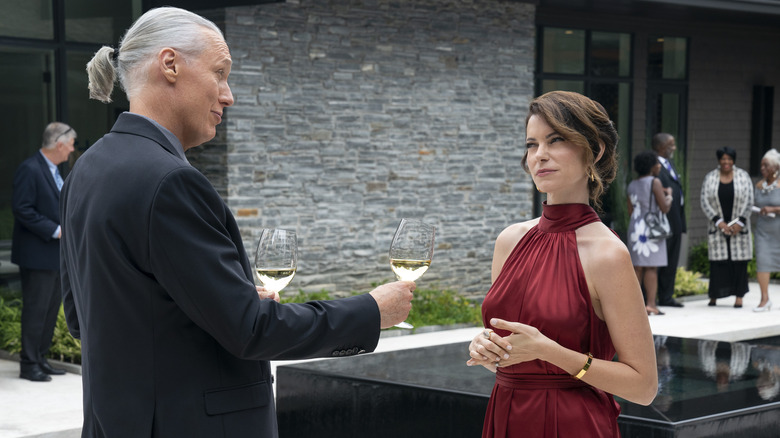 Netflix
Silver manipulates everyone, including Amanda. In fact, he's so good at it that Amanda stops believing what her own husband is saying about his old nemesis. It's that silver ponytail and the smile; the man may be evil, but he can absolutely turn on the charm. With everyone getting redemption in "Cobra Kai," like Johnny Lawrence (William Zabka), Kreese, and Chozen (Yuji Okumoto), how does he feel about Silver being seemingly irredeemable? Griffith said:
"I think this time around it was earned. I think because my fear — I had no interest in just repeating a character. If you're going to bring back the Terry Silver from 'Karate Kid III,' it's like, where are you going to go? But I think we earned that, so we gave him a lot of complexity in season 4. 

You saw his resistance, you saw where he was coming from you. You got to understand what he had been doing for the last 30 years. And he came into the world with almost a really good quality, a pure quality to try to make this work. And then you slowly see all these elements go against him with the betrayal, manipulation and people not accepting him because of his past."
So how is Silver different now from the bubble bath baron we saw in the third film? Griffith says he's "more refined" than what we saw in the past:
"He's not maniacal, but there's a madness, but in that madness we have those little bits of truths that I think people can go, oh yeah. Yeah, yeah, that's a point and we can be on his side. And he still has that quality, which I think is what makes Terry Silver, is that glee to say, 'If it's a challenge, if it's a worthy adversary, bring it on. I want to do it.' And I think that's something that's just fun to watch, love them or hate them you got to watch them."
Silver, the chameleon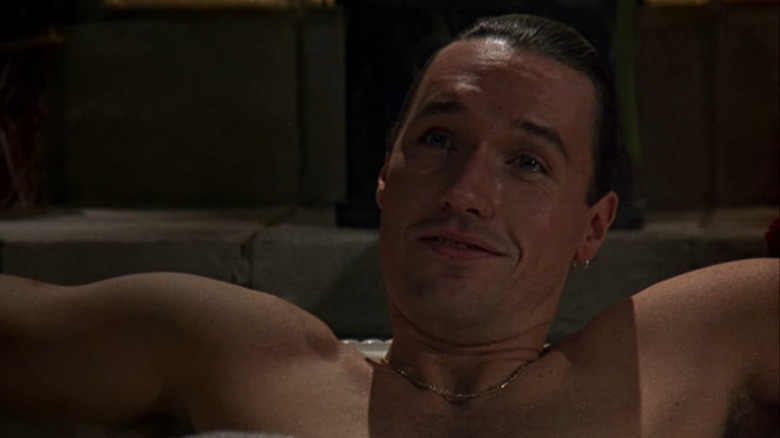 Columbia Pictures
Terry Silver's ability to transform into exactly what he needs to be in the moment is something we saw all the way back in the third film. We're shown the extreme evil of corporate greed turn into a kindly and friendly martial artist, who slowly manipulates a young Daniel into a much angrier man. Silver is so good at it that he even gets Daniel to turn on Mr. Miyagi (Noriyuki "Pat" Morita). Griffith spoke about getting in that headspace, finding the character appealing because "he's such a smart character." The actor said:
"I think because of his worldliness and his background, he can relate to these people and he finds the commonality of the most human element that he can talk to ... He can walk into other people's worlds and find his place and know his place. 

I think that's a great quality for a villain because then you go, that felt so sincere and that may bother some people, but that's the goal. And is it sincere? I believe in that moment, it is because that makes him so much more fascinating. And then when he gets burned, it's like, yeah, he's going to get that much more upset about it because he was sincere."
It's an interesting way of looking at it, because Silver may be over the top, but in the moments when he's in full manipulation mode, he really does seem sincere. Even in the film, when he shows up to see Daniel, you do question for a tiny moment if he's messing with Daniel or with Kreese. 
Rethinking The Karate Kid Part III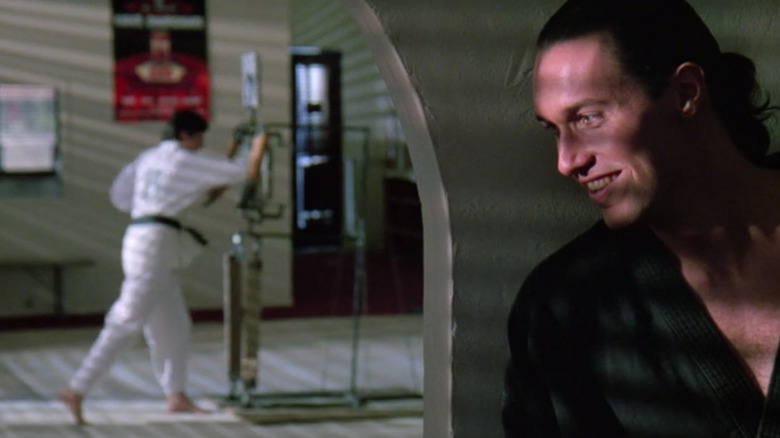 Columbia Pictures
Having just done a rewatch of "The Karate Kid Part III," it's easy to see why it's not universally loved, to say the least. However, when you have several seasons of "Cobra Kai" under your black belt, it ends up being a whole lot more fun. Griffith has fond thoughts of the third film, even if its other star Ralph Macchio still doesn't like it. Griffith said:
"It's funny, because fans are surprised I love 'Karate Kid III,' but a lot of them were like, 'I hated 'Karate Kid,' so it was a very divisive film. But for me, where I was coming from, being the first film, being directed by John Avildsen as young actors, and coming from New York and going, 'Hey, John Avildsen, watched you in this movie.' And when I read the script, it's like they were rewriting it because they had lost Kreese, and they didn't have him for the movie, whatever it was."
The first two films had captivated so many fans, so it's no surprise he was excited to do it. Then he got direction from "Karate Kid" creator himself, Robert Mark Kamen:
"And Robert came and was thinking he had to create a villain better than Kreese. So it's this over the top thing, and now I'm playing the bad guy, a Vietnam vet, and there's no way I could've been in Vietnam [Griffith was born in 1962]. They go, 'Don't worry about it, we're just going to throw you into it.'

And then it's like, is this a little much? And Avildsen said, 'This is the humor of this character, this is going to drive that new life into the franchise.' And I was like, 'Okay, I'm going for it.'"
One thing Griffith says he's proud of is Terry Silver's commitment. Of course, Griffith's fondness for the film doesn't mean he's saying this is high art:
"Granted, I'm the first to say, it's not a good film, but I do love that character still, you know what I mean? Because I just go, 'That is so over the top.' I always say, 'If those are the shots they used in the film, can you imagine what the outtakes were? What the hell was I doing? Thank God.' I said, 'God, I was on cocaine back then,' because how do you explain that? But I think, again, being a New York stage actor is like, if the director says this, I'm going for it."
What Griffith likes is the fact that bringing Silver back gives us more information about why he is the way he is:
"To bring that character back, is funny because in a way it's a redemption story. We are really seeing what drove Terry Silver, we got to tell that story. So you look back and I think it's that much more fun watching 'Karate Kid III.' Not that I'm saying anyone should be go back and watch 'Karate Kid III' right now, but still, I think it really informs us to his world and where he was psychologically. That just makes it that much more interesting. And on the flip side, that makes Terry Silver in 'Cobra Kai' in this goofy, ridiculous world, a very fascinating watchable character."
Dangerous fight scenes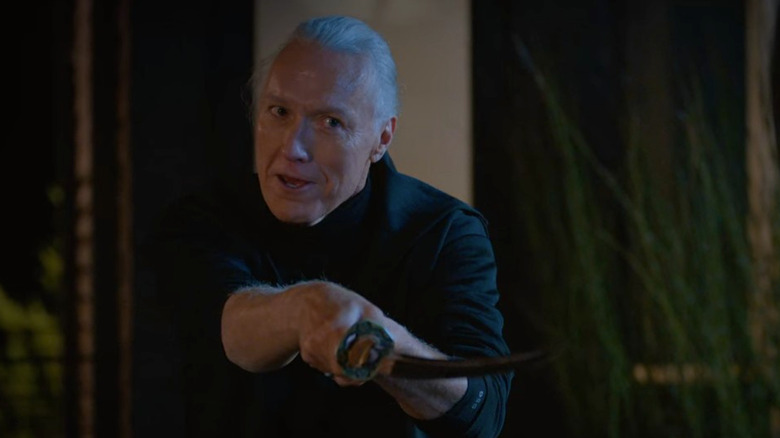 Netflix
There is a major fight scene featuring Terry Silver in season 5 of "Cobra Kai." It's a doozy, and it involves some deadly weapons Griffith has been a martial artist for a good portion of his life, and when he was sitting on set at the end of season 4 during the weapons part of the All-Valley Tournament, he was also trying to figure out how they'd top what was being done back then. Griffith recalled:
"I was thinking it's like, how are we going to top all these great karate fights? We've seen a lot of karate, and I walked over to one of the creators and said, 'What, if we did a sword fight, I'm really good at swords.' And they were like, 'Yeah, right.' I said, 'No. I really am.' And Don Lee, the fight choreographer, is a great weapons champion. So he was my backup, and he was like, 'Yeah, we could pull this off.' And then I let it go, I said, 'Nah, they probably won't do it.'"
But Griffith was wrong. When the season 5 fight came along, he thought, "Oh my God, I can't believe this is happening." Fighting in a character with weapons isn't the safest thing you can do though. Griffith explained:
" ... the thing is because I'm so used to sparring and martial arts, you're putting a weapon in your hand, and you're in character, so the danger factor just went way up. Then they're putting us in a pool outside when it's freezing cold, and you go, 'Oh my God, all these senses are firing.' It's like, I'm so excited about this. It's like, this is life and death, I think it just elevated it for us on set. And I think that translated to what we were able to capture on film. I just think it's unexpected. And it's, "Oh, they're not just going to knock each other, they could kill each other, which I loved."
'In a year, you'll be in a different place'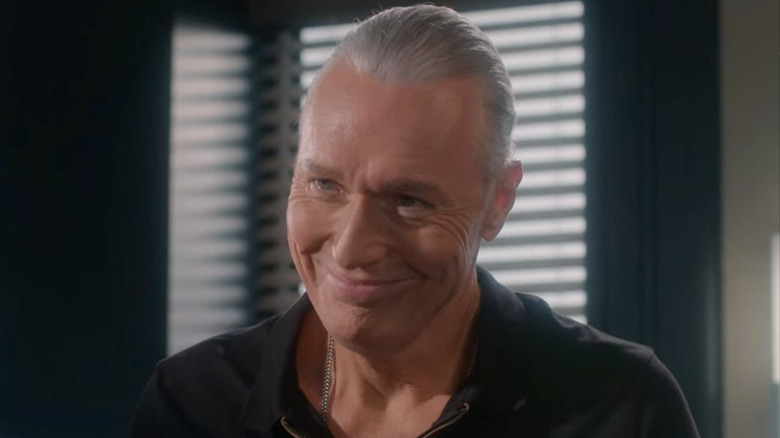 Netflix
Griffith is a big proponent of taking up martial arts, and he says it doesn't matter what age you are, "I say, start right now. In a year, you'll be in a different place. It will change your life." The actor thinks it's a great lesson to take from the show, though there were some rough moments on set that he brought about himself. He recalled:
" ... the first day on set, they have the stunt guy, 6'4 with the white ponytail wig and I'm watching him and going, 'Oh wait a second, I could do that better. Oh my God, I'm so much faster.' Of course, it's probably all in my mind what I used to be able to do. But then I say to the guy, 'Give me a pass with the other actor stunt guy.'

And I go for it. I'm letting it out. And they were all cheering and I'm feeling great. And then at the end of the day, after doing it for eight hours, I'm sitting in a bathtub going, 'What am I doing? Why did I say I could do everything?' Well, you can. But no, no. I don't realize, maybe for an hour or two, so it was a great learning experience, but it's so much fun."
All of "Cobra Kai" season 5 is now streaming on Netflix.