The Hellraiser Reboot Is Not A Remake, And Is Set The Original Franchise's Universe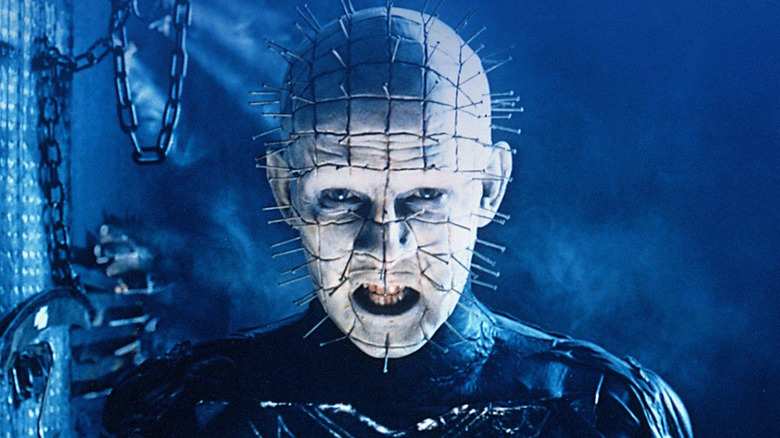 Entertainment Film Distributors
Among the wave of horror franchise reboots, sequels (like "Candyman"), and prequels (like "The Munsters"), it can be hard for moviegoers to orient themselves in the face of a new, reimagined horror classic. With the release of the 11th installment in the Clive Barker-created "Hellraiser" film series on its way come October, David Bruckner's "Hellraiser," fans are sure to have the same question: Where does this sit in the 'Hellraiser" universe?
The story surrounds Riley (Odessa A'zion), who fights daily battles with addiction before stumbling across the infamous Lament Configuration, which never ends well for anyone because that's one of the eternal rules of horror movies: just as everyone ignores the harbinger and always reads the Latin aloud, it's a universal constant that anyone who finds the shiny death box, fiddles with the shiny death box. The world of pain that follows varies from sequel to sequel, but in all, the suffering is legendary.
New photos dropped from Entertainment Weekly this week, showcasing the skin-scored central antagonist the Hell Priest, played by Jamie Clayton (in a role popularized by Doug Bradley). While the "Pinhead" moniker is still true, Clayton's interpretation of Barker's creation plays with elements — substituting Bradley's high collar for a sort of inverse flesh collar with an embedded coin at its base, for example — and alters enough to respect the roots while forging new territory.
Speaking with the outlet, Bruckner emphasized his offering as an expansion rather than a mimic of its 1984 predecessor. EW quotes his clarification:
"This is not a remake. I just didn't think you could ever remake the original Hellraiser. It's too much its own thing and it would be, I think, perilous territory for filmmakers, because how do you top that? This is a new story in the Hellraiser universe."
What sights they have to show you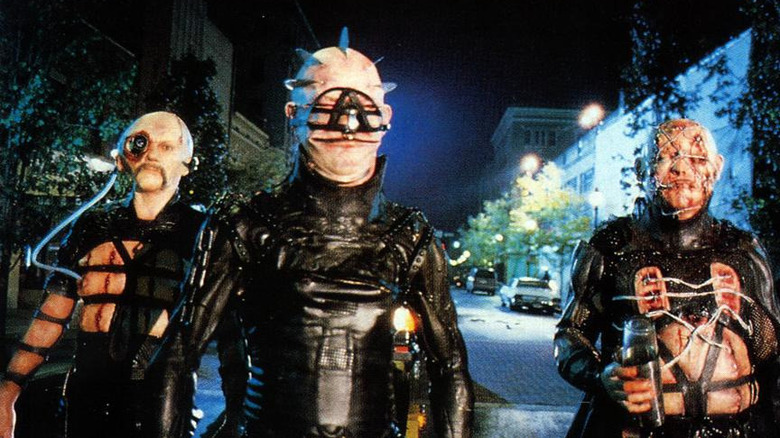 Miramax Films
Regarding that original universe, master of horror Clive Barker has taken his producer role seriously and acted as a "very involved" anchor ahead of shooting in Belgrade. Bruckner tells EW:
"Clive came on before the shoot, when we were in prep, and was really just a wonderful resource for me. He was really generous with his time, and very welcoming of the idea that this was a new group of artists, and that they were going to run with this and land in different places with it. He was very supportive of that."
The different places include a new Cenobite (deadly enforcers like the Hell Priest) known as The Masque, presumably because their face is stretched crepe-thin along some sort of hoop mechanism, resembling a biomechanical hellscape version of Lady Cassandra from "Doctor Who."
Cenobites can be found haunting the pages of Barker's writings, to include "The Hellbound Heart" and "The Scarlet Gospels," along with nine "Hellraiser" films' worth of variations. You've got a handful across the franchise that are formidable: Butterball, The Surgeon, the original Female Cenobite with her throat eternally agape. But the Cenobite to beat is CD, a walking Kraftwerk album with the most dated weaponry Hell could offer. CD is a blind figure with compact discs sticking out of his dome like dinosaur head crests, who announces his presence with robo-noises everywhere he goes. He spends the bulk of "Hellraiser III: Hell on Earth" ejecting razor-sharp discs out of his ... belly slot ... and chucking them at people with shuriken-like force. Since this new "Hellraiser" isn't a remake, it'll need to get especially creative in exploring new looks for the baddies.
The Masque, however, is a good start.
Bruckner's "Hellraiser" arrives on Hulu on October 7, 2022.