The Munsters Trailer: The Ghoulish Family Returns In Full Glory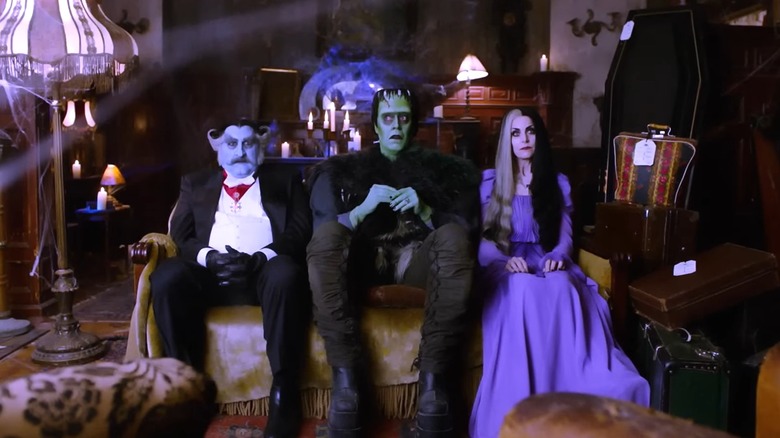 Universal Pictures Home Entertainment
Director Rob Zombie's remake of the '60s sitcom, "The Munsters," has been lovingly crafted in the spirit of the original show, and a brand new trailer for the film has just dropped.
Back in June, we were offered a glimpse into Zombie's film in the form of a teaser trailer which saw Herman Munster (Jeff Daniel Phillips), Lily Munster (Sheri Moon Zombie), and Grandpa Munster (Daniel Roebuck) being introduced. While the trailer starts off in black and white mode, there's a quick transition to "living color," adding a tint of vibrancy to these beloved characters.
Zombie's "Munsters" is essentially a reboot of the '60s sitcom, which revolves around a Transylvanian-American family who moves into the suburbs. But their strange, ghoulish appearances do not stop them from living out their lives as a standard American family. Despite looking like traditional monsters, the Munsters are extremely well-meaning, and each character was a satirical take on established sitcom stereotypes.
Check out the new trailer for Zombie's "Munsters" below.
A return to Mockingbird Heights
The Munster family lives in a decaying Victorian mansion in Mockingbird Heights, with each of the characters having their own struggles when it comes to adjusting to their new environment. The original show maintained an aura of lighthearted spookiness, wherein things were never too scary due to its inherent comedic and satirical tone. While Zombie's "The Munsters" seems to be retaining this lightheartedness, the director might as well infuse the reboot with genuine scares, which will be potentially interesting to witness.
In case Zombie decides to retain the lighthearted nature of the original sitcom and focus solely on the ghoulish family from a semi-comedic lens, this will be a significant departure from his typical directing style and choices. Zombie directed gritty, horror-focused films such as "House of 1000 Corpses" and "The Devil's Rejects," and both films featured a significant amount of blood and gore. In contrast, "The Munsters" is a more "family-friendly" tale, and given that the film has received a PG rating, Zombie's iteration does actually seem to be faithful to that of the original.
Apart from the main trio, "The Munsters" also features Richard Brake as Dr. Henry Augustus Wolfgang, Sylvester McCoy as Igor, Jorge Garcia as Floop, Catherine Schell as Zoya Krupp, and Cassandra Peterson as Barbara Carr. Additional cast members include Dee Wallace, Jeremy Wheeler, Tomas Boykin, Al Lewis, Pat Priest, and Butch Patrick, among others. 
Rob Zombie's "The Munsters" will arrive in September 2022.