The Best TV Shows And Movies Coming To Disney+ In September 2022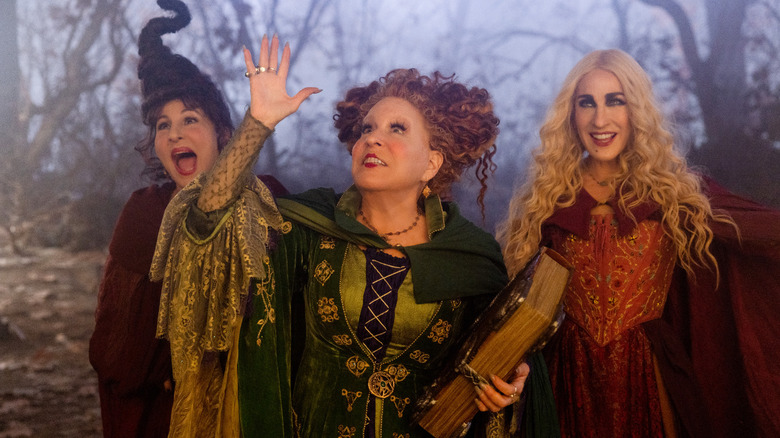 Disney+
If you thought the Mouse House was done trying to make Disney+ Day happen, then you don't know Mickey Mouse. 11 months after bombarding the Internet with the onslaught of news that was Disney+ Investor Day in December 2020, Disney revealed its plans to mark the two-year anniversary of its streaming service with its first-ever Disney+ Day on November 12, 2021. It did not go well, between the early leaks, confusing Twitter threads, and sneak preview videos being hidden behind paywalls where those who're not already signed up for Disney+ (the people who, in theory, Disney+ Day was meant to be targeting) couldn't access them.
We will see what lessons the company took away from that kerfuffle (assuming it learned anything) when it hosts its second annual Disney+ Day on Thursday, September 8, 2022, ahead of the D23 Expo taking place over the weekend after from September 9-11. In the meantime, here's a run-down of the biggest films and TV shows coming to Disney's streamer next month.
Thor: Love and Thunder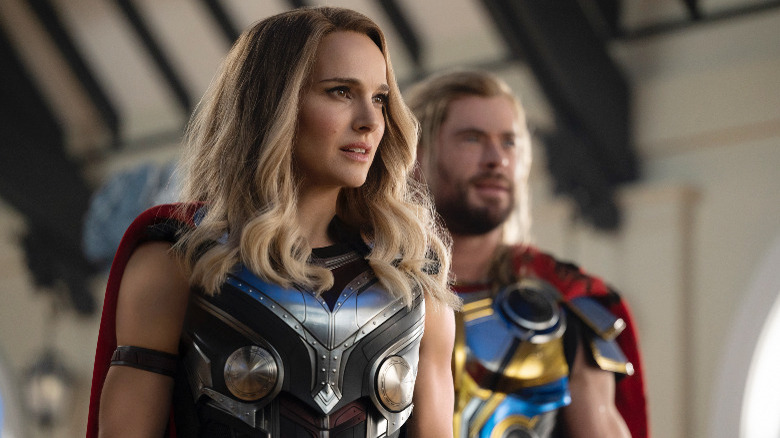 Marvel Studios
Thanks to the never-ending flow of new Marvel Cinematic Universe releases, it feels like both a long time and only yesterday that "Thor: Love and Thunder" made its way into theaters (in reality, it was under two months ago). Taika Waititi's sequel to his 2017 smash-hit "Thor: Ragnarok" is one of the most emotionally ambitious films Marvel Studios has ever made, taking on mid-life regret and ennui while dealing with heavy topics like terminal illness and what it means to "kill your gods" in both a figurative and very literal sense. It's also all over the place, chunkily stitching together plot threads from the previous three "Thor" films while exposing the shortcomings of Waititi/Marvel's "We'll fix it in post!" mentality.
In spite of all that, there's enough that works in "Love and Thunder" (from Christian Bale's multifaceted performance as Gorr the God Butcher to the film's tender handling of Thor's romance with Jane Foster) to merit checking it out on Disney+, for those who didn't see it in theaters. As for those who did, there's a whole lot of "movie" in this movie, enough so as to justify giving it a second watch sometime, whether it changes your feelings about the whole thing or not.
Pinocchio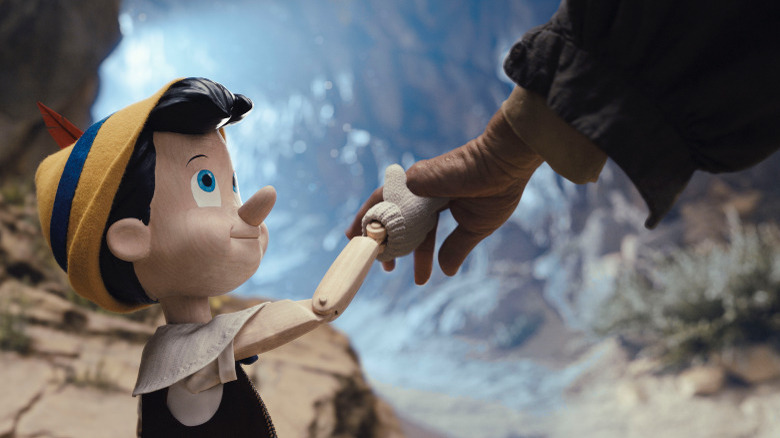 Disney+
Time really is a flat circle, apparently. Just as Disney+ launched with a live-action remake of one of Disney's classic animated films in 2019 ("Lady and the Tramp"), this year will see Robert Zemeckis' "Pinocchio" hit the streamer on Disney+ Day. A blend of live-action and CGI, the latest take on the beloved fairy tale hews closely to the Mouse House's 1940 animated movie of the same name, rather than the darker and even weirder 1883 novel "The Adventures of Pinocchio" by Italian author Carlo Collodi.
Tom Hanks stars in "Pinocchio" as Geppetto, the lonely woodcarver and toymaker whose wish to have a son is (sorta) granted when his wooden puppet Pinocchio is magically brought to life. Zemeckis' film looks to follow Pinocchio's quest to become a real boy pretty much beat-for-beat from the animated version, which is sadly par for the course these days for the once-innovative director. Coupled with some shaky CGI (treat your VFX artists better, Disney!), this one seems like little more than yet another paint-by-numbers redux that exists primarily to keep the "content" flowing on Disney+... but maybe it will surprise us?
Andor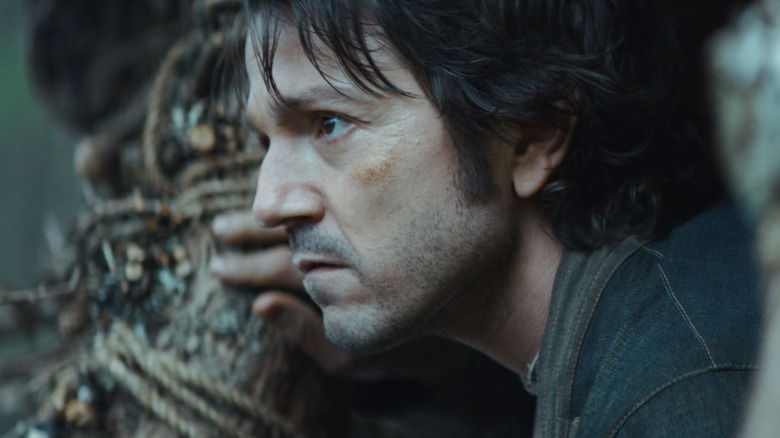 Disney+/Lucasfilm
Cards on the table: I'm one of those people who ranks "Rogue One: A Star Wars Story" as my favorite Disney-era "Star Wars" film, so I'm obviously biased when it comes to my outlook towards the movie's prequel series, "Andor." All the same, the show is shaping up to be just what I'd hoped for, offering a deep dive into the messier side of the Rebel Alliance while at the same time revealing how certain members of the Imperial Senate navigated the politics of the Galactic Empire in their own efforts to support the growing Rebellion.
"Andor" serves as an origin story for Cassian Andor (Diego Luna), from his early days as a law-breaker trying to make ends meet to becoming a Rebel spy willing to get his hands dirty and even lay down his life if it means furthering his cause. "Star Wars" has always been an overtly political franchise, which is why it's so gratifying to see "Rogue One" co-writer Tony Gilroy really lean into this as the head writer on "Andor." The series also seems to be carrying over much of what worked in "Rogue One" (the tone and visuals) while leaving behind the parts that didn't (the needless fan service).
The Call of the Wild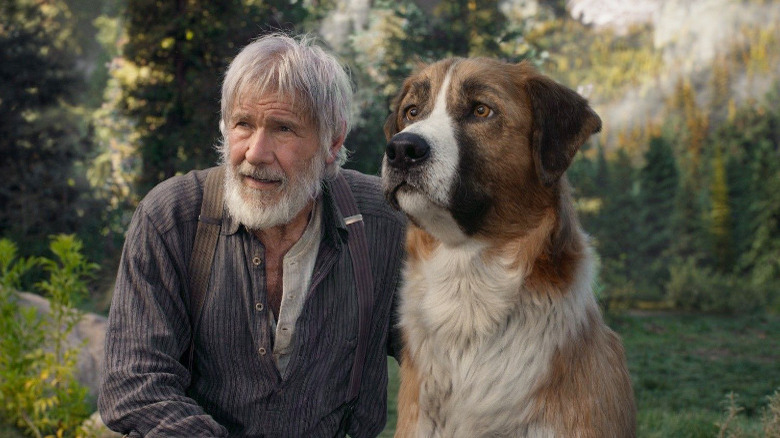 20th Century Studios
Chris Sanders' "The Call of the Wild" was one of many early 2020 releases that got lost in the fray amidst the start of the pandemic. It's the first live-action film Sanders has ever directed, having previously cut his teeth as a co-helmer on acclaimed animated movies like "Lilo and Stitch" and "How to Train Your Dragon." That also explains why "The Call of the Wild" feels like it might've been better off being fully animated rather than a mashup of live-action and uncanny valley CGI, as /Film's Hoai-Tran Bui observed in her review.
Its flaws aside, though, "The Call of the Wild" is a sincere and often surprisingly ruminative adventure film bolstered by a moving Harrison Ford performance. The actor stars here as a grizzled loner and father in mourning who's prospecting for gold in the 1890s Yukon when he befriends Buck, a gentle Saint Bernard and Scotch Shepherd mix who was kidnapped from his cushy home in California. For as much as it suffers from trying to soften the edges of Jack London's source material, that also makes "The Call of the Wild" an effectual gateway to more untamed and hardened tales of survival.
Hocus Pocus 2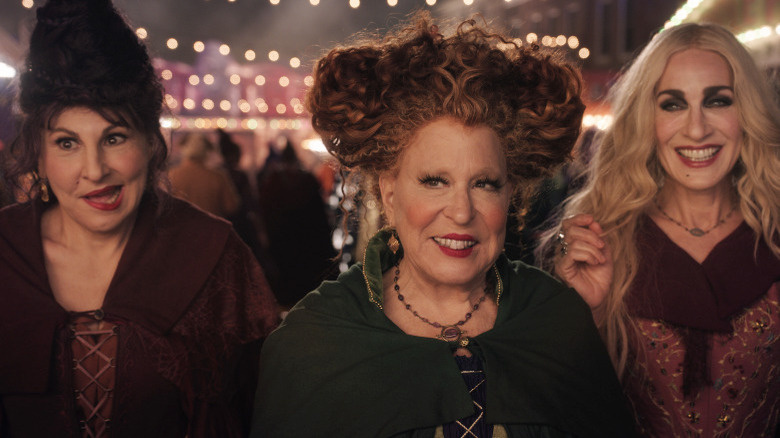 Disney+
After nearly 30 years, the witches are (finally) back, and there's Hell to pay with the arrival of "Hocus Pocus 2." Can the sequel come anywhere near to capturing the off-kilter charm of Disney's original 1993 fantasy-comedy film? Maybe, maybe not. But as one of the many kids of the '90s who grew up watching Bette Midler sing "I Put a Spell On You" on repeat while completely misunderstanding the jokes about a virgin lighting the Black Flame Candle, I'm obligated to at least give the long-awaited "Hocus Pocus" follow-up a shot.
Midler, Kathy Najimy, and Sarah Jessica Parker are reprising their roles as the Sanderson Sisters for "Hocus Pocus 2," which sees the witchy trio return from the grave after some unwitting high schoolers decide to meddle with the Dark Arts (teens just can't leave well enough alone, can they?). Also back is the modern man of 1,000 faces, Doug Jones, as the zombified Billy Butcherson, with the likes of Sam Richardson, Tony Hale, and Hannah Waddingham in supporting roles. And yes, there will be a black cat in the sequel, though, tragically, not of the talking variety.
Movies and TV shows coming to Disney+ in September 2022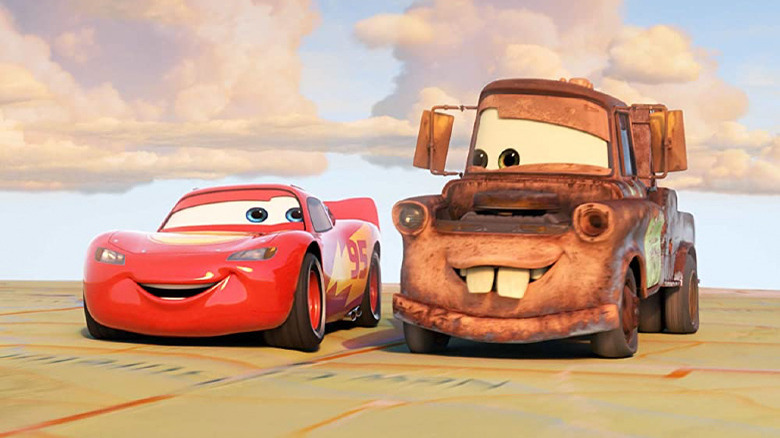 Disney+
Thursday, September 1
She-Hulk: Attorney at Law – Episode 3
Friday, September 2
Al Davis VS. The NFL
Dickie V
Elway to Marino
Nature Boy
Run Ricky Run
Small Potatoes: Who Killed the USFL?
The Band That Wouldn't Die
The Two Bills
Year of the Scab
Siempre Fui Yo, Detrás de la historia – Premiere
Wednesday, September 7
Edge of the Unknown with Jimmy Chin (S1)
Europe from Above (S3)
Europe from Above (S4)
Prime Survivor: Mighty Mekong (S1)
Puppy Dog Pals (S5, 3 episodes)
High School Musical: The Musical: The Series – Episode 307 "Camp Prom"
Thursday, September 8
Frozen (Sing-Along)
Frozen 2 (Sing-Along)
Mickey Mouse Funhouse (S1, 5 episodes)
Thor: Love and Thunder
Cars on the Road – Premiere – All Episodes Streaming
Dancing with the Stars: The Pros' Most Memorable Dances (Special) – Premiere
Epic Adventures with Bertie Gregory – Season 1 Premiere – All Episodes Streaming
Growing Up – Premiere – All Episodes Streaming
Marvel Studios Assembled: The Making of Thor: Love and Thunder – Premiere
Obi-Wan Kenobi: A Jedi's Return – Premiere
Pinocchio – Premiere
Remembering – Premiere
Tierra Incógnita – Premiere – All Episodes Streaming
Welcome to the Club (a new short from The Simpsons) – Premiere
She-Hulk: Attorney at Law – Episode 4
Friday, September 9
Wednesday, September 14
First Alaskans (S1)
In the Womb: Animal Babies (S1)
Short Circuit – Episode 206 "Reflect"
High School Musical: The Musical: The Series – Episode 308 "Let It Go"
Thursday, September 15
She-Hulk: Attorney at Law – Episode 5
Friday, September 16
Coco (Sing-Along)
The Art of Racing in the Rain
Mija – Premiere
Monday, September 19
Dancing with the Stars – Season 31 Premiere (Live)
Wednesday, September 21
Firebuds (S1, 12 episodes)
Wicked Tuna: Outer Banks (S8, 8 episodes)
Andor – 3-Episode Premiere – Episodes 1-3
Super/Natural – Premiere – All Episodes Streaming
Thursday, September 22
She-Hulk: Attorney at Law – Episode 6
Friday, September 23
Saving Giraffes: The Long Journey Home
Spies in Disguise
The Call of the Wild
Monday, September 26
Dancing with the Stars – Episode 2 (Live)
Wednesday, September 28
Life Below Zero: Northern Territories (S2)
Minnie's Bow-Toons: Party Palace Pals (S2, 11 episodes)
The Mighty Ducks: Game Changers – Season 2 Premiere
Andor – Episode 4
Thursday, September 29
She-Hulk: Attorney at Law – Episode 7
Friday, September 30
Hocus Pocus 25th Anniversary Halloween Bash (Special)
Under Wraps 2
Hocus Pocus 2