Hocus Pocus 2 Teaser: Revisiting The Most Famous (And Fabulous) Witch Sisters In The World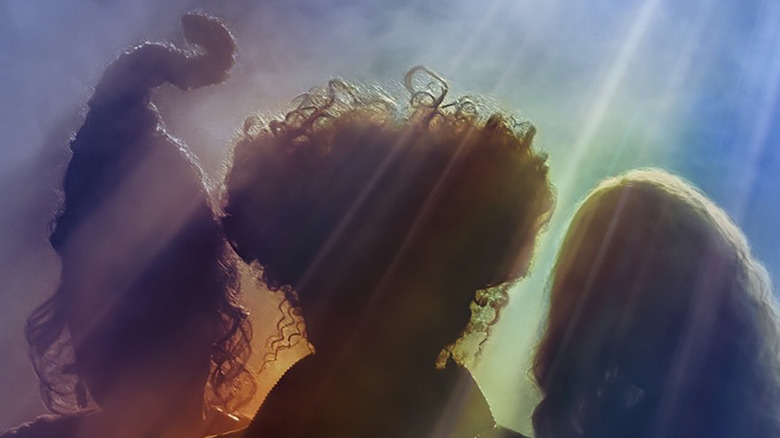 Disney+
In case you forgot, we're really going back to see the Sanderson Sisters once again. "Hocus Pocus 2," the sequel to the original sleeper hit Disney film, is still happening, and the new installment now has a teaser trailer to try to get us hyped up for the return to Salem.
The sneak peek was released on Disney's YouTube channel, and the teaser sums up what to expect quite nicely. In the nearly minute-and-a-half long clip, the new story is set up to focus on three teenagers in modern day, played by "Gossip Girl" star Whitney Peak, "Total Eclipse" star Lilia Buckingham, and "American Horror Story" star Belissa Escobedo. After attempting to access their own potential powers, the girls seemingly summon the most famous witches of all time, the Sanderson Sisters, and are subsequently forced to stop Winnifred (Bette Middler), Sarah (Sarah Jessica Parker), and Mary (Kathy Najimy) after they have once again been brought back to the land of the living.
A teaser poster was also released for the film, which features silhouettes of the three iconic witches in each of their signature colors — purple for Sarah, red for Mary, and green for Winnie — alongside the tagline, "We're back, witches," and the movie's title.
The movie will also star Sam Richardson, Tony Hale, and Doug Jones, who will reprise his role as the beloved Billy Butcherson.
The burden of the sequel
This movie already has a lot riding on its shoulders, and we're still a few months off from its release. The original 1993 film, directed by Kenny Ortega and written by Mick Garris and Neil Cuthbert, wasn't actually a smash hit when it was released, but that doesn't mean the film hasn't found its dedicated audience since then. In fact, one could definitely argue that the movie is one of the most important Halloween stories in modern culture. It has become such an expected and relied-upon part of the zeitgeist; It's always on every Halloween movie line-up, you will always win at least third place in any group costume contest you enter with your friends while dressed up as the Sandersons.
Sure, there is a bit of nostalgia clouding my outlook on this new sequel, but despite my love of Whitney Peak (she's a very strong actor), I'm not convinced this new story of Sanderson proportions is going to live up to the heartfelt rollercoaster ride that was given to me in my childhood by the original film. I'm willing to light the black flame candle once again and give this a shot, but if it turns out to be an uninspired attempt to revive a classic that should've, like the Sandersons, stayed dead, I reserve permission to throw a 24-hour "Hocus Pocus" movie marathon once a week for the entirety of October for the rest of forever. Your invites will be in the mail.
This new installment, which was directed by Anne Fletcher and written by Jen D'Angelo, will premiere on Disney+ on September 30, 2022.