Dan Lin May Be Taking Over DC Film And TV At Warner Bros. Discovery
For years now, studios have been chasing the box office success of Marvel Studios and their Marvel Cinematic Universe. Building a cohesive collection of interconnected franchises isn't easy, and it's even harder to make them all successful. But Marvel Studios President Kevin Feige has come out smelling like roses as he oversees the MCU, both in film and television. Meanwhile, their competitors at DC Comics haven't had a shepherd to oversee the DC Extended Universe, resulting in mixed results of major successes and abject failures. But that could change as Warner Bros. Discovery is in the midst of appointing their own Kevin Feige in the form of "The LEGO Movie" and "IT" producer Dan Lin, who is currently in talks to become the chief of DC Comics film and television.
Dan Lin's new position, once the deal is solidified, will find him overseeing both film and television projects based on DC Comics properties, taking over from current head of DC Films, Walter Hamada. The Hollywood Reporter explains that he will be reporting directly to Warner Bros. Discovery CEO David Zaslav. That's an interesting note, because it means that he doesn't have to go through any of the other entertainment division heads at Warner Bros. Pictures, HBO/HBO Max, and Warner Bros. Television. That's really what makes Lin look like the new Kevin Feige of DC Comics-based film and TV.
The new shepherd of DC films and television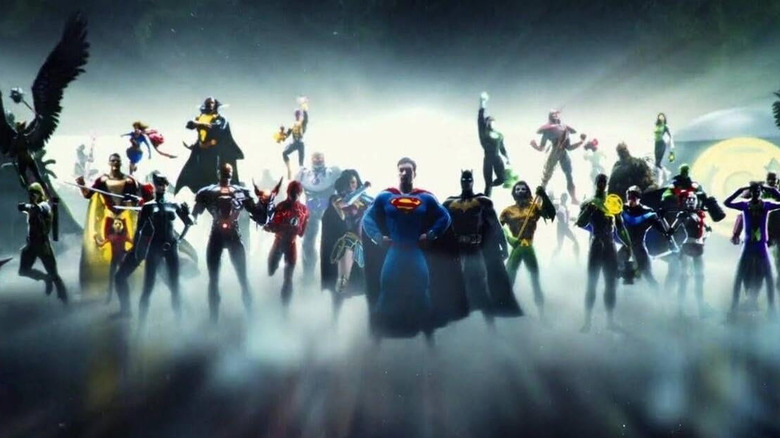 Warner Bros.
Lin's history in Hollywood goes all the way back to his teenage years. While attending Harvard Business School, Lin took a summer internship with big time producer Lorenzo di Bonaventura, who was then an executive at Warner Bros. Straight out of college, Lin was given a junior position at the studio, and he rode that wave all the way to being senior vice president of production. 
Starting in 2008, Lin began his producing career with projects like "The Departed" and "Sherlock Holmes." Lin was also around when George Miller's aborted "Justice League" project was kicking around in the late 2000s. Other projects of his include "The LEGO Movie" and its various building brick spin-offs like "The LEGO Batman Movie,"not to mention the "IT" franchise, "The Two Popes," and Disney's live-action "Aladdin" remake. 
Lin clearly has plenty of experience in blockbuster filmmaking on both an executive and production level, so he knows the ins and outs of putting together a successful project, including massive franchises. Whatever Lin brings to the table, it was enough for him to beat out other reported contenders like Emma Watts, Amy Pascal, Matt Tolmach, Sean Bailey, and Greg Berlanti, all with their own fair share of success and experience. For what it's worth, Variety reports that Lin hasn't landed the gig yet, but he's one of the top choices, so we'll see how it all shakes out.
If hired, hopefully Lin will prove to be the savior of DC Comics film and television, especially with the promise of a new 10-year plan for the future of all their superheroes and villains on both the big and small screen.