Kevin Feige's MCU Ambitions Started With Sam Raimi's Spider-Man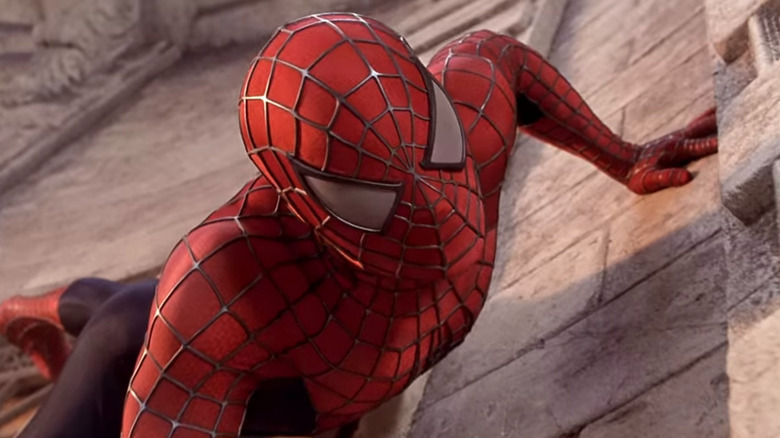 Marvel Enterprises
Though Kevin Feige is now known as the uber-producer behind the Marvel Cinematic Universe, his history with the House of Ideas dates back well before 2008, when Marvel Studios began producing its own films with "Iron Man" and "The Incredible Hulk." In fact, Feige's grand design to build a shared universe with Marvel characters onscreen may have started as far back as the early 2000s when he was an assistant to Marvel Studios founder Avi Arad on the first live-action Spider-Man film, directed by Sam Raimi.
Years after helming his Spider-Man trilogy, Raimi, of course, came back into the Marvel fold to direct "Doctor Strange in the Multiverse of Madness," the 28th film in the MCU. In an interview with The Hollywood Reporter to promote that film, Raimi discussed Feige's early ambitions to start crossing other superheroes over into the Spider-Man movies, the way Marvel would sometimes do with heroes in its comic book titles. Raimi said:
"In the moment, [Kevin's] boss, Avi, was [trying to create an empire]. First of all, Avi had gotten behind Blade, X-Men, even these Spider-Man movies. He was the head of Marvel at the time, and Kevin was his assistant. [Avi] also went on to Iron Man. But it was Kevin who wanted to start bringing in guest appearances into the first three Spider-Man movies. I forgot if it was Wolverine he was trying to get into the movies or another character, but it was really Avi standing on the shoulders of Stan Lee and then Kevin standing on the shoulders of Avi that enabled this all to happen. It was generations of writers with intertwining stories that the Marvel universe told. Characters would have their own issues and comics, and in a Marvel team-up, they would get together."
'He answers to the fan'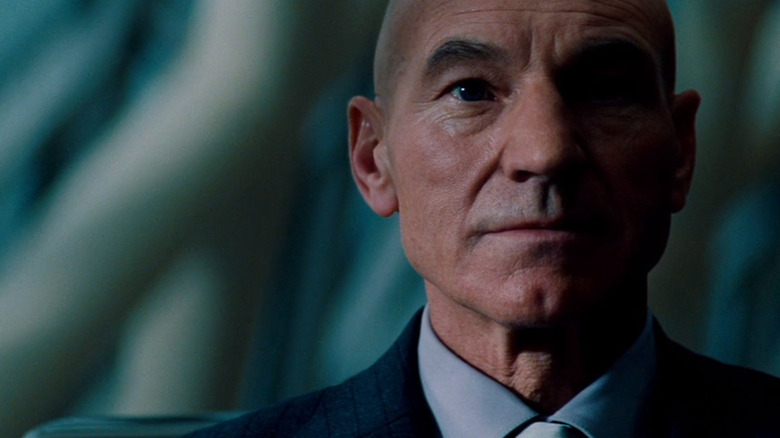 Marvel Entertainment Group
While we never got to see Hugh Jackman's Wolverine meet Tobey Maguire's Spider-Man, Maguire and Andrew Garfield did cross over into the MCU for "Spider-Man: No Way Home," which also happened to feature Doctor Strange. And even before "Doctor Strange in the Multiverse of Madness" hit theaters, Patrick Stewart had confirmed that he would be joining the MCU to reprising his role as Professor X from the X-Men movies.
There's a long-standing tradition of this kind of "cross-pollination," as Feige once called it, in Marvel Comics, so if anything, he was just following the road map laid out for him by comic writers and artists such as Stan Lee and Steve Ditko, who created the character of Spider-Man in 1962. This is something Raimi recognized, too, when he told THR: 
"All of these interactions were pre-described by Stan Lee and Steve Ditko 50 years ago, and now we're just following their formula. So yes, Kevin is brilliant, and I've never met anybody who runs a company just ensuring the integrity of the characters as their No. 1 job. It's incredible. It's a pleasure to work at that company because of that. He doesn't really answer to the shareholder; he answers to the fan. And so it makes it a wonderful place to work."
Other MCU notables, such as Chris Evans, have talked about the "internal barometer" that allows Feige and company to maintain quality control at Marvel, and based on Raimi's comments, it sounds like that barometer is adjusted to the fans, first and foremost. Catering to the sometimes-fickle whims of fans hasn't always worked out well for other studios — or even Marvel, in all cases — but it sounds like Feige has his heart in the right place, and that has gone a long way toward helping Marvel achieve success.