How She-Hulk's Plot Structure Lends Itself To So Many Cameos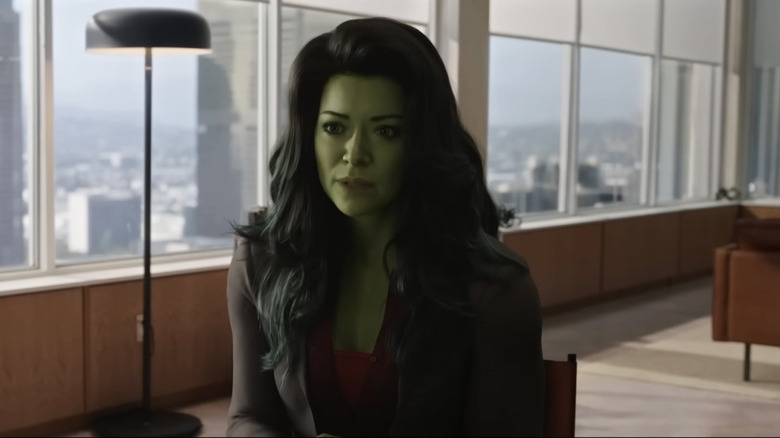 Marvel Studios
It's no secret that Marvel Studios loves a cheeky cameo. Kevin Feige and co. essentially wrote the book on interconnected storytelling for the 21st Century. With dozens of crisscrossing projects under Marvel's belt (and countless more plotted out for the foreseeable future), it's second nature to expect one superhero to appear in a movie or TV series that focuses on another. Sometimes it works ... and sometimes it doesn't. But as long as the Marvel machine keeps chugging, the cameos will likely keep on coming, for better or worse.
In a lot of cases, a cameo is deployed to set up a future Marvel project, or even help tease a new phase for the Marvel Cinematic Universe. As such, they don't always add too much to the story at hand, and they're often lacking a bit of, well, fun. Fortunately, with Marvel gradually embracing comedy more and more on the television front (and in recent films too), the cameo fatigue is, ever so slightly, beginning to ebb. This couldn't be more true than with new series "She-Hulk: Attorney at Law," which is poised to take the MCU fully into sitcom territory. With a wacky-but-lovable protagonist in Jen Walters (Tatiana Maslany), and an appropriate court-case-of-the-week conceit, "She-Hulk" is uniquely qualified to bring a few familiar faces into its world and make it feel natural.
Filling in the blanks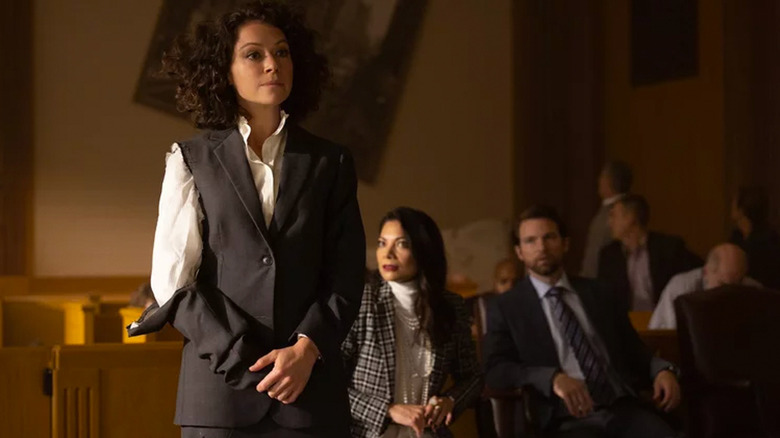 Marvel Studios
From the very beginning, "She-Hulk" writer Jessica Gao was aware of the pressure to connect Jen's story to the wider MCU. "We always knew that because the cinematic universe is so connected, everything we do is going to have to be connected to everything," she told ScreenRant. Fortunately, with the structure of "She-Hulk" being what it was, finding those connections was much easier than it normally would be:
"[B]ecause of the format of the show, that it's a half-hour legal comedy, it kind of naturally and organically lends itself to having a lot of guest stars because every episode there's going to be a lawsuit of some kind. You need people in those lawsuits and not just floating lawsuits, so you just naturally need to fill in the blanks of these people. And our starting point was always, that we would mine the movies and the comics for characters that we wanted to use. Then we would start thinking, 'Well, what's a very character-specific reason that person had legal problems or needed legal help?'"
It's going to be interesting to see how Jen's unique position as a super-lawyer will inform each cameo to come. "She-Hulk" has already teased the reintroduction of Hulk villain Emil Blonsky, aka Abomination — who, notably, appeared in "Shang-Chi and the Legend of the Ten Rings" — as well as a cameo from Charlie Cox's Daredevil. But there's no telling who else She-Hulk will be representing — or even butting heads with — in the episodes to come. You're free to place your bets now; just know that Spider-Man is effectively off the table (...or is he?!).
"She-Hulk: Attorney at Law" streams Thursdays on Disney+.