Greg Kinnear Was A Little Too Committed To Staying In Character For Little Miss Sunshine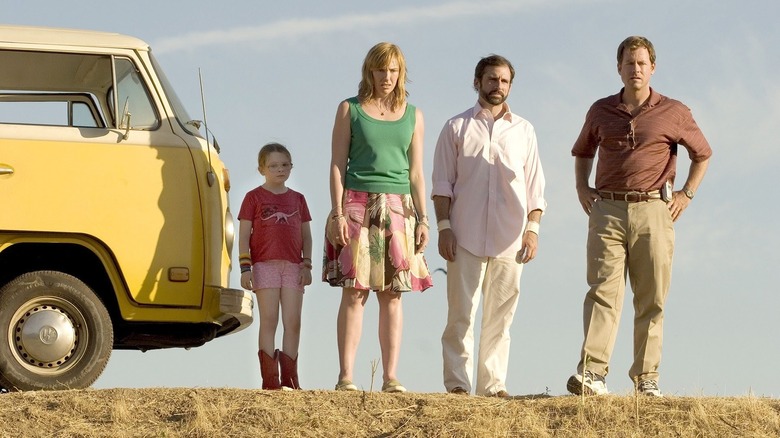 Searchlight Pictures
The acclaimed cast of "Little Miss Sunshine" all took their roles very seriously, but some may have taken things a little too far. There's a long history of actors dedicating themselves completely to their roles without incident, with only a few notable cases where a performer stepped over the line and put themselves and others in harm's way. Directors Jonathan Dayton and Valerie Faris never could have anticipated that Greg Kinnear would take things quite so far and put his castmates at risk.
Kinnear stars in the hit dramedy as Richard, the father of a dysfunctional family that includes his brooding step-son Dwayne, played by Paul Dano, his father Edwin, played by Alan Arkin, his wife Sheryl, played by Toni Collette, and his tenacious daughter Olive, played by Abigail Breslin in her breakout role. The family packs into a van to transport Olive across the country to a national beauty pageant. The trip teaches them to embrace life and their love for one another.
He ran a red light for the role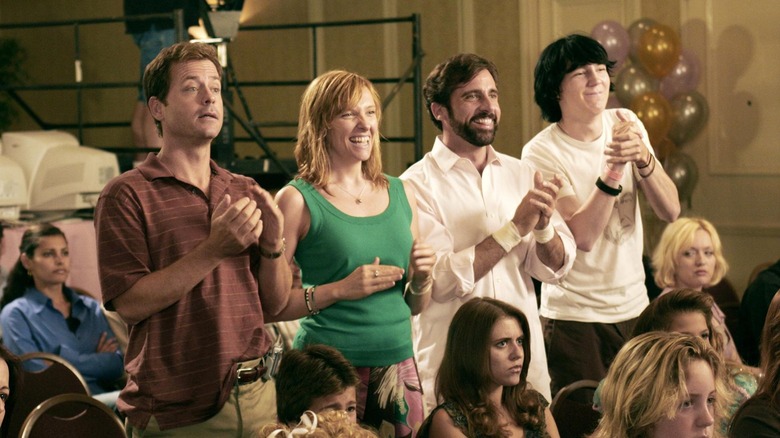 Searchlight Pictures
Prior to filming, Dayton and Faris suggested that the main cast take a group outing while in character. In an effort to "establish a sort of family dynamic," the directors suggested that the cast get a meal and go bowling together as their characters, Dano explained to Jimmy Fallon on The Tonight Show.
The actors were not even out of the parking lot before Arkin, in character as Kinnear's father, piped up and said that he had to pee. "'We just left Dad. You have to wait,'" Kinnear responded. When Arkin protested, Kinnear doubled down, but Arkin stood his ground and said, "At the next red light I'm getting out to pee." Greg Kinnear, Dano continued to explain, "ran the next red light just because he did not want to give in to Grandpa, who clearly needed to pee."
This was the moment that Dano realized "the family dynamic was there." Sadly, he wasn't able to chime in himself, since his character refuses to speak out of protest. "So I'm sitting in the back just going like, 'Okay, did we really just run that red light?'" the actor recalled. "Greg I'm sure did it safely — as safe as you can run a red light," he added.
Kinnear was committed even off camera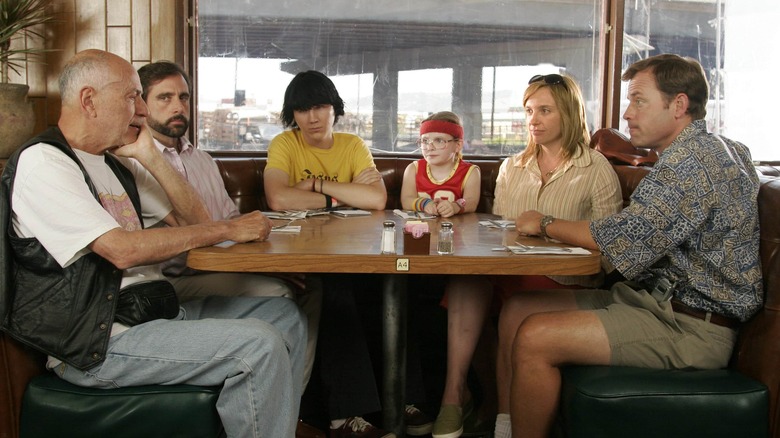 Searchlight Pictures
Kinnear felt that the contentious relationship between Richard and his father was at the heart of his character's issues. "If he were on the Dr. Phil Show he'd be talking about his heroin-snorting father having caused it all," the actor told Collider in a full cast and crew interview around the time of the film's 2006 release. "The lack of approval that he got from his dad,"  Kinnear explained, not only infects his relationship with his aging father but also leaks into his dynamic with his own daughter.
This conflict emerged as soon as the two characters spent time in the same car. The dynamic between them extended beyond the pages of the screenplay as well, although not into their personal lives — Arkin and Kinnear would work together again a few years later on the crime comedy "Thin Ice." 
The tension of their off-camera, in-character interaction is a true testament to both Kinnear and Arkin's talents as performers. If you need any proof, watch "Little Miss Sunshine" yourself to see just how convincing they are.