'He Loves Me' Will Bring Together 'Little Miss Sunshine' Directors, Producers And Star Once More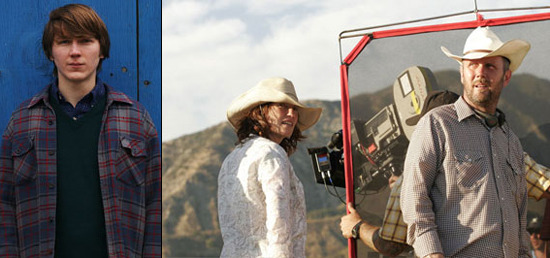 Little Miss Sunshine became a rare indie to mainstream crossover hit, and directors Jonathan Dayton and Valerie Faris haven't made another feature film since. Now they're set to finally move forward on another picture, called He Loves Me. And the movie is shaping up to be a full-fledged LMS reunion.
The LA Times reveals that He Loves Me is written by Zoe Kazan, the real-life girlfriend of Little Miss Sunshine actor Paul Dano. Both will appear in He Loves Me, which is being produced by Albert Berger and Ron Yerxa, who also produced (you guessed it) Little Miss Sunshine.
The film is about "a young novelist who achieves success early in his career but begins to face struggles. In a bid to overcome writer's block, he is told to write the woman he thinks will love him. He winds up willing her into existence." The LAT says "think Adaptation meets Weird Science." What, no mention of Cool World? Brad Pitt weeps.
Expect a tone that is similar to LMS — that is, funny, a bit poingant, a bit twee, with strong characters. No other cast is announced at this point, but the first draft of the script is done, and further work is underway. Indie financing is likely, but many details beyond the basics reported above are yet to be determined.
What does this mean for Will (with Zach Galifianakis) and Used Guys (with Danny McBride) to which the directors had previously been attached? We don't know for sure right now, but at the moment this looks like their next movie.