Little Miss Sunshine Was Surprisingly Inspired By Arnold Schwarzenegger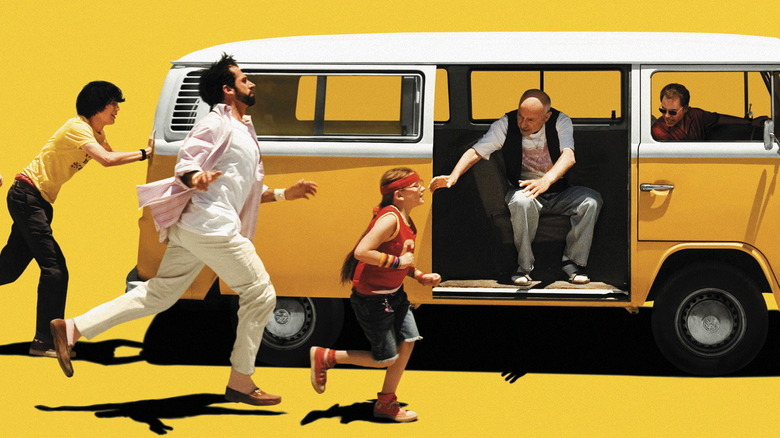 Searchlight Pictures
"Little Miss Sunshine" gives an indie twist to the road trip movie, as the highly dysfunctional Hoover family piles into a bright yellow Volkswagen microbus and heads to a beauty pageant in California. The film kickstarted the writing career of Michael Arndt, which is particularly impressive given that it was his first ever screenplay. It also boasts an impressive cast, including a more dramatic turn for Steve Carell and a breakout role for Paul Dano — who more recently has been seen terrorizing Gotham City as the Riddler in "The Batman".
Arnold Schwarzenegger is the epitome of the '80s action hero, having starred in classics including "Predator" and "The Terminator." With his massive muscles, thick Austrian accent, and penchant for playing dangerous men, he makes for an imposing figure. He was even the governor of California!
So, what do the two have in common? It turns out that Arndt was inspired to write "Little Miss Sunshine" after hearing a speech that the former Governator made.
Everyone Loves An Underdog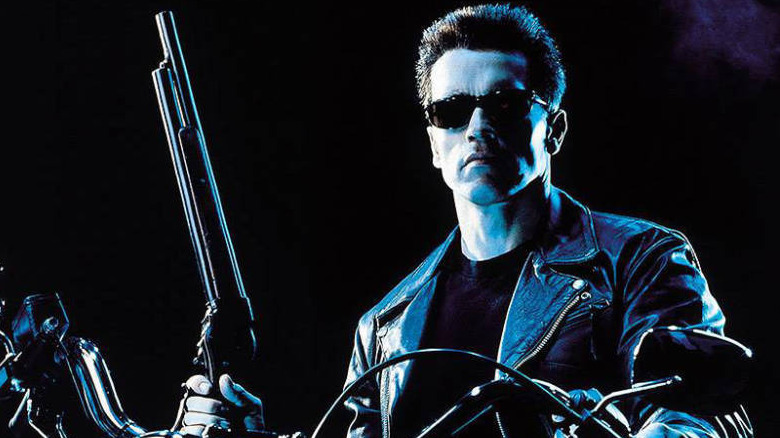 TriStar Pictures
When the musical version of "Little Miss Sunshine" was being crafted (trust me, Broadway can find a musical angle for just about anything), Arndt was interviewed about the origins of the film, and said that his inspiration came from a speech that Schwarzenegger delivered to a class of high school students. During the speech, Schwarzenegger uttered the following sentence: "If there's one thing in this world I hate, it's losers. I despise them." 
This struck a chord with Arndt, but not the one Schwarzenegger may have intended. Arndt instead decided to focus on a family of so-called "losers" going on a road trip with the hope of helping one member of the family — young aspiring beauty pageant winner Olive (Abigail Breslin) — to finally win at something. Along the way, each member of the family is dealing with their own challenges. Greg Kinnear, as patriarch Richard, serves as a stand-in for Schwarzenneger's loser-hating attitude, and is attempting to jump-start his career as a motivational speaker. On the polar opposite end of Richard's Type A personality is his brother-in-law, Frank (Carell), who is staying with the family after attempting to take his own life.
But it's Dano has perhaps the best scene in the film, when his character Dwayne melts down after discovering that he's color-blind — a death knell for his dream of becoming a fighter pilot. In the depths of his despair, his sister Olive approaches and embraces him. For Dwayne, who took his career goals so seriously that he had been holding himself to a vow of silence until he achieved them, it's a reminder that Olive never needed him to be a hotshot pilot; she loves him simply because he's her big brother.
She's All Right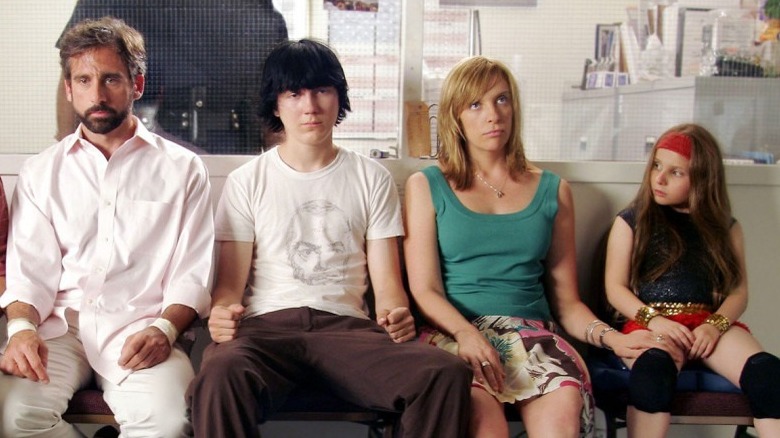 Searchlight Pictures
Perhaps the best example of "Little Miss Sunshine" rejecting Schwarzenegger's anti-loser philosophy comes toward the end of the movie, when the Hoovers finally makes it to the Little Miss Sunshine pageant. They're horrifying at the hypercompetitive and sexualized atmosphere, and fear that it could affect Olive; it isn't until mother Sheryl (Toni Collette) encourages them all to "let Olive be Olive" that they back off. 
When Olive is shunned for her dance to Rick James' "Super Freak" (which is ironic, given what the other girls are wearing), her family decides to join her in dancing. Even though Olive doesn't win the pageant, she still has the support of her family — making for a heartwarming ending that cements "Little Miss Sunshine" as a true gem among indie movies, and a reminder that there's more to life than being a winner.