Kevin Can F*** Himself Season 2 Review: The Anti-Sitcom Comes To A Satisfying End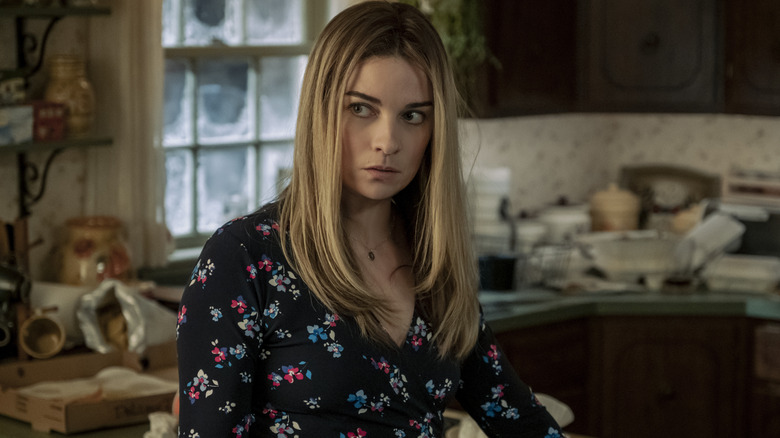 AMC
When it debuted in 2021, "Kevin Can F*** Himself" turned some heads. It put the phenomenal Annie Murphy center stage fresh off an award-winning six-season run on "Schitt's Creek," and the premise felt unlike anything we've seen on television before. Alluding to the controversial way CBS sitcom "Kevin Can Wait" treated the wife of Kevin James' titular man-child character on that show, this AMC dramedy presented how an unfulfilling marriage to an insensitive, childish partner can be a light and airy sitcom for one party and a tough drama for the other by actually presenting both sides as such. Yes, we got both a stereotypical multi-cam sitcom and a dark single-camera drama in one show.
With the first season receiving critical acclaim, the audience has been anxious to get back into the story, especially considering that season 1 ended with a massive cliffhanger. After Murphy's Allison McRoberts and her neighbor Patti O'Connor (played by Mary Hollis Inboden) fail to murder Kevin in order to be rid of him once and for all, Patti's brother and Kevin's best friend Neil (Alex Bonifer) overhears their plans. After he attacks Allison, Patti clocks him with a bottle and the eighth episode ends with Neil bleeding on the kitchen floor.
That's where the second and final season opens. We pick up right where we left off a little over a year ago to see what kind of shenanigans Allison and Patti get up to next. And interestingly enough, their plans take a few pretty big turns from where it seemed like they were going.
As seen on TV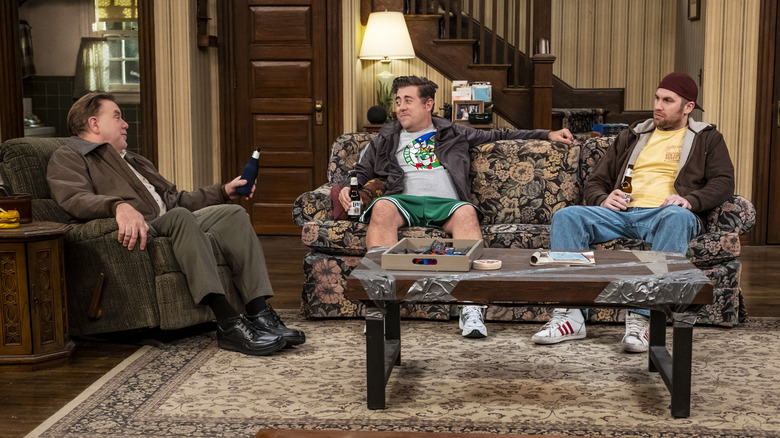 AMC
Part of what makes "Kevin Can F*** Himself" season 2 work so well is the characters. When we first met Allison, Kevin, and the whole gang, they fit nicely into the classic archetypes we'd typically find in sitcoms. The killjoy wife, the goofy husband, his best friend, the jealous partner, and the nosy neighbor are all characters we've seen before, so we know how one-dimensional they can be. However, series creator Valerie Armstrong and her writers' room crafted such interesting arcs for these characters in this series that they're compelling, complex, engaging — and unpredictable. They really dissect these stock characters and realistically look at what makes them tick or how they would be perceived in the real world.
Due to the nature of this show, we're slowly seeing how the fantasy sitcom world that Kevin lives in starts fading from those around him. The whole conceit is that he's not the likable lead he perceives himself to be. So as more and more people figure this out, little things start changing. Instead of being the more loving and supporting wife from "King of Queens" or "The Honeymooners," Allison gets more aggressive and fed up with Kevin's antics almost in a "Married... With Children" or "Home Improvement" sort of way. Allison is more prepared to come back with more pointed responses to Kevin and his actions. In the same vein, Patti is expanding from her role as one of the guys and Detective Tammy Ridgeway is breaking the tough cop exterior to show that all of these women are capable of much more than Kevin thinks.
Broadcast standards and practices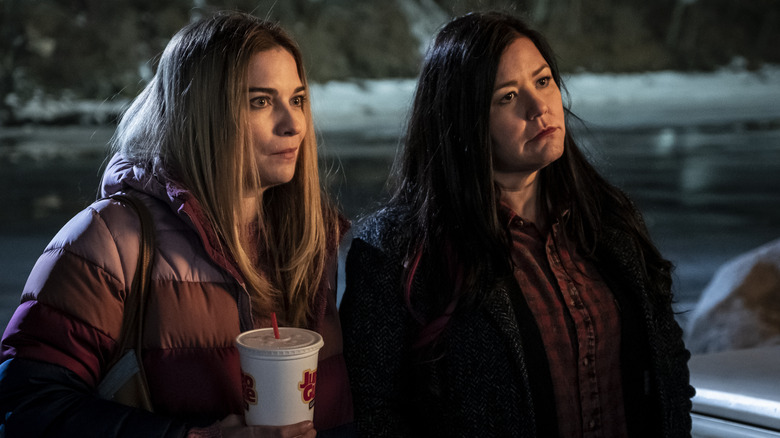 AMC
As much as Murphy's performance continues to be awesome in the second season, along with the work of Inboden and Candice Coke, it's Bonifer's Neil that really comes a long way. While the deconstruction of the sitcom wife dominates season 1, it feels like the writers sought to do the same thing for the goofball sidekick in season 2. After that shot to the head that thrust him into "reality," it turns out that Neil actually is a lot more intelligent than people give him credit for. He's also more manipulative than he lets on and he has some serious issues with boundaries, alcohol, and trauma. There are definitely points in the new season where you really feel for Neil. Without getting into spoiler territory, I'll say that his struggles weren't something that I was totally expecting in this half of the story.
Although, this wasn't the only unexpected element of the story that we encounter in "Kevin Can F*** Himself" season 2. Thanks to consuming sitcoms (or stories in general) for such a long time, you sort of expect things to go a certain way. But the writers have some interesting swerves thrown in to spice things up. For example, it really looked like Sam, Allison's high school friend and the owner of Bev's Diner, played by Raymond Lee, would have a much bigger part in this season by getting more involved in Allison's plans. It's uncertain whether his recent role in the upcoming "Quantum Leap" revival contributed to a decreased presence on this show, but it's also not like his absence didn't make sense in the story they were telling. Everything made sense, but Lee is an excellent performer with an interesting character, so I wish we saw more of him in these final chapters.
Roll credits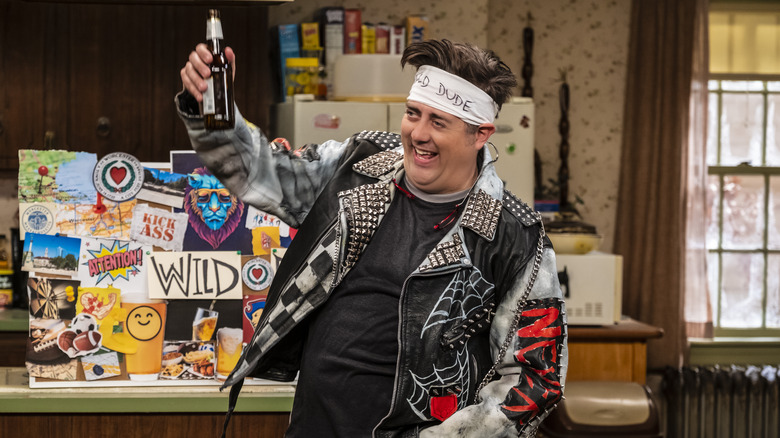 AMC
Ultimately, "Kevin Can F*** Himself" comes to a very satisfying end. It really is a shame that the series isn't continuing past season 2, but the story that Armstrong and company set out to tell has been told and we're better off for it. This show has been so fascinating from a creative standpoint. It has been a wild character study, but also an exercise in nuance. 
Maybe I'm overthinking parts of this, but there's great rewatch value to this show thanks to little details like when the scene switches back and forth between single and multi-cam, which characters appear more frequently in which style, and the level of delusion the character indulges in so they could remain a part of the fantasy. In fact, after the flashback to the first time Allison and Kevin meet, there's even a minute where it seems like our heroine may be falling back into old habits. But the way she comes out of it by reframing her situation really makes for dynamic and darkly funny television. I honestly feel that future screenwriting students will study parts of this show to make their sitcoms and dramas better.
At the end of the day, the best thing to take away from the final season of "Kevin Can F*** Himself" and the series as a whole is the importance of friendship. Through major life changes, terrible relationships, and intense trauma, things can be much easier when you have the support system of a good friend to stand by your side and pick you up when you're down, even if that means you're alone together.
The eight-episode second and final season of "Kevin Can F*** Himself" premieres on Monday, August 22, 2022 on AMC+.