Kevin Can F*** Himself Is F***ing Itself For The Last Time With Second And Final Season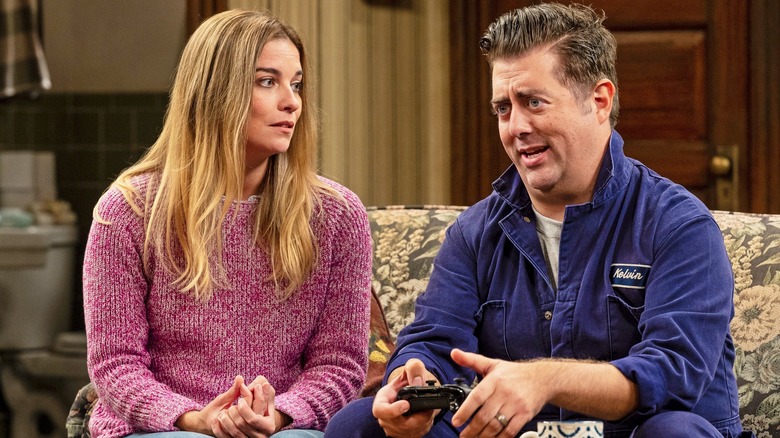 AMC+
If you haven't already tuned in to AMC's dramedy, "Kevin Can F*** Himself," now is the time to experience the great dramedy starring Emmy award winner Annie Murphy of "Schitt's Creek" fame. Murphy plays Allison McRoberts, a housewife from Worcester, Massachusetts trapped in a cringeworthy marriage to the titular Kevin, an irresponsible, insensitive, idiotic, and straight-up emotionally abusive manchild who acts like a character written by an A.I. bot who has only watched "King of Queens" and "Family Guy." Anytime Allison is on screen with Kevin, the show looks and feels like a multi-cam sitcom in front of a live studio audience. In her moments outside of her marriage, the tone changes to one resembling a prestige drama not unlike "Breaking Bad." The severity of Kevin and Allison's marriage becomes all too real once the laugh track dissolves and the overlit living room is traded for practical lighting.
The first season was a critical standout, and according to a report from AMC Network, the show inspired more signups for AMC+ than any new series since the streaming service launched over a year ago. The show brought in an average of 632,000 on-air viewers over the course of a week for AMC, which programmed the show following its debut on AMC+. Unfortunately, the joy of a second season renewal has been short-lived as it was announced today that season 2 will mark the end of "Kevin Can F*** Himself."
Ending on Allison's Terms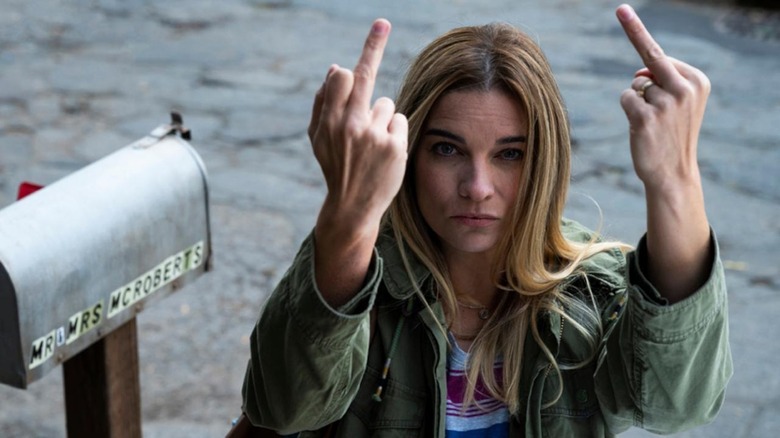 AMC+
Dan McDermott, president of original programming for AMC Networks and AMC Studios had said at the time of the renewal, "It's Kevin's world, Allison's just living in it. Or is she?" As sad as it is to say goodbye to a genuinely risk-taking series, it's a relief that the show will be able to wrap up the story with a complete ending. "We're so grateful to AMC for giving a home to our weird little show," series creator Valerie Armstrong said at the time of the renewal announcement back in August. "Creating the first season of Kevin Can F*** Himself and getting to tell this story has been the joy of my life. We couldn't be more thrilled to be stuck in Worcester with Allison for another year."
When we last saw Allison, she was plotting to kill Kevin with her neighbor Patty (the amazing Mary Hollis Inboden), while trying to evade suspicion from the police, especially the detective Patty is romantically involved with. "We are excited to see this talented team move from the finale's cliffhanger and continue Allison's journey, pushing the bounds of conventional storytelling every step of the way," McDermott continued.
Season 2 is set to release sometime in 2022 but no dates have been made available at this time.