Clerks 3: Release Date, Cast And More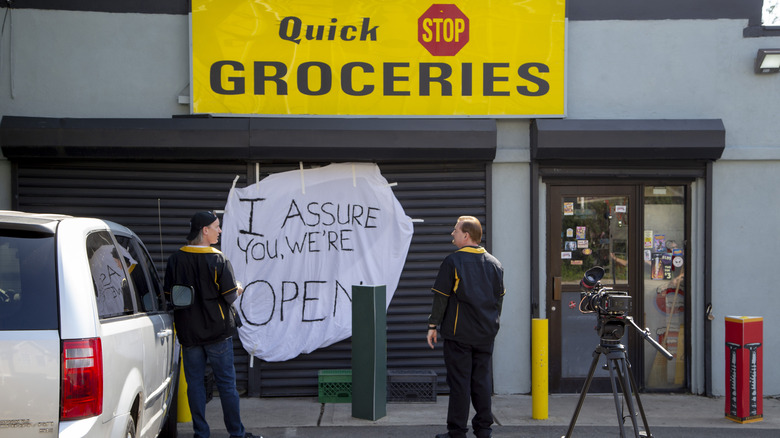 Lionsgate
(Welcome to ...And More, our no-frills, zero B.S. guide to when and where you can watch upcoming movies and shows, and everything else you could possibly stand to know.)
Nearly 30 years after its cinematic debut, I assure you, the Quick Stop is open once again thanks to "Clerks III." After trying to manifest this project in a number of different ways since the release of the second film in 2006, fan-favorite filmmaker Kevin Smith is finally presenting the third chapter in Dante Hicks and Randal Graves' story in a theater near you. And interestingly enough, this movie brings the New Jersey native all the way back to his first chapter as the characters that kickstarted his career back in the early '90s are now making their own movie about working in a convenience store.
To avoid the real tragedy of showing up at the theater when you're not even supposed to be there today, we've complied all the information you need to know about when and where to catch "Clerks III" on the big screen. Plus, some information that you probably didn't think you'd need. Seeing as you're a master of your own destiny, feel free to read on or not. 
Clerks 3 release date and where you can watch it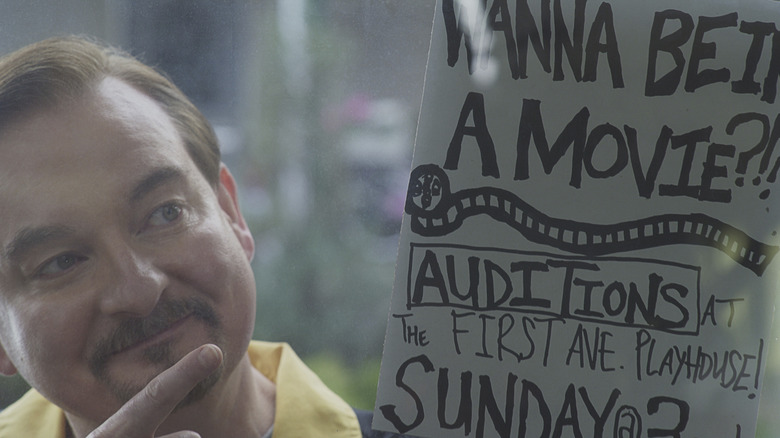 Lionsgate
Just like he's done with a number of his films, Smith is taking "Clerks III" on the road. When the first trailer dropped ahead of San Diego Comic-Con 2022, the filmmaker revealed that "Clerks III: The Convenience Tour" would kick off in Red Bank, New Jersey on September 4, 2022 before visiting cities around North America like Philadelphia, New York City, Denver, Seattle, Vancouver, and more. A general admission ticket to this show includes one of the filmmaker's signature Q&A sessions (potentially with some special guests), but the VIP option offers a signed screenplay and a picture with Silent Bob himself. Tickets are available at the official "Clerks III" site, but if you don't see your town listed, keep checking back as more dates are being added.
Alternatively, if you're looking for a more conventional viewing experience, Smith has teamed up with Fathom Events for a limited theatrical run in cinemas across the country. Originally set for two days, Lionsgate and Fathom have expanded the engagement to six days from Tuesday, September 13, 2022 to Sunday, September 18, 2022. These screenings, which will be offered in more than 700 theaters nationwide, begin at 7:00pm local time and include exclusive behind the scenes footage. Tickets can be purchased through Fathom Events' website or your local theater's box office. 
The cast of Clerks 3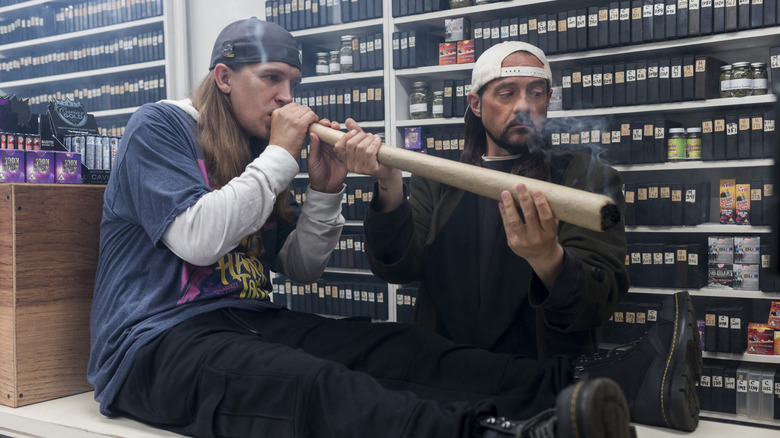 Lionsgate
Just as the filmmaker has said many times for over a decade, Kevin Smith can't tell a "Clerks" story without four core characters. Luckily, all four are coming back for "Clerks III" as it will star Brian O'Halloran as Dante Hicks, Jeff Anderson as Randal Graves, Jason Mewes as Jay, and Kevin Smith as Silent Bob. They'll be joined by other returning cast members, including Marilyn Ghigliotti as Veronica Loughran from the original "Clerks," Jen Schwalbach as Dante's ex-fiance Emma Bunting, Rosario Dawson as former Mooby's manager/Dante's current finance Becky Scott, and Trevor Fehrman as fellow clerk Elias Grover.
The highly anticipated three-quel will also feature "Scary Stories to Tell in the Dark" and "Fist Fight" star Austin Zajur and all four stars of the AMC reality show "Comic Book Men" (Walt Flanagan, Bryan Johnson, Mike Zapcic, and Ming Chen), as well as cameos from Sarah Michelle Gellar, Ben Affleck, Amy Sedaris, Justin Long, and Fred Armisen. Knowing Smith's penchant for bringing back characters from his View Askewniverse, this is probably only the tip of the iceberg when it comes to the cast of "Clerks III."
Clerks 3 writer, director, and more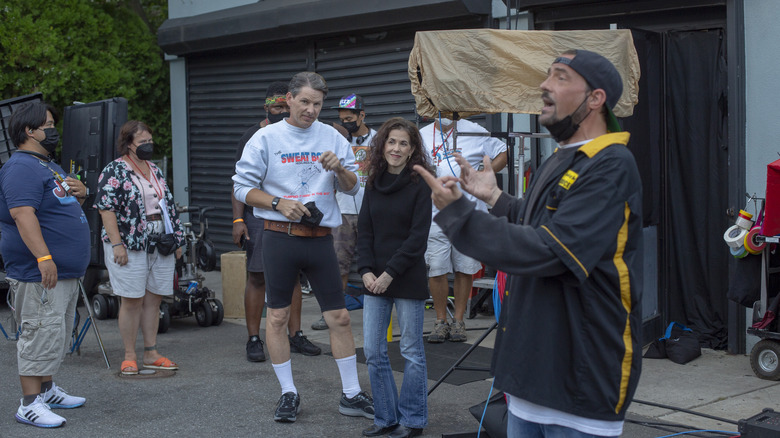 Lionsgate
Just like the first two "Clerks" movies and the other films in the series that was once known as the New Jersey Trilogy (which now includes eight live-action movies, one animated movie, and an animated series), "Clerks III" is written, directed, and produced by Kevin Smith. He also stars as Silent Bob, one half of the iconic slacker duo that has become embedded in pop culture thanks to movies like "Mallrats," "Dogma," and "Jay and Silent Bob Reboot."
On the producing front, Smith is joined by Liz Destro of Destro Films, who first teamed with him on "Yoga Hosers," and SmodCo's Jordan Monsanto, who is a long-time producing partner of Smith's and the life partner of Jason Mewes. However, an interesting name missing from the producers list is Scott Mosier. The SModcast co-host and View Askew OG produced "Clerks" (in addition to playing multiple roles), "Clerks II," and many of Smith's other projects until 2008's "Zack and Miri Make a Porno." 
Since then, Mosier has had an eclectic career in Hollywood that includes writing for "Ultimate Spider-Man" on Disney XD, co-directing "The Grinch" starring Benedict Cumberbatch, and providing additional voices for Illumination Entertainment's sequels for "Sing" and "The Secret Life of Pets." There's no evidence of a falling out between the two, who initially met in film school, so it's likely just a case of their careers taking different paths these days. 
Clerks 3 trailer and synopsis
Finally, here's the official trailer for "Clerks III," along with the film's official synopsis:
Following a massive heart attack, Randal enlists his friends and fellow clerks Dante, Elias, Jay, and Silent Bob to make a movie immortalizing his life at the convenience store that started it all.