'The Grinch' Review: This Animated Dr. Seuss Retelling Is Two Times Too Long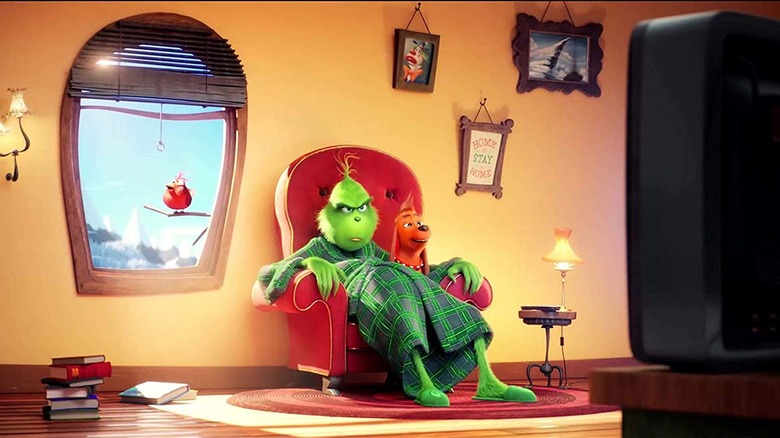 Everything is round, and shiny, and innocuous in an Illumination movie. The animation studio behind Despicable Me and The Secret Life of Pets delivers films with no sharp corners, no rough edges, only a soft plumpness that recalls a plush toy or a baby-proofed house. And The Grinch, the adaptation of Dr. Seuss' classic Christmas story, fits right into that mold.
Directed by Yarrow Cheney and Scott Mosier, The Grinch is harmless and inoffensive to the point of being dull. The computer-animated update of Dr. Seuss' How the Grinch Stole Christmas gives a modern makeover to Dr. Seuss' sinister creation, brushing his fur into a bright, glossy sheen and rearranging his twisted features into a pleasant stuffed-doll version of himself. This cutesy makeover extends to the movie itself, which takes Dr. Seuss' 1957 book and molds it to the formula that Illumination has perfected since the first Despicable Me: centering around a misunderstood misanthrope with a penchant for tinkering, adorable sidekicks, and one big, bombastic scheme that goes horribly wrong. There's even a spunky-cute kid in the form of Cindy Lou Who, who with her huge eyes and trailing scarf, looks like an amalgam of all the Despicable Me kids.
Narrated by Pharrell Williams, The Grinch follows the titular green creature (voiced by Benedict Cumberbatch) who lives in a cave on the outskirts of Whoville, a cheery town that loves Christmas and plans to make their annual holiday celebration three-times bigger this year. Annoyed by the oversized celebrations and traumatized by a past Christmas tainted with loneliness, The Grinch hatches an equally oversized scheme to steal Christmas from the residents of Whoville, with the help of his trusty dog Max.
It's a familiar story that many people could recite in their sleep — at the very least, they've probably seen the 1966 animated TV special starring Boris Karloff every Christmas since they were kids. But this is a feature film now, folks, and Cheney and Mosier along with screenwriters Michael LeSieur and Tommy Swerdlow are giving The Grinch a modern upgrade.
This Grinch isn't some strange mutant cave dweller that creeps around the merry town of Whoville, he's a grouchy recluse with a few anxiety problems and a definite binge-eating habit. Cumberbatch, who inexplicably plays the Grinch like a meaner Squidward with strep throat, gives us a few brief glimpses of humanity and vulnerability that fall in with the Grinch's plush doll makeover. He struggles with depression and anxiety. He dabbles with Rube Goldberg machines, he tries to avoid his overenthusiastic neighbor (Kenan Thompson, excelling in a thankless comic relief role), and he melts at the sight of his dog Max's puppy eyes. He's also got a great knack for physical comedy, which unsurprisingly is where the film shines. It's The Grinch made #relatable.
And there's nothing wrong with turning an infamous grouch into a likable character. After all, we're spending an hour-plus with this guy, we have to somewhat like him. Jim Carrey's 2000 live-action How the Grinch Stole Christmas did it before, transforming the creature into a hero with a tragic backstory. In a sense, Illumination's The Grinch takes more inspiration from that campy adaptation of the Dr. Seuss tale than the classic children's book, including the reworking of Cindy Lou Who into a major character. Cindy Lou Who (Cameron Seely), gets the other major subplot of the film, consisting of her rallying her gang of misfit friends to help her kidnap Santa Claus. This classic kids-on-an-adventure subplot is the biggest deviation from the Dr. Seuss story, but is zippy and heartfelt enough to be seamlessly woven in. Plus, it features the major standout performance from this film, Rashida Jones as Cindy's harried, overworked mother Donna Lou Who.
The best word I can use to describe The Grinch is "fine." It adds some serviceable subplots to keep the narrative going, and has some chuckle-worthy moments that'll keep you from nodding off completely. The animation is as warm and uninteresting as a cup of lukewarm eggnog — though in one of the rare darker moments of the film, it becomes positively Tim Burton-esque for five brief, shining minutes. The Grinch is a pleasant, genial film that wears its heart on its sleeves. But the problem with grafting a blandly unoriginal formula onto a familiar story is that the film feels like it is spinning its wheels and taking the audience for a ride down a dozen winding subplots (did we really need to spend that much time with the fat reindeer?) before arriving to the actual meat of the story.
The Grinch is a wholesome meal seasoned with no salt or pepper, but with a whole lotta sugar. Though it will keep the kids happy and distracted, it will keep the adults mostly bored./Film Rating: 6 out of 10