In Praise Of The Cast Of Belle, And Good Anime Dubbing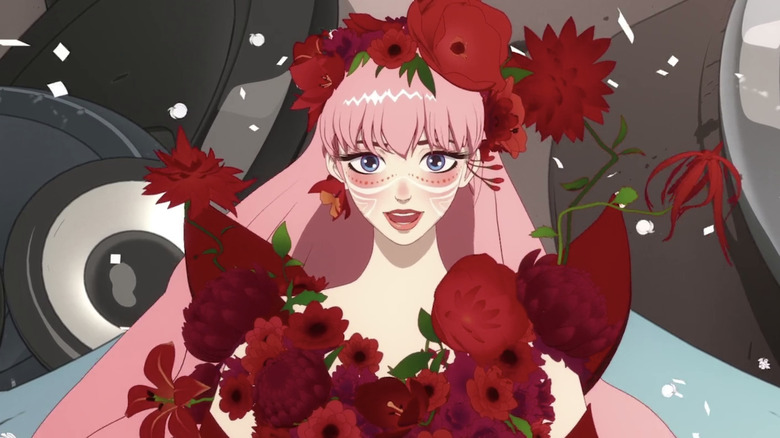 GKIDS Films
"Beauty and the Beast" truly is a tale as old as time, and has been retold in countless ways, like the Ron Perlman and Linda Hamilton TV series of the same name, the Fran Drescher comedy "The Beautician and the Beast," the teen rom-drama "Beastly," or even in an episode of "Hello Kitty's Furry Tale Theater." Recently, legendary Japanese filmmaker Mamoru Hosoda delivered "Belle," a magnificent animated sci-fi fantasy film that thrusts the tale out of the world of old and into the techno future.
The story takes place in the not-so-distant future where the internet has evolved into a legitimate virtual reality called U, where avatars are created by users' scanned biometric information. A teenager named Suzu creates an avatar named Belle who becomes a pop superstar, but everything changes when her virtual concert is interrupted by the seemingly undefeatable fighter The Dragon (or "The Beast"), who she quickly becomes infatuated with.
Hosoda is notorious for crafting phenomenal animated films, like "Mirai," "The Girl Who Leapt Through Time," "Wolf Children," and the fantastic "Four Years Later" segment of "Digimon: The Movie." The visual storytelling of "Belle" is nothing short of marvelous, but the film also overcomes one of the greatest hurdles for anime films released in the West — the English dub is sincerely fantastic. Without derailing into the "sub vs. dub" debate, it's best to accept that dubbing is a beneficial way to expose new audiences to Japanese animation, and it's worth celebrating whenever an English dub is given the care and attention it deserves. "Belle" has one of the very best, having married recognizable Hollywood stars with well-seasoned voiceover actors. Here's where you might recognize them.
The celebrities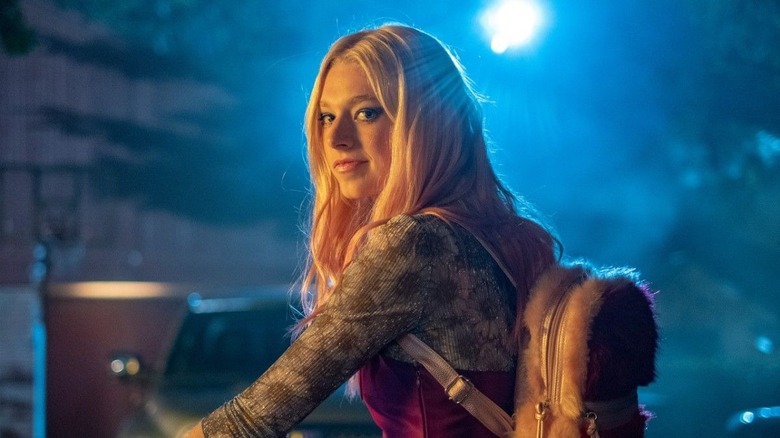 HBO
The character Ruka "Ruka-chan" Watanabe was originally voiced by Tina Tamashiro, but has "Euphoria" star Hunter Schafer taking over for voiceover duties in the English dub. The transgender actress broke new representative ground on "Euphoria," and many would be surprised to learn that "Belle" is actually her debut feature performance. She's soon set to make her live-action feature debut in "Cuckoo" and will play Tigris Snow in "The Hunger Games: The Ballad of Songbirds and Snakes."
Oh, dip! "The Good Place" and "Brand New Cherry Flavor" actor Manny Jacinto voices Shinobu "Shinobu-kun" Hisatake, the role originated by Ryō Narita. Jacinto's voice is comfortingly familiar, and fits perfectly as the sweet protector Shinobu. Jacinto seems like an actor who could take a similar career path as Alan Tudyk, successfully performing in both live-action and animated features.
Chace Crawford of "The Boys," "Gossip Girl," and "The Covenant"-fame lends his voice as Justin, originally performed by Toshiyuki Morikawa. "Belle" wasn't Crawford's first venture into voiceover, having performed on the animated comedies "Family Guy" and "Robot Chicken." His "Belle" character is cocky and self-righteous, a nice inverse compared to his character on "The Boys," and proves that Crawford has the ability to play a wide range of characters, and surely deserves a more high profile career.
The voiceover powerhouses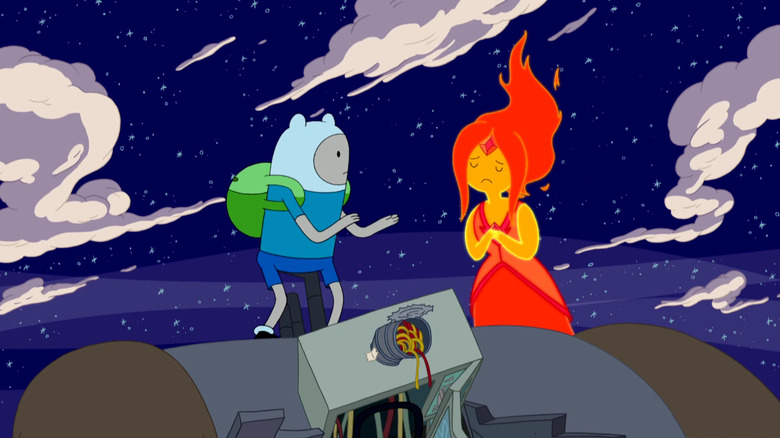 Cartoon Network
The supporting cast of "Belle" is a certifiable who's who of voiceover powerhouses. Jessica DiCicco, who plays Hiroka "Hiro-chan" Betsuyaku, has voiced memorable characters like the titular star in "The Buzz on Maggie," Flame Princess on "Adventure Time," Gambry on "Gravity Falls," Lynn and Lucy Loud on "The Loud House," and Candice in "Close Enough."
Suzu's mother Sumi is voiced by Julie Nathanson, who has ironically been providing the voice of Belle for Disney in various "Beauty and the Beast" projects since 2011. She's performed in animated features like "Batman: The Long Halloween" and appeared in cartoons like "Johnny Bravo," "The Powerpuff Girls," and "The Zeta Project," but video games are where she truly reigns supreme. "Call of Duty: Black Ops," "World of Warcraft: Shadowlands," "Guild Wars 2," and "Final Fantasy XIII-2" are just a small percentage of games Nathanson has lent her voice to.
Paul Castro Jr. plays Dragon/Kei, or "The Beast" and got his start as a teen actor in films like "The Skeleton Twins" and "Buffalo Boys." He still appears in smaller live-action roles in shorts, indie films, and TV shows, but has seen more success with voiceover. He performed as Rikuya Yoshida "High-Rise Invasion," Allegro in "Vampire in the Garden," and Pugsley Addams in the video game "The Addams Family: Mansion Mayhem."
Even more voiceover powerhouses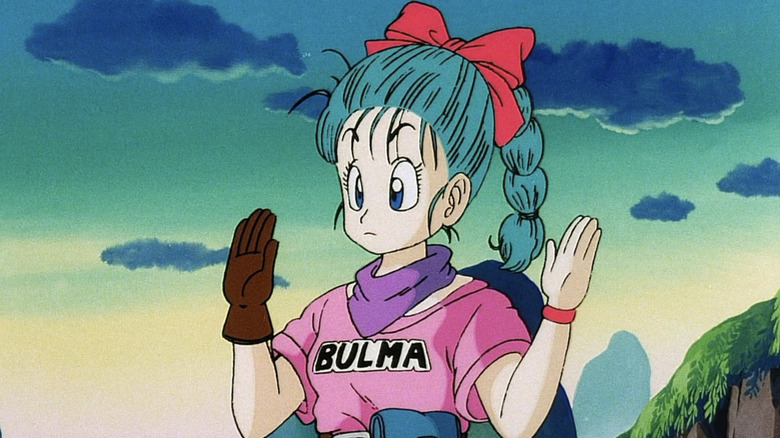 Toei Animation
Seasoned vet Wendee Lee plays Nakai, and is an unstoppable force with over 600 credits to her name: Vanessa Leeds in Robotech, Bulma in "Dragon Ball" and "Dragon Ball Super," and Queen Serenity in "Sailor Moon." She's also the voice of Rumi in the masterful "Perfect Blue," and Kei in "Akira," which more than proves that she is anime dub royalty.
The voice behind Jellinek belongs to voice actor Andrew Kishino, a video game king who has appeared in "Tony Hawk's American Wasteland," "Saints Row," the "Transformers" games, and "Call of Duty: World at War," just to name a few. In the film and television world, he's Kenny Kong in "The Spectacular Spider-Man" series, Storm Shadow in "G.I. Joe: Renegades," Saw Gerrera in "Star Wars: The Clone Wars," Fong in "Teenage Mutant Ninja Turtles," and Daniel Kon on "Jurassic World: Camp Cretaceous."
The real powerhouse performer though is Barbara Goodson, who voices Yoshitani. Goodson is a voiceover legend having been both Red Fraggle and Wingnut in Jim Henson's "Fraggle Rock," Ladyborg in "Beetleborgs Metallix," and Mother Talzin on "Star Wars: The Clone Wars." She's appeared in just about every high profile anime ("Bleach," "Cardcaptors," "Demon Slayer," "Dragon Ball," "Digimon, ""FLCL," "Hunter x Hunter," "JoJo's Bizarre Adventure: Stardust Crusaders," "Lupin III," "Naruto," "One-Punch Man"), beloved films like "Kiki's Delivery Service" and "Unico in the Island of Magic," but for '90s kids everywhere, she'll always be the voice of Rita Repulsa from "The Mighty Morphin' Power Rangers."
The newcomers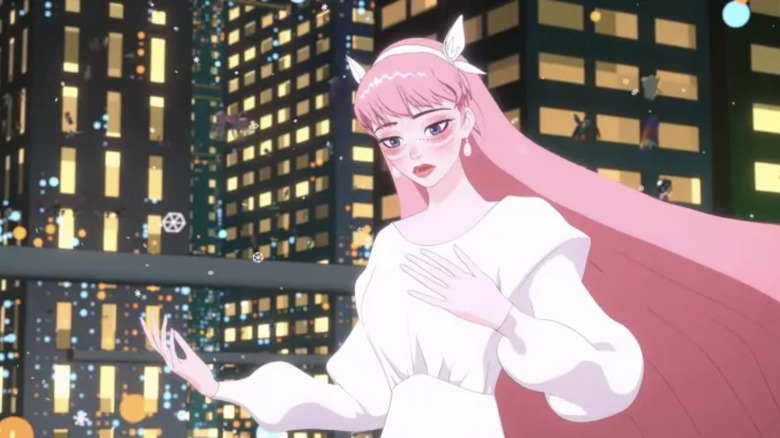 GKIDS Films
Brandon Engman voices Shinjiro "Kamishin" Chikami, which is arguably his most high-profile role to date. His second ever role was in Masaaki Yuasa's "Lu Over the Wall," and the English dub of Makoto Shinkai's "Weathering with You" the following year. Engman was a wonderful addition to the already stacked cast of "Belle," and it'll be exciting to see where his voiceover career takes him in the future.
Interestingly enough, Kylie McNeill, who provided the speaking and singing voice for Suzu Naito/Belle, was just an average teen with a powerhouse voice making TikToks in her bedroom. McNeill was found the old fashioned way, with "Belle" ADR director Stephanie Sheh (who voices Sailor Moon) looking through agent-provided submissions. The team instantly loved McNeill, with co-dubbing director Michael Sinterniklaas saying, "I found her. I don't think anyone else will work." McNeill is still posting music on TikTok, but hopefully her dynamite performance in "Belle" will lead to a long career in voiceover work and music.