Movie Trailer: 'Beastly'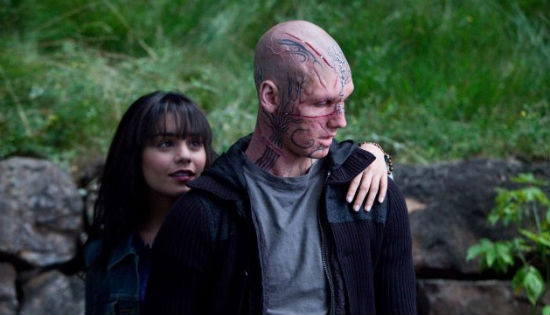 If /Film is anything, it's a breeding ground for High School Musical fans. So we were all very understanding when Beastly, which stars HSM alum Vanessa Hudgens, was bumped from its original Summer 2010 release date to make way for Charlie St. Cloud, which stars Hudgens' boyfriend, and fellow HSM alum, Zac Efron. Inside, we all breathed a sigh of relief that we wouldn't have to let our box office dollar reveal our true alliance to either Team Gabriella or Team Troy (which, in case you don't know, are their High School Musical character names).
Well Charlie St. Cloud came and gone and now it's Beastly's chance to shine. The film is a modern retelling of Beauty and the Beast, if it was influenced by She's All That and The Craft. Written and directed by Daniel Barnz, it stars Hudgens, Alex Pettyfer, Mary-Kate Olsen, Neil Patrick Harris and Peter Krause and opens March 18. Check out the trailer below and official plot description below.
Here's the trailer for Beastly.
It's not like we can't see where this film is going. Everyone in the movie is way more attractive than the characters they are playing and of course when this guy turns into the "Beast"  – or "Beastly," as it were – he's really just like a cool, tattooed artist type. If I saw him on the street, I wouldn't think twice about it. Still, I wonder if the girl falls in love with him and he learns his lesson? Hmmm, I wonder.
Here's the official plot description. What do you think of this trailer? Is there any glimmer of hope? And were you frightened by my High School Musical intro? You should have been.
Kyle Kingson (Pettyfer) has it all – looks, intelligence, wealth and opportunity – and a wicked cruel streak. Prone to mocking and humiliating "aggressively unattractive" classmates, he zeroes in on Goth classmate Kendra, inviting her to the school's extravagant environmental bash. Kendra accepts, and, true to form, Kyle blows her off in a particularly savage fashion. She retaliates by casting a spell that physically transforms him into everything he despises. Enraged by his horrible and unrecognizable appearance he confronts Kendra and learns that the only solution to the curse is to find someone that will love him as he is – a task he considers impossible.
Repulsed by his appearance, Kyle's callous father banishes him to Brooklyn with a sympathetic housekeeper and blind tutor. As Kyle ponders how to overcome the curse and get his old life back, he chances upon a drug addict in the act of killing a threatening dealer. Seizing the opportunity, Kyle promises the addict freedom and safety for his daughter, Lindy (Hudgens) if she will consent to live in Kyle's Brooklyn home. Thus begins Kyle's journey to discover true love in this hyper-modern retelling of the classic "Beauty and the Beast" story.