She-Hulk's Head Writer Sparred With Kevin Feige For Weeks Over The Show's Trailer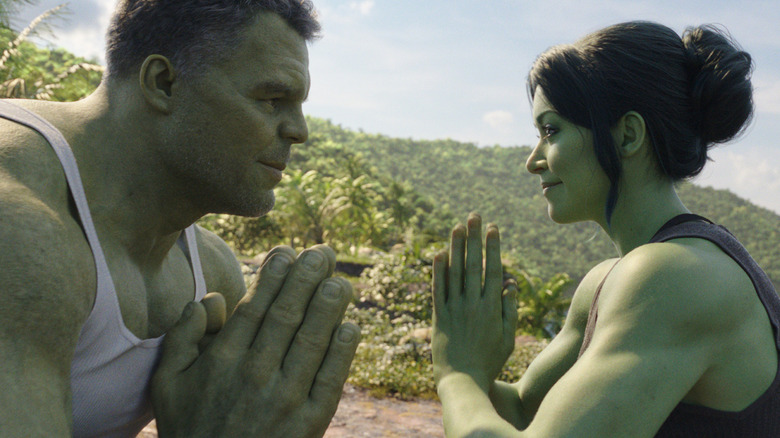 Marvel Studios/Disney+
Marvel Studios has released two trailers for "She-Hulk: Attorney at Law," both of which paint a notably different picture of the Disney+ series (the common denominator of a large, green Tatiana Maslany aside). 
The first trailer portrays the show's 30-something lead Jennifer Walters (Maslany) as an Ally McBeal-type lawyer who wants little to do with her newfound Hulk abilities, presenting the show as more of a legal comedy with a superhero fantasy twist. By comparison, the second trailer frames the series as more of a typical Marvel Cinematic Universe project, complete with cameos from familiar faces (Wong, always a pleasure), ties to previous MCU releases, and setups for future titles.
There's a real art to trailer editing, in other words, and it's one that's highly vital to the MCU at a stage where the property's almost non-stop output means it's harder than ever to make any single new Marvel project feel like a true "event." That's on top of the larger challenge of finding the best way to get more casual viewers interested in a show like "She-Hulk." (Pitch it as the latest wannabe successor to the throne of "Fleabag" maybe? Perhaps try and toss in a carrot for the "Orphan Black" fans who simply miss having multiple versions of Tatiana Maslany on their screens?)
It's no surprise, then, to learn that "She-Hulk" head writer Jessica Gao and Marvel Studios head honcho Kevin Feige both had strong opinions about what should and shouldn't go into the show's first trailer — the kind that led to them clashing like, well, a couple of Hulks.
'It was just the two of us sniping at each other'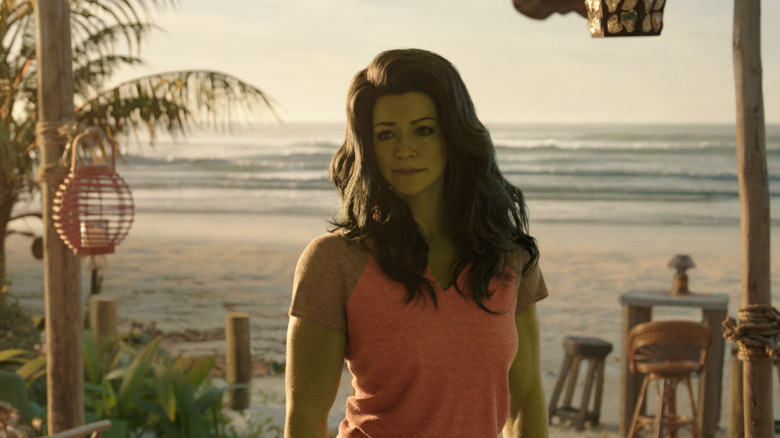 Marvel Studios/Disney+
Funnily enough, for all the MCU discourse that goes on these days, there doesn't seem to be all that much discussion about the ways any individual project is marketed. Perhaps it's because many of us have come to accept we're probably going to end up watching just about every single thing Marvel puts out into the world (if only so we can argue about it later), but it's far from a trivial matter to the creatives eager to place their best foot forward. Such was the case with "She-Hulk: Attorney at Law," as Jessica Gao mentioned during a press conference attended by /Film:
"While we were watching the trailer — because Kevin [Feige] was standing next to me — like, we have spent weeks fighting over what should go in the trailer and what shouldn't, and so it was just the two of us sniping at each other over our respective positions and the pieces that were in the trailer."
In light of this revelation, it would be interesting to know if one of the "She-Hulk" trailers represents Gao's ideas more than Feige's or vice versa. That could also explain why one of them seems geared more towards explaining the show's place in the MCU, while the other tries to focus more on the elements that set it apart from every other brick in the wall (like the series' fourth-wall breaks and other absurd touches). Whatever the case, here's just hoping the actual series ends up having a personality all its own.
"She-Hulk: Attorney at Law" premieres August 18, 2022 on Disney+.