She-Hulk's Sense Of Humor Was Heavily Inspired By Fleabag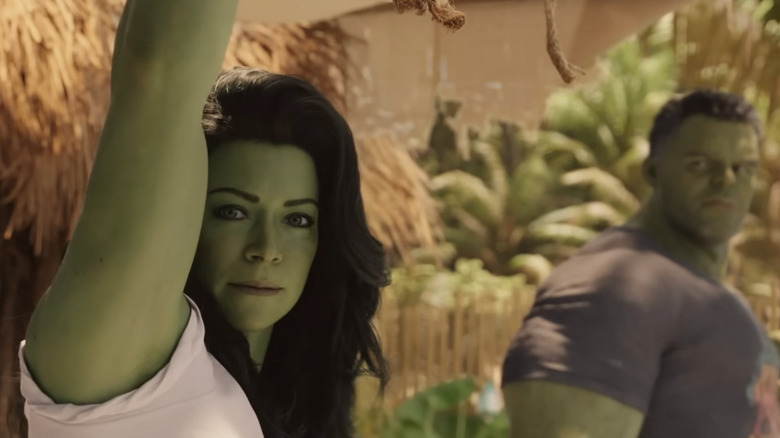 Marvel Studios
Say what you will about the fourth phase of Marvel's Cinematic Universe, but it's certainly been an adventure. Each project in Phase Four borrows from a different genre, particularly the shows that live on Disney+. Freedom has been the name of the game for any series premiering on the streaming platform, from the sitcom-of-the-week time capsules in "WandaVision" to the Disney Channel Original influences of "Ms. Marvel."
And then, there's "She-Hulk." The latest addition to the MCU was billed as a "half-hour legal comedy" by Marvel Studios president Kevin Feige in 2020, and with the series' first full-length trailer finally out in the world, it's clear that "She-Hulk" is wearing its inspirations on its sleeve. The series takes a bit of influence from the legal comedy "Ally McBeal," which director Kat Coiro recently confirmed to Total Film. But the new trailer also features a fair amount of fourth wall breaking, a trend that's become increasingly en vogue with the popularity of "Fleabag." Phoebe Waller-Bridge's genius, messy series was something of an instant classic, especially after its second (and final) season, But the series is clearly living on in other female-led farces looking to tap into a similar vibe.
"She-Hulk" is the latest to take a page from that playbook, and it certainly won't be the last. But Waller-Bridge's influence on the show is apparently just as thematic as it is, well ... cosmetic, and it actually informs a core aspect of the series.
She's every woman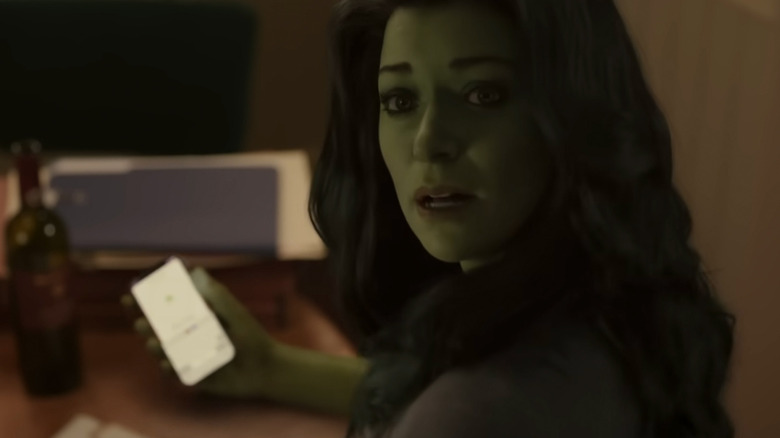 Marvel Studios
Jessica Gao, head writer for "She-Hulk," confessed that the team "talked a lot about Fleabag" when developing the series. It was important that "She-Hulk" focused less on the run-of-the-mill, end-of-the-world threats so typical throughout the MCU and more on the day-to-day issues that one individual faced ... on top of being green and super strong, of course:
"The greater Marvel Cinematic Universe has already done a fantastic job of huge action, enormous stakes ... It's always the fate of the universe, the fate of the free world. But that can't be every single day. What happens in between those movies when these characters just have to live their lives, when they have to go on dates, when they have to go grocery shopping, when they have to see their family at a reunion?"
Tatiana Maslany, who plays the titular She-Hulk (aka Jennifer Walters), revealed that those pedestrian storylines really drew her to the project. "It was just so embarrassingly human," she told Total Film. "I loved seeing that her dating life was just as much of a stress as potentially becoming one of the Avengers."
A subtle superpower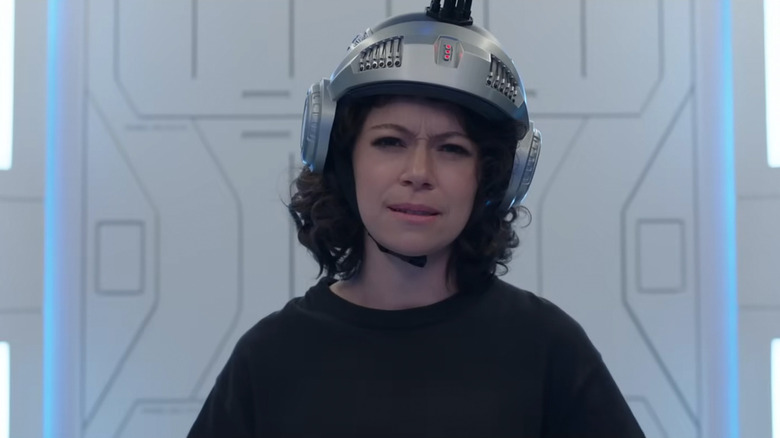 Marvel Studios
The MCU could definitely stand to focus more on the human side of their superhuman characters, but is a fourth wall break really a key ingredient to understanding Jennifer Walters? To Maslany, it represents a hyper-awareness that most women moving through the world share. "You have to be so conscious of the systems that you're in, and you are just so aware of how it is when you're walking down the street, who's there," she told IGN at San Diego Comic-Con. "That kind of hyper-awareness in a lot of ways feels like her superpower and I think that's fun."
Coiro and co-director Anu Valia also teased "some big surprises" regarding the fourth wall break at SDCC. "I think breaking the fourth wall asks a lot of questions that I hope we get to answer for you in the show," said Valia.
I'm sure all the fourth wall purists out there are hoping for the same thing. These days, the technique is a tricky thing to justify — but at the same time it feels more popular than ever. Still, it's important to note that She-Hulk has broken the fourth wall in her solo comics, so there is a sort of precedent for it. Will "She-Hulk" find a way to earn that intimacy with the audience, or even spin it in a fresh, surprising way (like that brief aside in WandaVision)? Guess we'll have to wait and see.
"She-Hulk" premieres August 17, 2022 on Disney+.