Persuasion Review: The Fleabag-Ification Of Jane Austen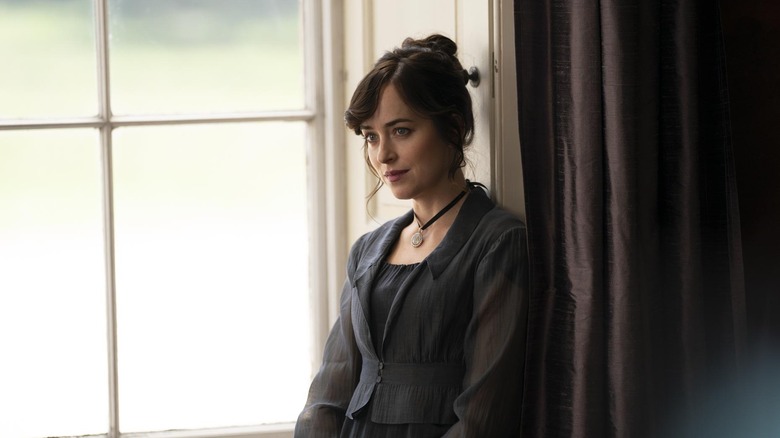 Netflix
Jane Austen is frequently misunderstood. A deft social satirist, many of Austen's works are surprisingly unsentimental despite her reputation for crafting sweeping romances that are still beloved today. Her heroines would often reflect Austen's own sharp writing: witty, clever, strong-willed, and unwilling to bow to the pressures of society. But then there's Anne Elliot, the sad, dejected protagonist of Austen's posthumous 1817 novel "Persuasion."
Anne is Austen's most mature heroine, a lonely wallflower who, at 27, has seen her best years pass her by. Largely ignored by her vain father and her arrogant sisters, Anne has accepted that her lot in life is to suffer in silence — that is, until the arrival of Frederick Wentworth, an old flame with whom Anne had fallen deeply in love, only to be persuaded by her family friend to reject his proposal because of his low birth.
Anne is very unlike a typical Austen protagonist. She might be more similar to Charlotte Brontë's most famous heroine, Jane Eyre, to be honest — carrying herself with an air of melancholy that feels a bit more mundane and beaten-down than wildly tragic. But in a lot of ways, Anne Elliot feels like an intimate reflection of Austen herself, a guarded figure throughout her personal life who would die unmarried at 41. Is Anne's "second bloom" and her second chance at love a piece of wish fulfillment on Austen's part, as she worked on "Persuasion" in her final years? Austen scholars still debate this.
But one thing is not up for debate: the profound misunderstanding of "Persuasion" by Carrie Cracknell's feature film starring Dakota Johnson as our beleaguered Anne.
From somber romance to cringe comedy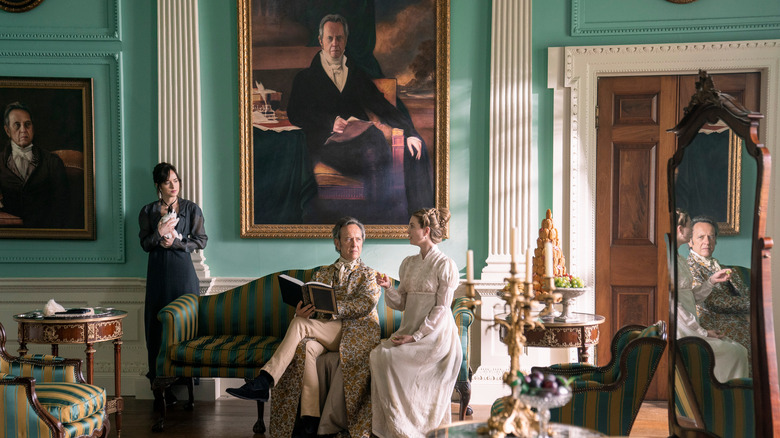 Netflix
Dear reader, they have turned "Persuasion" into a cringe comedy.
It's one thing to reinterpret Austen for modern audiences — lord knows we have no shortage of great revisionist Austen adaptations — but it's another to completely miss the point of the source material. Where Austen's "Persuasion" was a somber, melancholic story that's less about the heart-fluttering romance than it is about a woman's reassertion of her self-worth, Cracknell's "Persuasion," which is written by Ron Bass and Alice Victoria Winslow, is a quirky rom-com that is loaded with scenes of Dakota Johnson chugging giant glasses of wine and characters spouting lines like, "It's often said if you're a 5 in London, you're a 10 in Bath."
This "Persuasion" confuses self-reflective for self-pitying, casting its heroine as a sadsack singleton who claims to the camera in fourth-wall-breaking monologues that she's "single and thriving" before the film smash cuts to her crying in the bathtub. "Persuasion" even veers into slapstick at some point, with Anne falling flat on her face after hearing a particularly withering criticism, or awkwardly stumbling around a dinner table so as to avoid sitting next to her former flame. This isn't the Anne who has resigned herself to being beaten down by life, this is Anne in the Bridget Jones mold, with Johnson spending much of the film carrying around an alarming number of wine bottles while she bemoans that Wentworth doesn't still love her.
The "Fleabag" comparisons will inevitably be made, but it's clear that Bass and Winslow don't have the same skill as Phoebe Waller-Bridge when it comes to balancing sharp social observations, intimate character writing, and hysterical comedy. The fourth-wall-breaking style does feel like a good decision on paper for such an internal character as Anne Elliot, but Johnson plays the sequences with such a winking smugness that it feels like "Persuasion" is inclined to be a farce rather than a romance. Which would be all fine and good — if it were done well.
A modern woman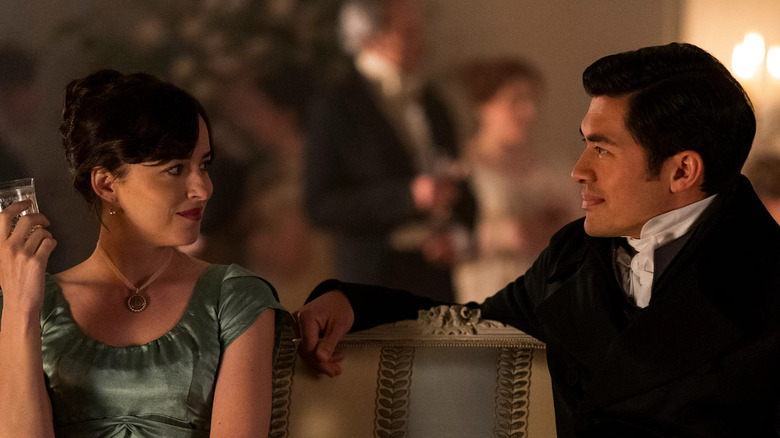 Netflix
The problem with "Persuasion" is it doesn't know what it wants to be. Is it a bold, revisionist take on Austen with progressive colorblind casting and cutesy contemporary slang? Or is it a sentimental period romance that wants to get its audience's hearts fluttering as they sigh over the pining glances shared between Johnson's Anne and Cosmo Jarvis' (an endearingly awkward bright spot in the film) Wentworth? The result is a half-assed attempt at both, which only makes it all the more insulting.
It's as if, in trying to make "Persuasion" more easily digestible to the contemporary audience, Bass and Winslow threw in a few millennial slang terms, while the cast try to keep up with the latest acclaimed Austen adaptations (such as the hyper-stylish "Emma." and the satirical "Love & Friendship") by playing up the farcical elements. Richard E. Grant, Mia McKenna-Bruce, and Henry Golding, as Anne's narcissistic father and younger sister, and Anne's caddish suitor respectively, are the ones who seem to be having the most fun — but they feel out of place in a film that is as wistfully directed by Cracknell as it is. Sweeping shots of the English countryside and sun-dappled shots of Johnson looking sad stand in stark contrast to the more smug stylings of "Persuasion."
And of course, there's Johnson's Anne Elliot: a bundle of contradictions who embodies the film's confused tone. Austen once described Anne as "almost too good for me," a charitable and idealistic woman still wracked by anxiety over her own passivity. But Johnson's Anne is both relatable and not relatable at all — a rom-com heroine steeped in stereotype who fancies herself better than she is. Unfortunately, it's hard to be persuaded to love her or to love this mess of an adaptation.
/Film Rating: 5 out of 10