The 15 Best Jane Austen Adaptations Ranked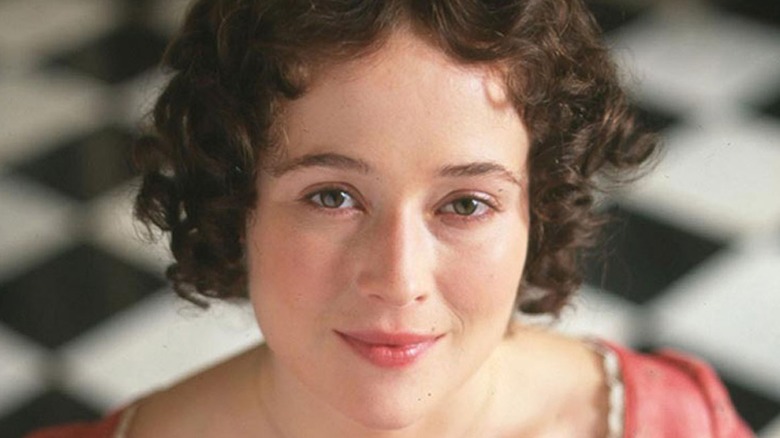 BBC
You can barely swing a cat in Hollywood without hitting a Jane Austen adaptation. The famous English author has a light social satire for every occasion, and each one has been mined by the film industry over and over again. Some adaptations are period dramas, some transpose the stories to different historical eras or cultures, and some defy genres entirely. A couple even turn Austen's books into horror stories. 
But audiences never seem to get tired of seeing these familiar, heartwarming tales on screen. The next few years, for example, will see two different adaptations of "Persuasion" released — one for Netflix starring Dakota Fanning, and another with "Succession" actress Sarah Snook – and that's not even Austen's most popular novel. There's an undeniable element of escapism to these films; we get lost in the costumes, the sets, and the sheer romance of it all. 
So hey, if we can have three "Spider-Man" reboots over the course of 15 years, the world can certainly accommodate a few more period romances in our cinemas and on television. In the meantime, these are the 15 best Jane Austen adaptations that you can watch today.
15. Pride and Prejudice and Zombies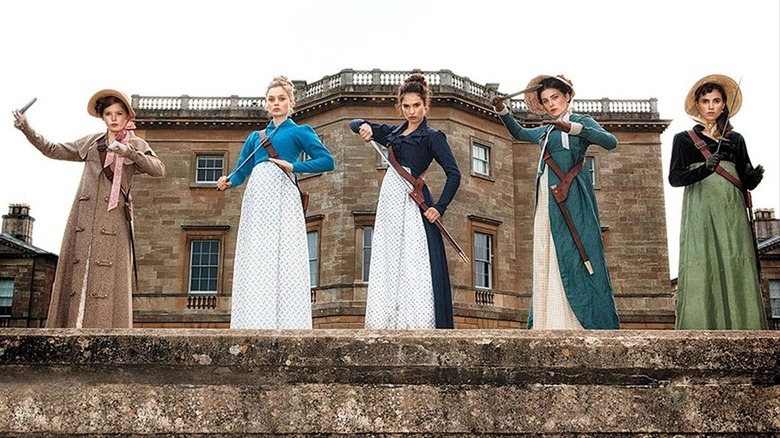 Sony Pictures
There's no point in sugarcoating it: "Pride and Prejudice and Zombies" is absolutely ridiculous. But in a world filled with period dramas that somehow all look and feel similar, it's surprisingly refreshing to have one film that dares to ask, "Hey, what would happen if we just put zombies in this?" 
"Pride and Prejudice and Zombies" follows the basic plotline of the original Jane Austen novel, except that amidst the parties at Netherfield Hall and comically awkward visits from Mr. Collins, the characters happen to fight off the beginnings of a zombie apocalypse. It's dumb, but it's also endlessly creative, and has its fair share of moments that actually work really well with the source material. 
It's immensely enjoyable, for instance, to watch the sexual tension between Darcy and Elizabeth (played by Sam Riley and Lily James, respectively) manifest itself physically, as Darcy's disastrous proposal leads to an all-out fight scene. Somehow, Lizzie throwing books at Darcy while defending her sister Jane through gritted teeth feels like a thoroughly authentic Elizabeth Bennet moment.
14. Bride and Prejudice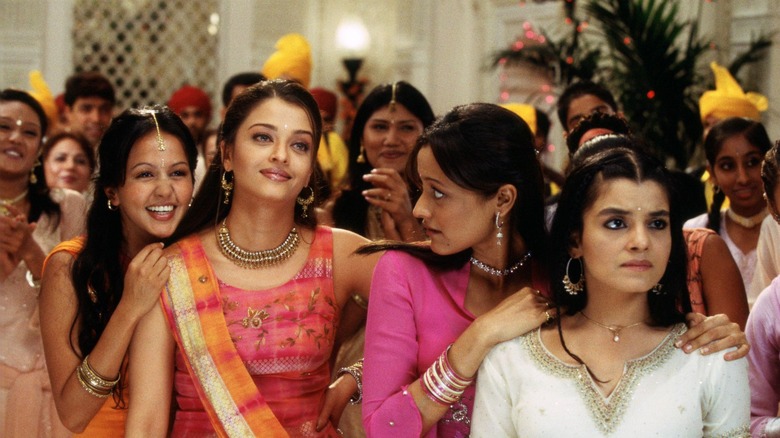 Miramax
"Bride and Prejudice" takes the well-worn story of the romance between Mr. Fitzwilliam Darcy, an arrogant upper-class gentleman, and Elizabeth Bennet, a less-wealthy but still upper-class woman, and strips it of all its Regency era trappings. Instead, director Gurinder Chadha sets the story in India, where a family with four daughters is desperately trying to find husbands for them all. The eldest, played by Indian superstar Aishwarya Rai, is determined to make a love match, and develops an unlikely relationship with the American Darcy (Martin Henderson). 
"Bride and Prejudice" is a bright and vibrant spectacle, taking just enough from the source material to be charmingly familiar, while adding unique touches and fresh cultural influences that make it feel like its own creature. Fusing Bollywood with classic English romance, Chadha constructs a boisterously entertaining love story that proves that Jane Austen's stories have a universal quality, making them compelling even outside of the social context that they were written in. 
13. Death Comes to Pemberley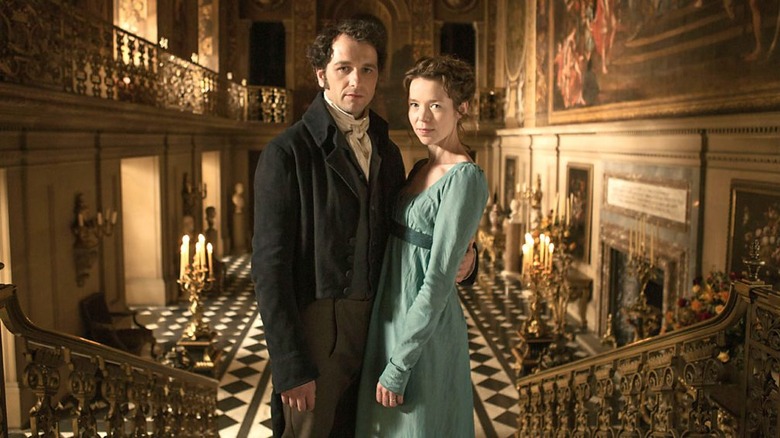 BBC
"Pride and Prejudice" ends, of course, with the marriage of Darcy and Elizabeth Bennet, who can presumably expect their own personal happily ever after. But really, that's just the beginning of their life together, and there are actually a number of authors who have published what is essentially fan fiction that explores what happens next to the indomitable couple. One such novel is P.D. James' "Death Comes to Pemberley," which was adapted into a miniseries that aired on BBC in 2013. 
It's six years after the Darcys were married. They are somewhat reluctantly expecting a visit from Lydia (Jenna Coleman) and her roguish husband George Wickham (Matthew Goode). Then, all of a sudden, like something out of an Agatha Christie play, murder falls on the palatial English estate of Pemberley. "Death Comes to Pemberley" does a remarkable job of showing a realistic interpretation of the relationship between Darcy (Matthew Rhys) and Elizabeth (Anna Maxwell Martin) as they mature from lovestruck newlyweds to an older couple well past the honeymoon phase.
12. Mansfield Park (1999)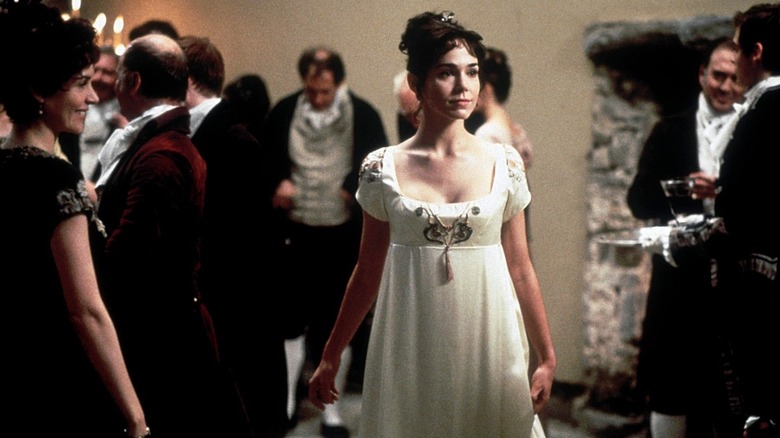 Miramax
"Mansfield Park" tries to bridge the gap between the historical and the modern. It keeps the period setting of the early 1800s, but also has an engaging post-modern flair in its depiction of the film's heroine, Fanny Price (Frances O'Connor). The daughter of a poor city dweller in an apartment overflowing with children, Fanny is sent to live with her wealthy relations, destined to grow up with the family but not quite be part of it. 
To be honest, "Mansfield Park" is not the most appealing Jane Austen novel. Fanny can come across as a bit of a wet blanket, and she has the most tiresome of all of Austen's love interests: her first cousin Edmund, who aspires to become a minister and is incredibly priggish. The film version, however, manages to mitigate some of the structural issues in the text. Fanny gets some much-needed personality, and while Edmund is played by Jonny Lee Miller, who brings a charm to character that lets us forget some of his flaws. The two share perhaps the quintessential almost-kiss in the Austen filmography.
11. Persuasion (1995)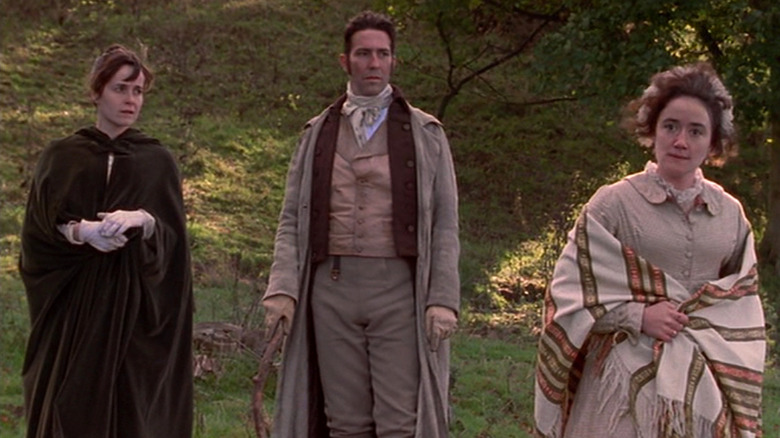 BBC
"Persuasion" has never been treated fairly. Given that "Sense and Sensibility" and "Pride & Prejudice" were both released in the same year, both of which have far greater name recognition than "Persuasion," the BBC adaptation tends to be overlooked. But, like main character Anne Elliot, "Persuasion" has hidden charms. 
The chemistry between Amanda Root and Ciaran Hinds is incredibly powerful, especially since the film goes to great lengths to leave so much of their romance left unsaid. Anne betrays very little of her thoughts and feelings through dialogue, and her character is allowed to blossom over the course of the film as she grows in confidence. In its costuming and set design, "Persuasion" makes an effort to appear unusually authentic, combatting the artificiality seen in many other period dramas and creating a vivid interpretation of Austen's most mature work.
10. Sanditon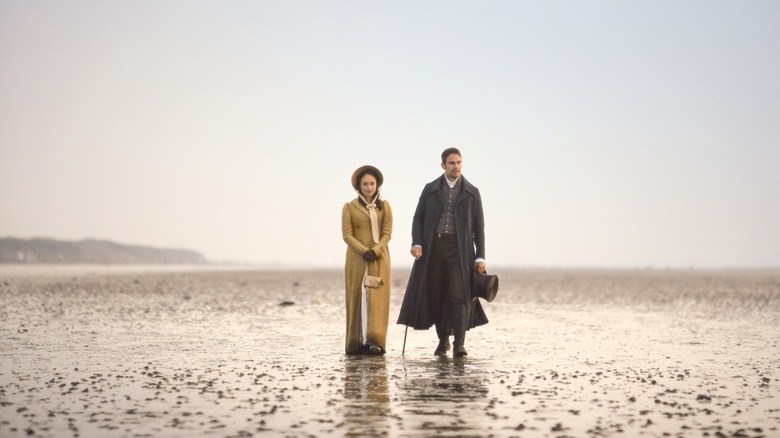 PBS
"Sanditon" occupies an interesting place on Jane Austen's bibliography. It was the only one of her novels that was published as an incomplete work, as she wrote just 11 chapters before falling ill with the disease that would ultimately cause her untimely death at age 41. As such, screenwriters have an unprecedented amount of freedom with which to adapt it. 
However, this 2019 miniseries is the only time that such an endeavor has been undertaken, likely because Austen's unfinished novel is far less famous than her other work. It stars Rose Williams as a young woman who ends up in the burgeoning seaside resort of Sanditon as the guest of the town's energetic and eternally optimistic developer, Tom Parker. Things get a little more complicated when she meets Tom's brusque and brooding younger brother Sidney (Theo James); they both, against their better judgment, start to catch feelings. 
"Sanditon" modernizes Austen's novel by making it much more sexually explicit; for ardent Regency fans who like to debate whether it's period-appropriate for a proper lady to appear at a ball without gloves on, "Sandition" should be enough to make them go pale. They may even need to steady themselves on the furniture.
9. Sense & Sensibility (2008)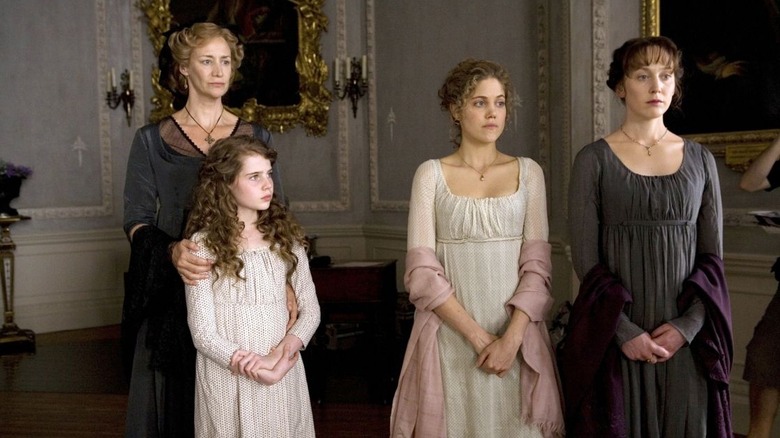 BBC
It would be hard for any adaptation of "Sense and Sensibility" to outclass the 1995 version, but the miniseries that aired in 2008 comes pretty close. It's a fairly straightforward and conventional interpretation of the novel, but it treats the viewer to some luscious period settings. In the film (and the book), the Dashwood family is forced to move from their manor after the death of their patriarch, whose land and property passes to his eldest son, the half-brother of Elinor, Marianne, and Margaret Dashwood, who throws them out into the street. 
"Sense and Sensibility" is exceedingly well-cast. Since it is a typical BBC period drama, it only has hints of star power rather than a full A-list cast, which gives the filmmakers the freedom to find actors who really suit the characters. That said, "Sense and Sensibility" does feature performances from Dominic Cooper, David Morrissey, Janet McTeer, and a pre-"Downton Abbey" Dan Stevens, all of whom make it a delight to watch.
8. Lost in Austen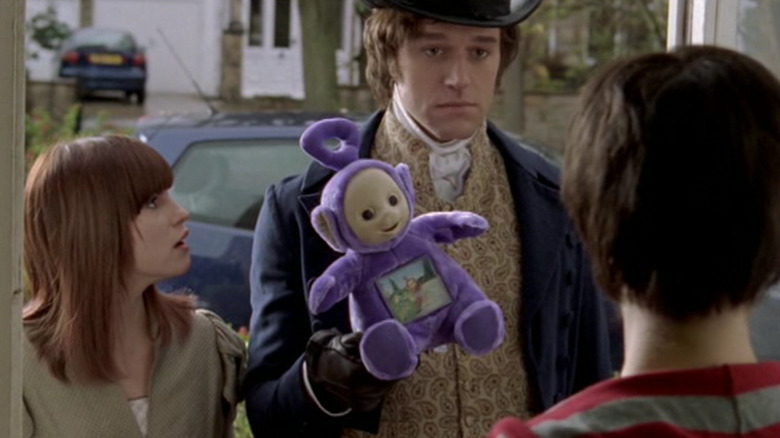 ITV
Jane Austen adaptations tend to either commit to the period vibe or attempt to modernize her stories, setting them in the present day. They rarely do both. Enter "Lost in Austen," a cheekily meta fairy tale that gives an Austen enthusiast the opportunity to literally step into "Pride and Prejudice." 
Amanda Price (Jemima Hooper), a modern-day Austen obsessive, is struggling with an unfulfilling relationship when she suddenly discovers a portal between her bathroom and the attic of the Bennet family home, allowing her to swap places with Elizabeth Bennet, who is immensely curious about life in a future version of London. But Amanda is too modern to fit into the story of "Pride and Prejudice," and the more that she tries to stick to the script, the more she ends up causing the narrative to diverge in new and unsettling ways. 
"Lost in Austen" is reverent towards Austen's characters, but that doesn't stop it from testing them, tweaking the events of the classic novel and watching the ripple effects that result across the entire production. Bonus points for Amanda forcing her Mr. Darcy (Elliot Cowan) to recreate Colin Firth's pond scene, because honestly, who wouldn't?
7. Emma (2009)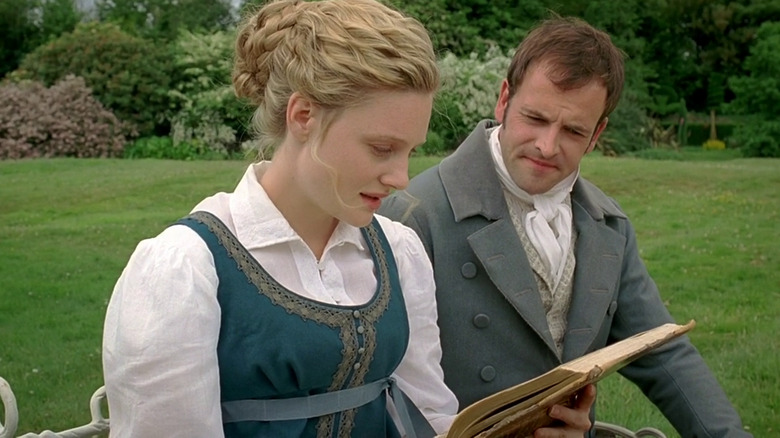 BBC
Emma is a hard character to pull off, mostly because she has some qualities that can make her unlikeable. The way to counteract her conceited nature and occasional thoughtlessness is to make her, above all things, exceedingly well-intentioned. In that regard, Romola Garai is the best of all the recent Emmas. You can tell when words tumble out of her mouth before she realizes their full weight, and then bitterly regrets having said them at all. 
This version of "Emma" is also the one that does right by Jane Fairfax and Frank Churchill, two secondary characters who often fall by the wayside when the story reaches its final act. It emphasizes the parallels between three characters — each one experienced a loss early in life, but only Jane and Frank are sent away to be raised by strangers. Finally, Jonny Lee Miller seems perfectly suited for almost every Austen love interest, but he's especially good as Mr. Knightley, Emma's dreamy suitor.
6. Persuasion (2007)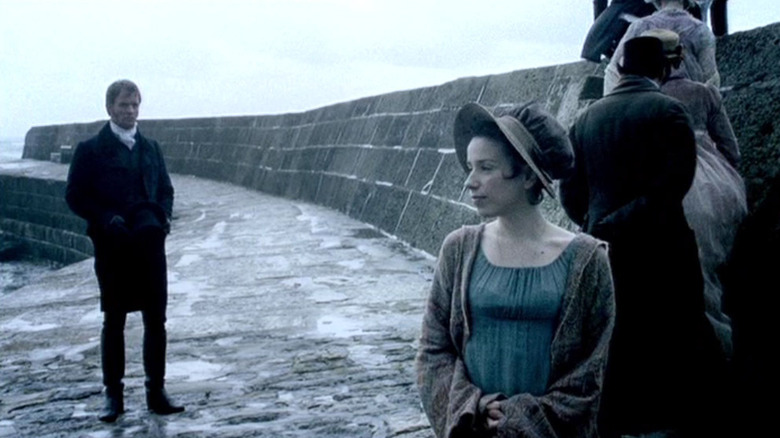 BBC
There's one reason why the 2007 version of "Persuasion" ranks so highly on the list of Jane Austen adaptations, and that's the empathetic performance of Sally Hawkins as Anne Elliot. Unlike many of Austen's other heroines, Anne is not a bright young thing in the bloom of youth, but rather a muted, slightly sad woman in her late 20s, positively ancient to still be unmarried by the standards of the day. She had a great romance when she was younger, but the object of her affections lacked social standing, and she allowed herself to be talked out of the relationship by her vain and materialistic family. 
Anne comes to bitterly regret this decision, especially when her Captain Wentworth (Rupert Penry-Jones) returns to town, still as handsome as ever and twice as rich. Sally Hawkins creates a character that audiences are tremendously sympathetic to without making her come across as pathetic, and over the course of the film reveals Anne Elliot to be a woman of hidden depths, with endless reserves of internal strength and intelligence. Under her keen eye, Anne blossoms in the most compelling and satisfying way of all of Austen's heroines.
5. Sense and Sensibility (1995)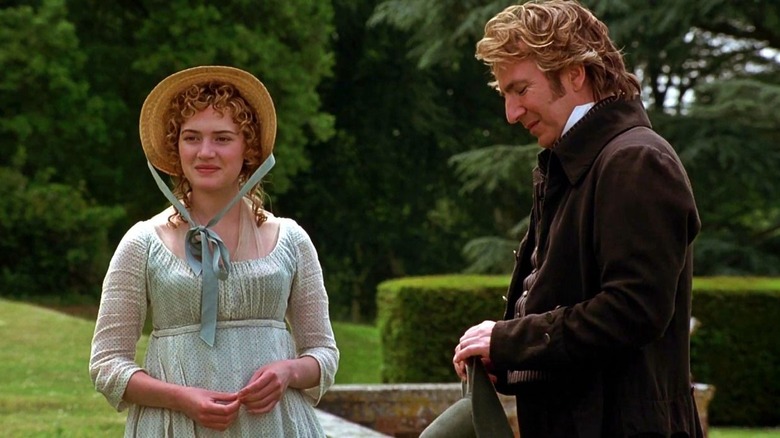 Sony Pictures
The 1995 version of "Sense and Sensibility" is (aside from Jane Austen, who obviously wrote the original novel) 100% Emma Thompson's baby. Not only did she star in the film as Elinor Dashwood, she also wrote the screenplay, a feat that earned her the second Oscar of her career. Both Thompson and her co-star Kate Winslet were also nominated for their performances, Thompson in the leading actress category and Winslet in supporting. 
And really, that's the reason why this version of "Sense and Sensibility" is still one of the best Austen adaptations: the incredible cast that was gathered to bring it to life. Many regard Alan Rickman as the premier Colonel Brandon, and he turns in one of his warmest performances as an older gentleman in love with the young and passionate Marianne Dashwood, played by Winslet. Directed by the incomparable Ang Lee, "Sense and Sensibility" is prestige literary filmmaking at its finest.
4. Emma (2020)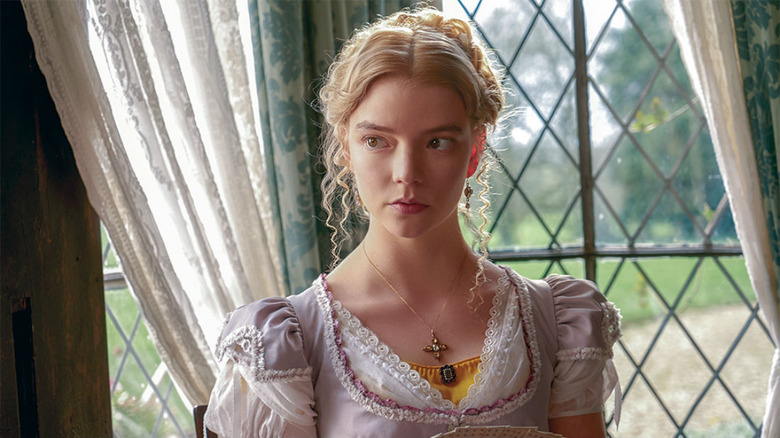 Focus Features
Autumn de Wilde's adaptation of "Emma" is all about aesthetics. Every piece of wallpaper, every floral arrangement, every over-decorated hat is just so. And in that regard, it succeeds: This iteration of Highbury is a lush and gorgeous explosion of color, the furthest possible thing from the muted set design we sometimes see in period dramas. It is a genuine triumph of costuming and set decoration, with a soundtrack of jolly folk songs to complete the atmosphere. 
But this "Emma" also steps beyond a proper, buttoned-up English period piece and ventures into something intensely personal, exploring the private spaces of the Regency characters we often only see in the public sphere. Both Anya Taylor-Joy and Johnny Flynn, as Emma and Mr. Knightley, respectively, are shown dressing and undressing, a novel inclusion that makes them feel vulnerable and unusually human.
3. Clueless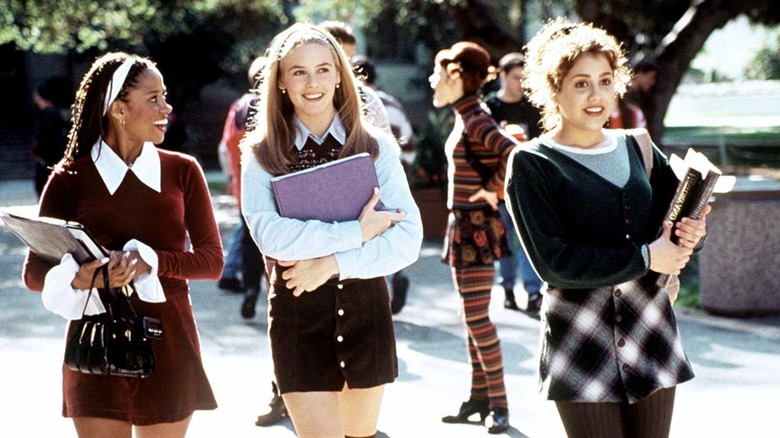 Paramount
"Clueless" is the gold standard when it comes to modernizing Jane Austen. Amy Heckerling's teen classic uproots Austen's "Emma" and moves it from a quiet village in southern England to '90s America, where Emma is Cher (Alicia Silverstone), a well-meaning but spoiled teen girl, Mr. Knightley is her estranged ex-stepbrother (Paul Rudd), and Mr. Elton (Jeremy Sisto) is a brooding, entitled classmate who is perpetually misplacing his Cranberries CD. 
Viewers already familiar with "Emma" will likely recognize the references, but "Clueless" is also an enjoyable teen film in its own right. All of the characters exist as an homage to Austen's work, but Heckerling's clever writing allows them to stand on their own two feet as independent creations as well. The performances, the costumes, the dialogue — all of these things make "Clueless" a seminal work that doesn't just reflect '90s teen culture, but helped to shape it.
2. Pride and Prejudice (1995)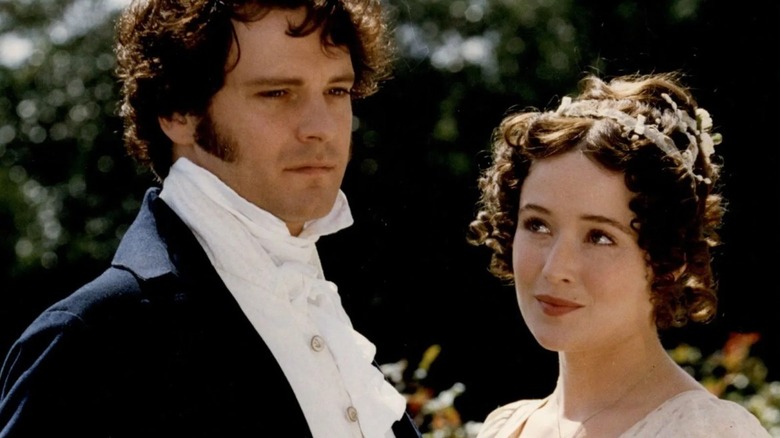 BBC
Yes, the scene that everyone remembers from this version of "Pride and Prejudice" is Colin Firth as Mr. Darcy taking a very uncharacteristic swim in his pond at Pemberley, emerging from the water prepared for a Regency-era wet t-shirt contest. 
And make no mistake, the scene deserves the attention. But more than anything else, it's indicative of a quality that sets the 1995 iteration of "Pride and Prejudice" apart from all the other adaptations: It is interested in exploring Darcy as a character in his own right, rather than just the love interest of Elizabeth Bennet (played here by Jennifer Ehle.) "Pride and Prejudice" takes the time to tell parts of the story from Darcy's perspective, showing the small changes in his demeanor as his feelings towards Lizzie evolve. This, along with the extended runtime afforded to a miniseries, fleshes out the story in ways that few adaptations are able to accomplish.
1. Pride and Prejudice (2005)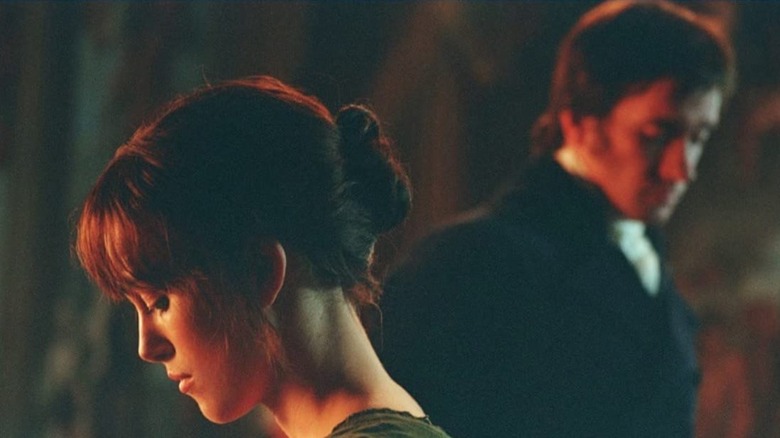 Focus Features
While the 1995 version of "Pride and Prejudice" leaves some pretty big shoes to fill, the 2005 film is more than up to the task. If that adaptation was famous for Colin Firth in a wet shirt, this one has a much less dramatic moment to get Austen fans' hearts fluttering: Darcy (Matthew Macfadyen) extends a hand to help Lizzie (Keira Knightley) into a carriage. They are both stunned by the brief moment of connection, and we see a closeup of Darcy's hand flexing as he walks back to the house alone. Romance is alive, people! 
Macfadyen and Knightley are well-matched, and part of the charm of their relationship is that the film never shies away from its awkward moments. They're both clearly out of their element, and it shows. Austen delighted in the humor that resulted when she gave her protagonists the opportunity to make utter fools of themselves, and this adaptation, perhaps more than any other, is true to that aspect of her writing.