Review: Whit Stillman Does Jane Austen In Laugh-Out-Loud Hilarious 'Love & Friendship'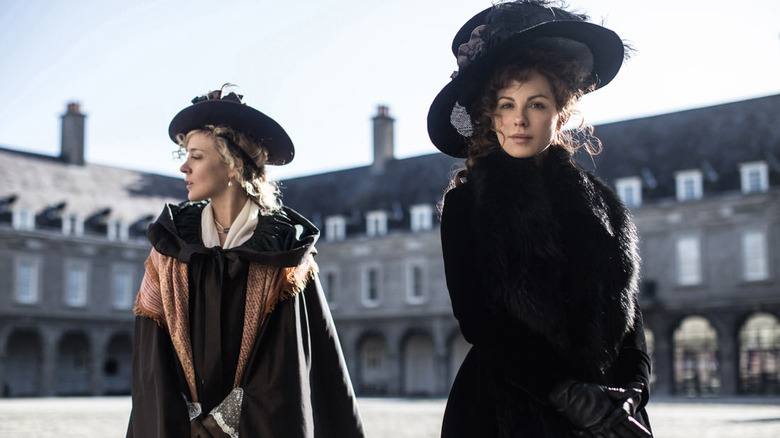 Note: With Love & Friendship in limited release this weekend, we're re-running our review from the Sundance Film Festival.Jane Austen may have a reputation as a romantic, but I'd argue that her real forte is as a humorist. She's second to none when it comes to elegantly written, sharply observed comedies about the foibles of England's upper classes, combining a wry, biting wit with a genuine sense of affection for the characters she's created.
Naturally, this makes Austen's work the perfect source of inspiration for Metropolitan and Last Days of Disco director Whit Stillman, who has brought her novella Lady Susan to life in the laugh-out-loud hilarious Love & Friendship. Kate Beckinsale plays Lady Susan herself, a cunning widow out to secure her position in society via favorable marriage matches for herself and her daughter. 
Though the corseted bodices and full skirts suggest an Oscar bait-y period drama, Stillman quickly establishes Love & Friendship as an out-and-out comedy. He introduces his cast of characters with delightfully candid captions: one character is described as "a divinely attractive man," for example, while another is labeled "a bit of a rattle." The biggest laughs come from Tom Bennett as Sir James Martin, an impressively wealthy but hopelessly dim suitor to Lady Susan's daughter Frederica (Morfydd Clark). Variously described by other characters as a "blockhead" and as "no Solomon" (referring to the wise king in the Bible), he's the type of fellow that can't work out how to pronounce the word "Churchill."
But Lady Susan remains the film's mesmerizing center. The role is Beckinsale's meatiest in years, and she makes the most of the deliciously conniving Lady Susan. Stillman (with Austen's aid) arms her with all the best lines, and Beckinsale's matter-of-fact delivery makes them all the funnier. The character exists in a sort of reality distortion field, in which she is a blameless woman simply trying to do her best in a judgmental world. (Confronted with some unflattering truths, she simply sighs, "Facts are such horrid things.") But undergirding all of her machinations are some serious stakes. Like all Austen heroines, Susan exists in a world where a woman has no official agency. All the flirting and gossiping and cheating may look frivolous from the outside, but in truth they're the only methods Susan has of securing her own future.
Unlike most of those other Mean Girl classics, Love & Friendship isn't the story of a wicked woman getting her just desserts, but one of a genius doing what she does best — which in this case happens to be playing other people (men in particular) like fiddles to get what she wants. Her sister-in-law might describe her as evil, but it's not that Susan's intentions are malicious, exactly; it's more that she simply doesn't care whom she hurts on her way to the top. "If she was so determined to be jealous, she shouldn't have married such a charming man," Susan sniffs of the furious wife of her latest male conquest.
/Film rating: 8 out of 10