Ms. Marvel Is The Marvel Version Of A 2000s Disney Channel Sitcom — And That's Great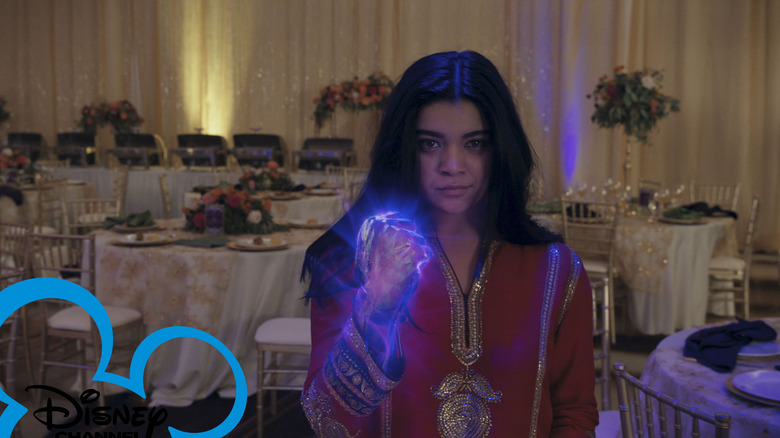 Disney+
There's no denying that the MCU follows a formula. Each phase adds new elements, but the films still mostly follow the same character and story beats, and this applies to both movies and TV shows. The best thing to say about the Marvel Disney+ shows is that they have managed to play with the formula and change enough to appear fresh and new, mostly by filtering the familiar through different genres — from sci-fi to sitcom, to thriller, and even a holiday movie-style story. 
After we saw Oscar Isaac charm us all with not one, but two (technically three) characters in "Moon Knight," and after "Hawkeye" introduced a cool new young Avenger but still gave a lot of screentime to an old one, it was finally time for the MCU to embrace the fact that these shows are airing on a Disney platform. This is to say that, when "Ms. Marvel" premiered, it became clear that this was more of a teen comedy series than any MCU project so far. Three episodes in, it's become more clear this show finally fulfilled the Disney+ promise and became the Marvel version of a 2000s Disney Channel sitcom, and you know what? It rules!
This is what dreams are made of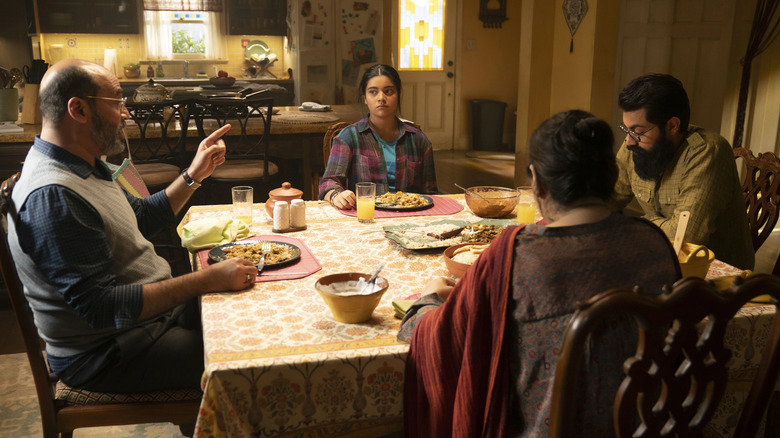 Disney+
"Ms. Marvel" focuses on Kamala Khan, a teenager living in New Jersey. She has all the elements of a great Disney Channel Original Series protagonist: she's an awkward teen, she has a mom who doesn't understand her, a goofy but well-meaning dad (who is the absolute best), a friend who has a crush on her and another friend who doesn't know about her big secret, a former childhood friend who is now the popular kid in school, and speaking of school, it sucks. And oh yeah, she has superpowers, too.
The premise of a young high schooler with a complicated family dynamic and a big secret life was the bread and butter of 2000s era Disney Channel. Whether it's "Lizzie McGuire," "That's So Raven" or "Hannah Montana" the network specialized in genre versions of TGIF-style ABC sitcoms. They still deal with teenage problems and angst, they have life lessons and over-the-top antics, but there is usually a twist — the protagonist has a cartoon version of herself who interrupts the story! The protagonist can see the future! The protagonist is also a pop star!
"Ms. Marvel" follows this same formula, mixing it with the usual superhero origin story formula of the MCU. Since we have a teenage protagonist, her parental figures simply do not understand her, as they are both stern and embarrassing, and every problem in her life is a life-or-death situation. Sure, we've had MCU projects with low-stake stories before, but there is something about the specific low stakes of "Ms. Marvel" and how they are very much anchored in teen drama and sitcom antics that feels fresh for the Marvel franchise.
The best of both worlds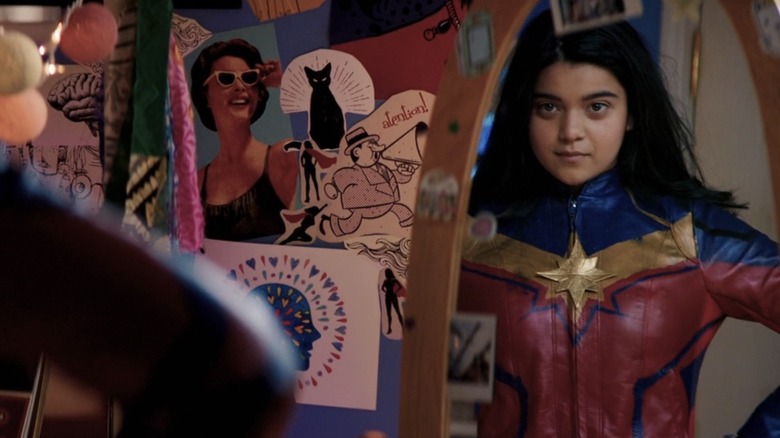 Disney+
So far in the first three episodes of "Ms. Marvel," we've seen Kamala deal with disappointing her mom after going to a party (well, a convention) without permission, with her brother clearly being Kamala's favorite child, her having a crush on the hot new guy at school, and her friend discovering her secret while also wanting to improve her local mosque. 
Sure, we also have a whole subplot about interdimensional djinn, and a mystery about Kamala's great-grandmother, but so far that seems like an afterthought to the daily life of a superpowered teenager. And even though the "Spider-Man" MCU movies dealt with this too, they were much more grandiose and serious in tone, whereas "Ms. Marvel" feels a lot more comedic. Kamala hiding her powers from her friends and family feels less like Peter Parker's great dilemma and more like Hannah Montana getting into some shenanigans by trying to avoid her classmates discovering she is a pop star.
It's inevitable that "Ms. Marvel" will focus on the mandatory epic story more as it reaches its season finale and teases Kamala's eventual meeting with the big players of the MCU, there's no doubt about that. But for now, the show is at its best when it simply focuses on Kamala the awkward teen who doesn't fit at school, has a room filled with posters of her favorite heroes, who is clumsy and not a super genius, whose family is kind of weird but adorable. The only thing missing from the show is a catchy pop theme song that recounts the plot of the show and a colorful intro sequence that presents the characters and the story. To quote "Hannah Montana," 
"Mix them all together and you know that is the best of both worlds."
"Ms. Marvel" is streaming on Disney+ with new episodes on Wednesdays.